'The fact that my name is on my movies means they are doomed'
Last updated on: July 2, 2010 13:41 IST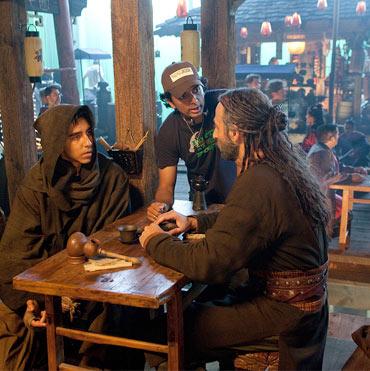 M Night Shyamalan was 29 when his third film The Sixth Sense (1999) opened to a tremendous response. The box office success of the film -- it earned $662 million worldwide -- propelled the young filmmaker (he turns 40 next month) to an A-list director in Hollywood. Newsweek declared him to be "Next Spielberg!"
Hollywood had a lot of expectations from Shyamalan, but only one of his next seven films -- Signs (2002) was a box office success. He also wrote the screenplay for the hit kids film Stuart Little (1999).
Shyamalan's lastest film The Last Airbender (his ninth directorial venture), based on a hit Nickelodeon anime series, opened in the US on July 1 to mostly negative reviews. Commenting on the film's hastily done 3D finish -- after the film's shoot was complete, A O Scott of The New York Times wrote:
"So the way to watch The Last Airbender is probably with your eyes closed."
Aseem Chhabra spoke to Shyamalan on the phone in New York, on the opening day of the film. The previous night Shyamalan attended the film's premiere at New York's Lincoln Center.
So how was premiere last night?
It was very fun night. It was great for everybody. It is such a family, the cast and there were good, good vibes everywhere.
I have to ask you, how does it feel to wake up to see the reviews, especially given that you put in so much effort and hard work making the film?
You know what I don't know what the disconnect is. I just don't get [he paused, sounding angry and frustrated]. I don't get it. I'm speaking a different language I guess. That's all I can think of. Because I definitely approach filmmaking with great respect, integrity and effort and take into account advice of all my peers. We collectively come to a place where we are ecstatic about the particular stories we are telling.
Yesterday I was doing interviews and I had 20 reporters tell me that The Village (2004) is one of their favourite movies of all times. That's not what they said when it came out [he laughed somewhat sarcastically]. When it came out it was the worst movie of the year. For me it was my favourite movie I had made on all levels.
I feel this about my movies, the fact that my name is on them, that means they are doomed.
'It's only in the past that people have liked my work'
Last updated on: July 2, 2010 13:41 IST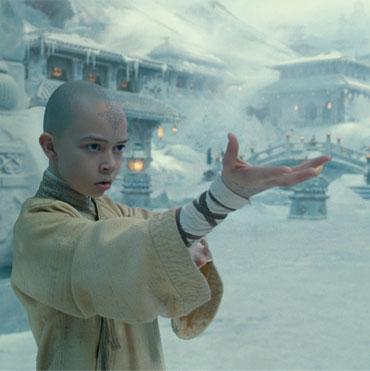 But people have loved your work in the past.
Ah, yes, well it's only in the past that they have liked my work.
You had such a following in the past, but I am curious if critics still matter to you?
I just want the movies to be enjoyed. That's the most important part, that the audience connects with the movies and have the right approach when they see them.
This film is big a change for you. You have mostly worked with suspense thrillers with supernatural elements. They were more adult stories although only The Happening (2008) got the R rating. You have moved into a very different demographic group.  What was the reason for the move?
I was inspired by the family (his two young daughters were fans of the series Avatar: The Last Airbender) and the kind of things that were being said in the show. I really connected with the actual sources of the series -- martial arts and the Buddhist and Hindu philosophies. That really resonated with me.
Did you spend time exploring elements of Buddhism and Hinduism for the film?
That's something of great interest to me so it wasn't like starting from the scratch. But I liked talking to the creators of the show about the philosophies that interested them.
'I gave my favourite role to Dev Patel'
Last updated on: July 2, 2010 13:41 IST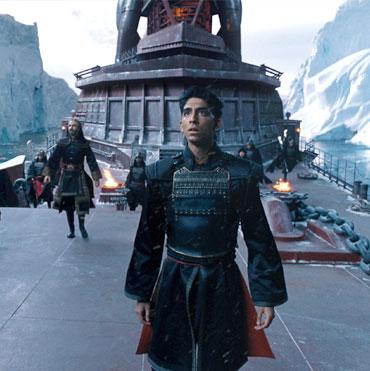 You have cast Indians in the past -- in fact you have often cast yourself in your films. But this time you gave a substantial screen time to two actors of Indian descent...
Yeah, my favourite role, I gave to Dev (Patel).
What did you see in Dev in Slumdog Millionaire that you thought he could actually do something very different?
He actually did a beautiful audition for me in London, before Slumdog opened. That put him on top of the list for me. It was super, super exciting and a different take than anything anyone had done.
As an actor what do you think of him? He's done two major films at such a young age.
I think he's got a real special talent. It goes to a specific kind of emotion that is rare to see in somebody so young and so new to this game. If he works on it, he can do anything.
'When the series is done you will see different countries and nationalities'
Last updated on: July 2, 2010 13:41 IST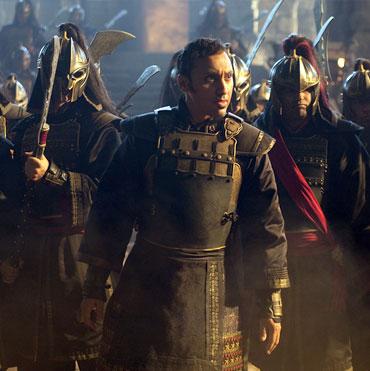 And you cast Aasif Mandvi in a significant villainous role.
He did such a great job. He was a joy to work with. He brought a wonderful colour to the movie. It's something I was not surprised about, because Aasif had auditioned for me for other movies and for scheduling reasons I couldn't cast him earlier in particular movies. I've always had an eye on him as an actor.
Aasif has usually done comedy in the past and he's on The Daily Show, but you saw something else in him as an actor.
Yes, he kind of has a flair to him that he brought when he auditioned for the part that I thought would be a fun note in the movie.
On the issue of casting, there were concerns even before the film was released that the ethnicities of the characters in the show did not match the actors you chose for the film. And also there has been concern that dark skinned actors have negative roles while white actors play positive characters.  Did you ever think this would be an issue?
Not even remotely. That's completely untrue what you have just said.
But there are blogs and articles that have been saying this...
Oh no, no, no what they're saying is untrue. What you just quoted is completely untrue. The main characters of the film are Noah (Ringer as Aang) and Dev (Patel as Prince Zuko) and they are the heroes of the series.
Dev is on a darker journey that ends very heroic. He is the Shakespearean Hamlet character. And the Uncle Iroh who is basically the Yoda, the Obi-Wan Kenobi character is played by Shaun Toub. These are the most beloved characters in the series.
For me the three movies are about Zuko. When the series is done you will see different countries and nationalities. You will see the incredible breadth of diversity in the movies. The movie is about cultural diversity.
I think the confusion comes from anime where the features are ambiguous.
In anime the characters are more Asian looking?
No, in anime the characters are more ambiguous, less Asian looking and that's the art form. And it was a very interesting issue that came to the table. Because those people look like my actors.
It's really sad, because I want this to be a source of pride for everybody, what we are achieving and with all the things that interest me culturally. Obviously Airbender is a completely multicultural film on all levels.
I know everybody wants more of their particular culture. But all cultures are represented here. So it's a broader take than you would imagine.
'My relationship with the audience is more like an author's relationship'
Last updated on: July 2, 2010 13:41 IST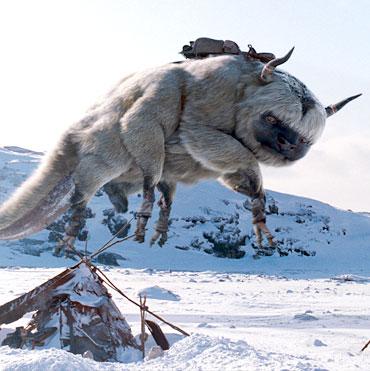 You added 3D treatment to the film after it was shot, something critics have pointed out that it did not work.  What is your take on 3D technology and do you think it was a right decision?
I enjoyed learning these tools as means of storytelling. I was very excited by it all and was thrilled by the process of the new tools.
If you had shot the film in 3D do you think the results would have been a little different?
I don't know. I actually made the decision after a bunch of tests after I saw Alice in Wonderland. I thought Tim Burton did a great job with it. I think in these fantasy movies it is a great immersive process. I went for a much more subtle look, making it go deeper into the window of it. I felt it was more like it was a window rather than coming out of you. It's more like DVD to Blu-ray. It's just enhanced, instead of doing some gimmicky thing.
This is your ninth movie. When you at your career, you have been able to make quite a number of films. How do look at your career in terms of your high points and low points? And what would you have done differently?
Because the films have come out of my head they have been so personal. I look at them as a proud group of work. I have not had to take a job to do a job. I have not been a hired gun yet. So the films were very intimate for me. I haven't had the odyssey of 'oh that one is not the best thing.'
I have always felt that my relationship with the audience is more like an author's relationship. My hero is Agatha Christie. You can know her by reading all her books. That will be my hope that when you look back at however many films I will get to make, that you get a really good sense of me.
'I have to see if I am going to make a supernatural thriller next or the sequel'
Last updated on: July 2, 2010 13:41 IST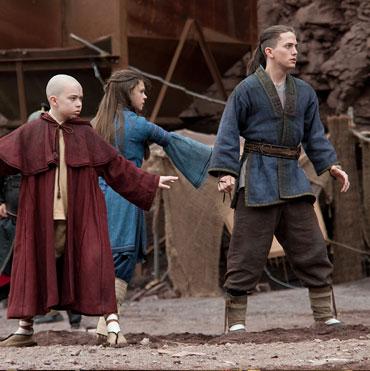 You were at one point attached to the Life of Pi project. Any regrets that you did not get to make that film?
Yeah, that I would have loved to have done. It is such a beautiful book. That was more of a timing thing than anything else. They wanted to make it very fast and it didn't work with my schedule. But that book is very near, dear to me.
What next? Are you already working on the sequels to The Last Airbender?
No, we are going on a tour from here and then I have to see if I am going to make a supernatural thriller next or the sequel. It's so complicated because it takes so much time to make these movies. I have to see what I can pull off -- more physically and emotionally.
Did this film take a lot of energy out of you? Was this the hardest you have worked?
Oh my God, it was a total drain. It was incredibly exhilarating, but a draining process. It will be interesting to see how much energy I have left in a few weeks after I have done a tour. Because I do not ever want not to enjoy making movies.
This film was draining because of the technology?
It was the sheer amount of work involved in making this film, every detail was herculean.