What makes Hollywood smell so good
Last updated on: July 27, 2010 12:00 IST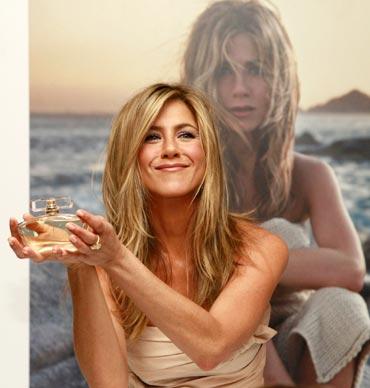 When you are a celebrity, you do end up smelling like roses most of the time. Some, however, prefer to create their own scent.
So if you've got money to spare, you might just end up smelling like, say Jennifer Aniston, who recently launched her self titled debut fragrance.
The Friends' star sense of style -- remember her popular Rachel hair cut from the sitcom? -- has lots of followers. So it won't be surprising if this perfume, inspired by the actress' earliest and most treasured recollections of scent, gets out of stock pretty soon.
This captivating blend of jasmine, citrus notes and a sensual musk base is available for 36 pounds (Rs 2,617.72).
If Jen is not to your liking, here are more celebrities whose signature scent can be yours for a price.
Download sizzling Jennifer images


Beyonce's Heat
Last updated on: July 27, 2010 12:00 IST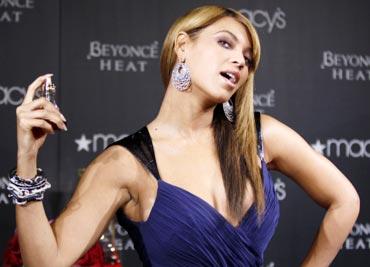 Ever since Beyonce's debut fragrance hit the stores earlier this year, the warm fruity musk fragrance has been doing good business despite the simple packaging.
After all, who wouldn't like to smell like the bootylicious singer?
Download beautiful Beyonce images


Usher's VIP
Last updated on: July 27, 2010 12:00 IST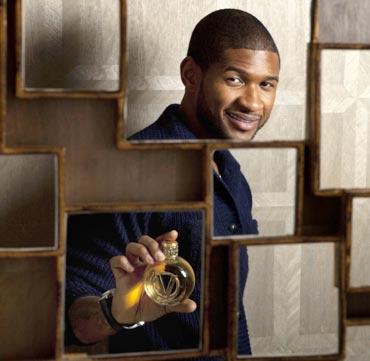 Here's something for the guys.
The sexy singer recently launched VIP, his fifth scent. He says of his fragrance, 'I really feel like VIP represents the growth I've had in the last two years. The man that wears this fragrance, hopefully, will go out in the world empowered by what he's wearing.'
Good enough reason to spray some on, eh? Well, if you still need some persuading the perfume has notes of tangerine, bergamot, kumquat, nutmeg, violet leaf, lotus flower, saffron, vetiver, oakmoss and suede to cater to your senses.
Even the packaging is attractive, styled like a cognac bottle.
Mariah Carey's Forever
Last updated on: July 27, 2010 12:00 IST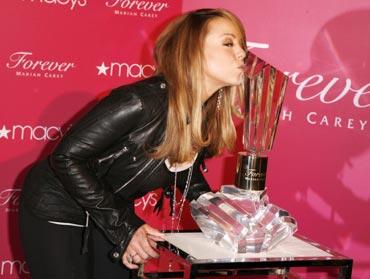 Just like her song, the new fragrance from Mariah Carey, launched last year, is like a breath of neroli, lotus and green apple.
The singer wanted to recapture her moments of happiness -- her wedding and a new album -- in the perfume.
The fragrance is elusive like the star herself, and has scents from tuberose, gardenia white musk, exotic wood and white flowers.
The bottle -- designed in art deco style, made of crystal with a golden bottle neck that has the name engraved in it -- is a collector's item.
Sarah Jessica Parker's Lovely
Last updated on: July 27, 2010 12:00 IST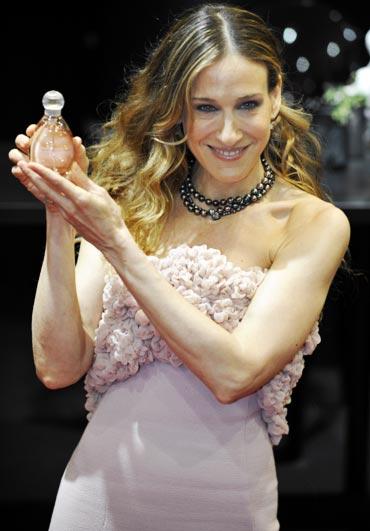 Those who have grown up on a steady diet of Sex And The City can't help but wonder how this fashionista hasn't got her own perfume till now.
Well, better late than never. Our own Carrie Bradshaw is the proud owner of her own scent launched in 2008.
Created by perfumers Laurent Le Guernec and Clement Gavarry, Lovely is described as a 'silky white amber' with notes of mandarin, bergamot, rosewood, lavender, apple martini, patchouli, paper whites, orchid, cedar, white amber, musk and woods.
You'd think the scent would be too strong with all the above mentioned notes, but fear not. Sarah Jessica Parker specifically didn't want the perfume to dominate a room.
If you would still like to try it, this Eau de Parfum comes in a 50 ml bottle for $48 (Rs 2,252.62), or 100 ml for $62 (Rs 2,910.65).
Kelly Brook by Kelly Brook
Last updated on: July 27, 2010 12:00 IST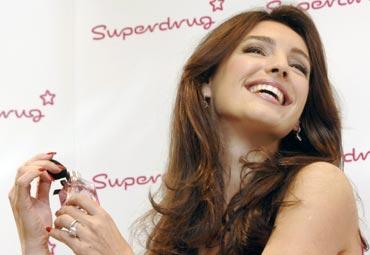 This UK model and actress is no stranger to hot lists (courtesy her bikini worthy bod).
And she's no bimbo either. Like she said, she was 'involved in every step of the development of my fragrance.'
So what does Kelly Brook's signature scent smell like? Described as sexy, fruity and enticing, much like the model herself, the fragance is a mixture of strong sweet fruits with bursts of orchid and a touch of vanilla, sandalwood and tonka bean.
Download sizzling Kelly on mobile

Kylie Minogue's Darling
Last updated on: July 27, 2010 12:00 IST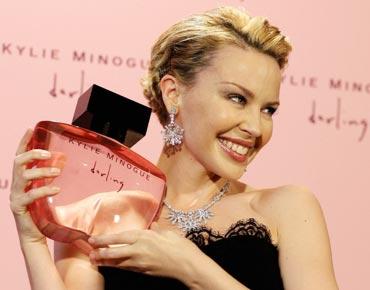 Just like the singer herself, the pop star's debut fragrance is fruity and fresh with notes of freesia, lychee, starfruit, boronia, lily, sandalwood, amber and vanilla.
Here's some trivia to go with the scent: Darling is used to scent Kylie Minogue's figure at Madame Tussauds wax museum in London!
Gwyneth Paltrow's Pleasures
Last updated on: July 27, 2010 12:00 IST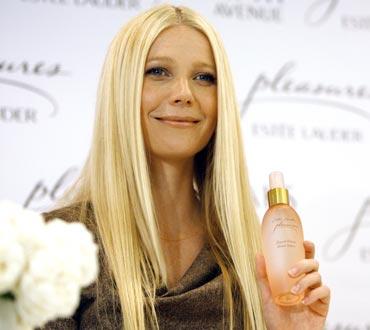 Did you know that Estee Lauder's limited edition Pleasures collection was inspired by Gwyneth Paltrow?
We're guessing the fragrance is as enchanting as the containers they come in.
'I enjoy a nice, hot bath with bath salts and surrounded by tea candles. It's very relaxing, like a mini-spa at home,' says Paltrow about the collection.
Paris Hilton's Siren
Last updated on: July 27, 2010 12:00 IST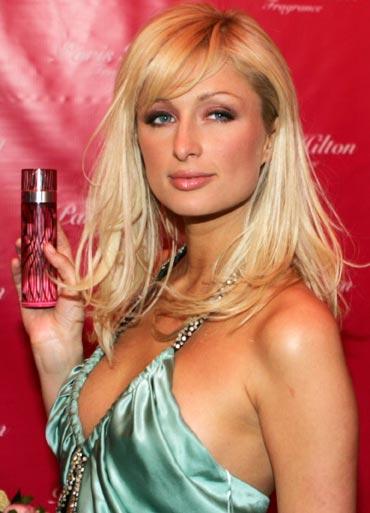 An apt name, don't you think?
Siren is Hilton's sixth fragrance for women and her ninth overall (including three scents for men).
So how is Siren? Like Hilton, Siren is sweet and fruity with notes of mandarin, apricot nectar, frangipani, honeysuckle, water lily, vanilla, sandalwood and creamy musk.
Go ahead, indulge.
Download hottie Paris on your mobile