Vote! Who plays the blind girl best?
Last updated on: July 27, 2010 14:21 IST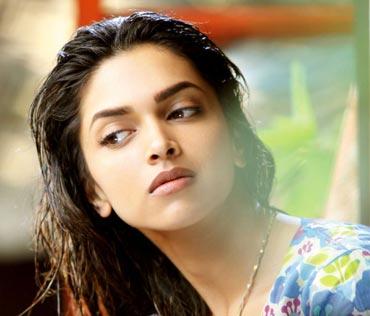 Looking for melodrama? Awards? Credibility?
Whatever your motives be, one sure-shot way of achieving it all in bucket loads is to make the heroine blind. Hundred percent audience sympathy guaranteed! Plus, filmmakers love to play up the 'bechari' factor to the extent of emotional manipulation.
Deepika Padukone is the latest to join the league of Bollywood's sightless divas with her brand new avatar in Pradeep Sarkar's Lafangey Parindey.
Too bad her lumbering tapori talk makes it hard to concentrate on the disability she's portraying.
How did the ones before her fare? Here's a dekko:
Celina Jaitley, Janasheen
Last updated on: July 27, 2010 14:21 IST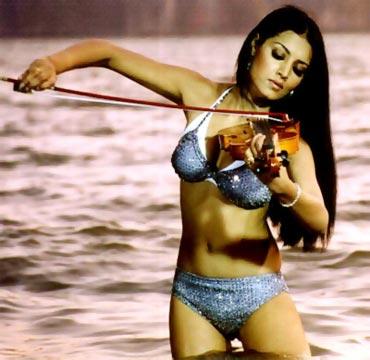 Blindness is a state of exaggeration in Hindi films. Even if it's only partial.
In Feroz Khan's impossibly boring Janasheen, starring a bland Fardeen Khan and limp debutante Celina Jaitley, the latter suffers from heightened blurred vision. But what's your excuse?
Kajol, Fanaa
Last updated on: July 27, 2010 14:21 IST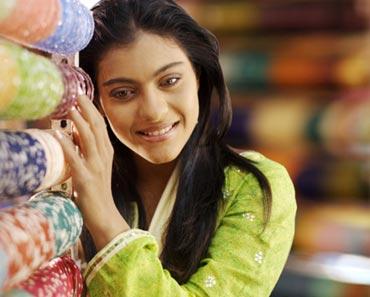 Now I see you, now I don't. It's a miracle the audience didn't turn blind.
In Kunal Kohli's kitschy, OTT drama, Kajol attempts to pull off the implausible -- she can't see but does a exhaustive Delhi darshan with her guide, and soon after makes love to him.
Then, following a successful surgery, she gets her sight back, loses the guy, gets pregnant and gives birth to a boy in the snow-capped mountains of Poland, which were are led to believe is Kashmir.
Eventually the guide guy returns with a nicely cropped hair but she doesn't recognize him. Fun, huh?
Rani Mukerji, Black
Last updated on: July 27, 2010 14:21 IST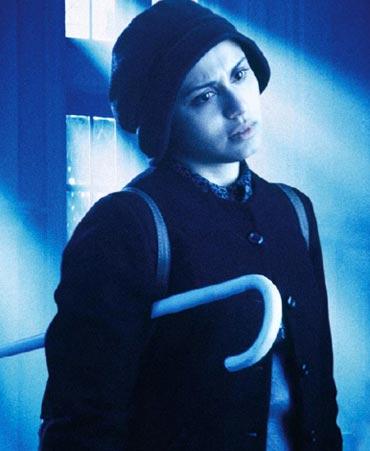 Playing the visually-impaired Michelle with a couple of other disabilities thrown in proved to be the best thing for Rani's career.
All those years of romping about in tightly-fitted skirts and fake eyelashes couldn't achieve what her awkward Chaplinesque walk and shambling body language in Sanjay Leela Bhaansali's Black brought her in a jiffy. A shelf full of trophies!
Quite a sight, eh?
Madhuri Dixit, Sangeet
Last updated on: July 27, 2010 14:21 IST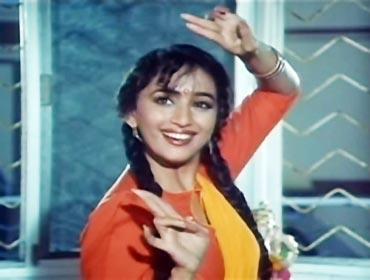 Notice how most blind babes in Bollywood movies dance for a living?
As part of her double role deal, Madhuri Dixit plays a sightless nautanki types.
Considering her effortless, enthusiastic moves, it's hard to tell if it wasn't for the clueless, searching hand movement in the latter scenes.
Aishwarya Rai Bachchan, Hum Tumhare Hain Sanam
Last updated on: July 27, 2010 14:21 IST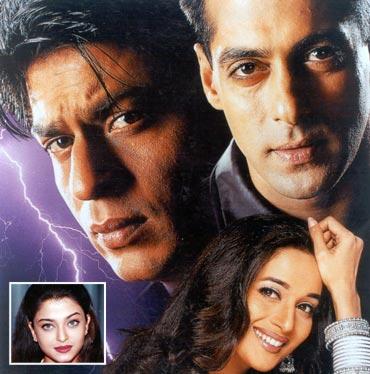 Some movies are just so plain awful, it's painful to watch.
Clearly, Hum Tumhare Hain Sanam is as unbearable to Ash as to us, unsuspecting viewers. No wonder she chose to turn blind to this Madhuri-Shah Rukh-Salman Khan generated chaos despite the brief length of her cameo.
Ironically, it's the only visibly sparkling aspect of this otherwise crow of a movie.
Urmila Matondkar, Naina
Last updated on: July 27, 2010 14:21 IST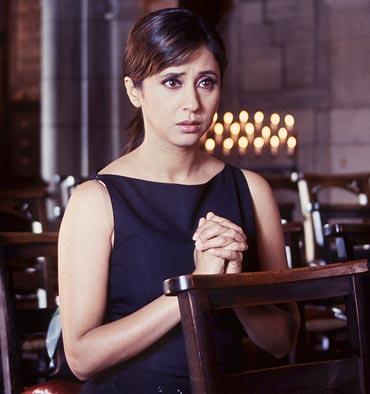 In movies, eye-replacement surgery is not always a pleasant idea.
Poor Urmila is better off blind considering the chain or horror she's forced to witness post-operation in Naina, a rip off of the Chinese flick, The Eye.
Then again, who can blame her? She's made quite a stable career out of dilated pupils, right?
Amisha Patel, Humko Tumse Pyaar Hai
Last updated on: July 27, 2010 14:21 IST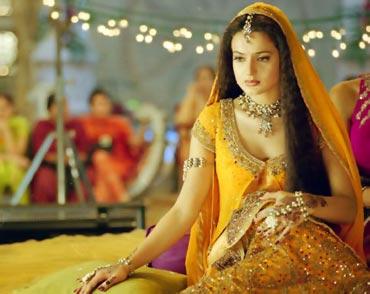 Choose a worst-case scenario.
Your options are: a) Amisha Patel. b) Blind Amisha Patel. c) Amisha Patel with regained eyesight. d) No Amisha Patel.
It's truly amazing how Humko Tumse Pyaar Hai, despite these innumerable alternatives, tanked at the box office.
Karisma Kapoor, Khuddar
Last updated on: July 27, 2010 14:21 IST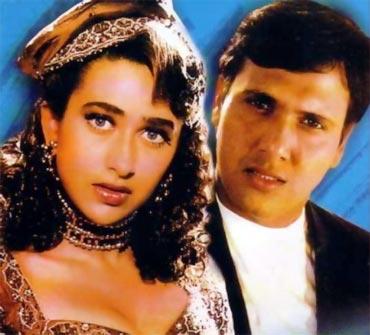 Remember the seemingly never-ending vulgar phase of Bollywood -- when words like sexy were strictly taboo and had to be replaced with baby and ilk?
Khuddar belongs to that era and is best remembered for Karisma strut her stuff in a shiny swimsuit of a costume to the beats of Sexy, sexy mujhe log bole.
Only this Iqbal Durrani potboiler has a lot more novelty lined up than one can expect or digest -- she marries a cop, loses her sight and, believe it or faint, feeds their child with poisoned milk.
Don't worry if you cannot find any Khuddar DVDs in the market; Lolo used them in a bonfire.
Asha Parekh, Chiraag
Last updated on: July 27, 2010 14:21 IST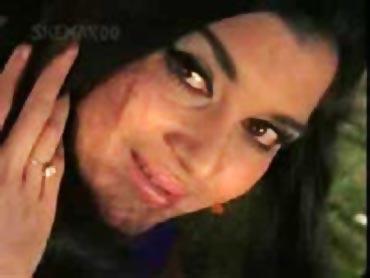 Misfortune is the classic fate for any woman playing Lalita Pawar's daughter-in-law on screen.
And so it isn't long before Ms Parekh finds a flubber of a firecracker exploding in her eyes. Bang, it's 'See No Lalita Pawar' time!
What could have been a meaningful lesson of safety around fireworks turns into a regressive exercise of self- deprecation.
So much for Teri aankhon ke siva duniya mein rakha kya hai and all that jazz!
Moushumi Chatterjee, Anuraag
Last updated on: July 27, 2010 14:21 IST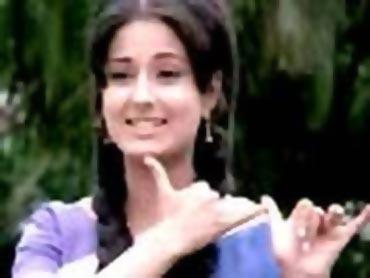 Unlike our movie heroes who ensure their debut is a show reel of all that they have been coached for -- action, motorbikes, horse-riding, break-dancing, Moushumi opted to play a fun-loving blind girl with no special skills in Shakti Samanta's kerchief caper, Anuraag.
Luckily, she's good at making friends. One is wealthy and wants to marry her; the other is dying and wants to donate his eyes. Trust Shakti Samanta to make life so simple.
Raakhee, Barsaat Ki Ek Raat
Last updated on: July 27, 2010 14:21 IST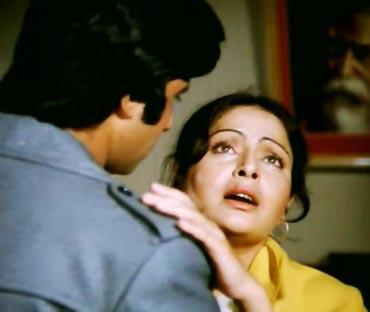 Shakti Samanta's attachment for the blind girl formula doesn't stop with Anuraag.
This time its light-eyed Raakhee's turn to do the 'main bechari andhi' routine with a peculiar fondness for strolling down the craggy hills of Darjeeling.
Luckily for her, Big B plays the gallant rescuer each and every time.
Hema Malini, Kinara
Last updated on: July 27, 2010 14:21 IST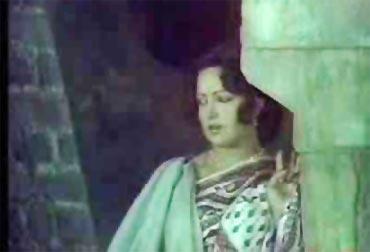 Tragedy begets tragedy. One accident leads to another in Gulzar's Kinara as his leading lady of Meera and Khushboo loses her eyesight after receiving some truly bad news.
Regarded as one of her best performances, Kinara, despite its soul and some stirring dances by Bollywood's beloved Dream Girl, is best remembered for R D Burman's exquisite melody, Naam gum jayega.
Vote! Who plays the best blind girl?
Last updated on: July 27, 2010 14:21 IST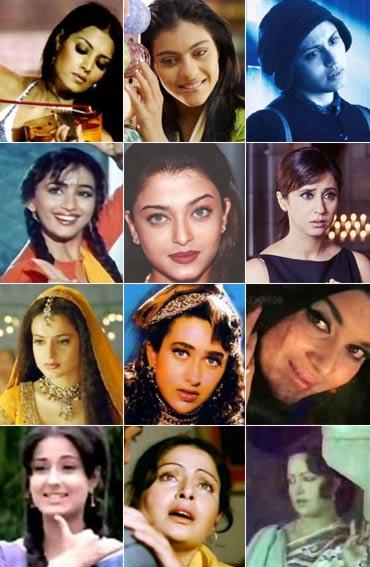 If your vision is still intact, how about voting for your favourite blind girl act?