From Gamyam to Vedam
Last updated on: June 3, 2010 14:14 IST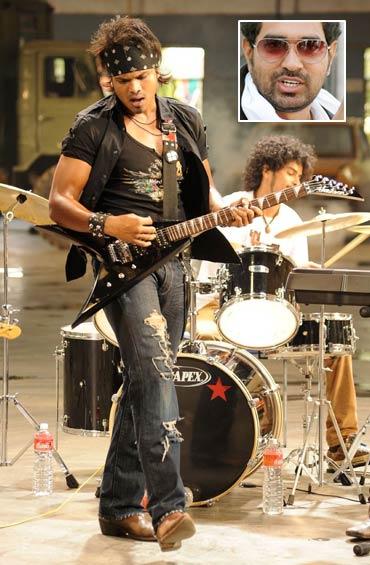 Radhakrishna (Krish) Jagarlamudi made the critically acclaimed and commercially successful Gamyam more than two years ago.
Now Krish is ready to present Vedam starring Allu Arjun, Anushka, Manoj Manchu, Manoj Bajpai, Lekha Washington, Siya Gautham and Deeksha Seth on June 4.
Though busy with the final touches of the film, Krish took some time out to talk about the film and more in this exclusive interview. Excerpts:
Vedam is a story of five different people connected by a thread. Do these coalesce into one? How did you think of this format for the screenplay?
I wanted to tell stories of few people and combine them to come to one situation. I didn't plan it. I had a visual of a 60-year-old man walking with a kid. Then I had a visual of a prostitute. It all started with one visual. I didn't plan to write it this way. I wrote five different stories and wrote the common point and then merged it with the stories.
'I wanted to do a film with newcomers'
Last updated on: June 3, 2010 14:14 IST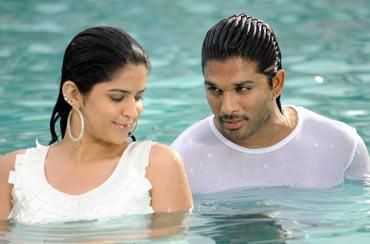 Have you attempted a new screenplay technique?
These screenplay techniques have been happening and are seen in Hollywood films. For Telugu, it isn't so regular.
Is Vedam inspired by real life incidents?
Each and every thing is inspired by real life characters.
You have a multi-star cast not often seen in Telugu cinema today. How did you achieve this casting coup?
Everything fell in place. Actually I wanted to do a film with newcomers. Then Bunny (Allu Arjun) called and said he would do a film if I had the script. I narrated Vedam's script and just after 15 minutes into the narration, he said he would do the role of Cable Raju.
Then I told him that newcomers will not be seen against him. Then he suggested that Manoj can do the role of the rockstar. It's all because of Bunny. For the prostitute's role, I thought of Anushka. When I narrated this to her, she agreed and was happy doing it.
Each of the stars/actors play a different role...
Arjun plays Cable Raju. Manoj plays Vijay Chakravarthy (son of an Army man), a budding rock star. Anushka plays Saroja, the prostitute.
'I met my fifth character walking on the streets'
Last updated on: June 3, 2010 14:14 IST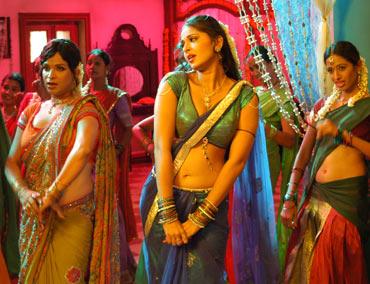 What does Manoj Bajpai play?
He plays Rahimuddin Quresh, a progressive Muslim who becomes a fundamentalist due to certain circumstances.
Who is the old man -- the fifth character?
He is played by Nagaiah whose screen name is Ramulu. He is a weaver. This character comes to the city with his daughter-in-law (played by Saranya) for his grandson's education. Everybody wears a mask and the film is all about how one can remove it and face the world.
How did you find him?
I found him on the streets walking near my house. I stopped the car and asked him if he would act in my film. After some time I found him waiting for me and willing to act. Initially he thought I was playing a prank on him. He enquired about me from a dhobi on the road. The dhobi told him that I make films.
'I learnt a lot from Manoj Bajpai'
Last updated on: June 3, 2010 14:14 IST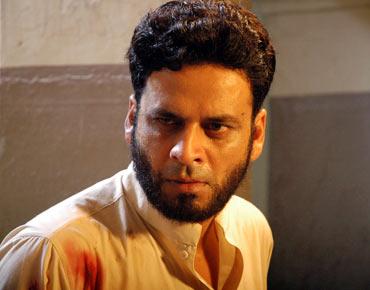 What do you have to say about Manoj Bajpai?
He is a great actor. I learnt a lot from him. He gave me huge lessons for the future.
Did the stars contribute with suggestions?
Yes, the entire team shared ideas and I used what was required.
Are you trying to convey something through the film? Gamyam was a story of redemption. It had an underlying message woven in beautifully...
I am not trying to convey things. People find philosophies. I tell stories, the audience find the messages. I talk of people's inner conflict and the story travelling to a higher dimension.
You have the same technical crew in terms of art director (Rajiv Nair) and editor (Shravan). Was it because of the comfort level you share with them?
Absolutely. I retain the same technicians and they retain me!
What about the Director of Photography?
We have a new person, Gnanasekharan.
Did Nagaraju Gandham (the dialogue writer of Gamyam) pen the dialogues?
I wrote the dialogues while writing the screenplay.
Did you take anyone's help while writing the screenplay?
I took the help of Mr Venkatesh Chakravarthy who is with Rama Naidu Film School. He helped me a Iot. I have given him the credit as Script Consultant and it is for the first time in Telugu cinema that such a new credit is being given.
'The Censor has given the film A certificate because of the language used'
Last updated on: June 3, 2010 14:14 IST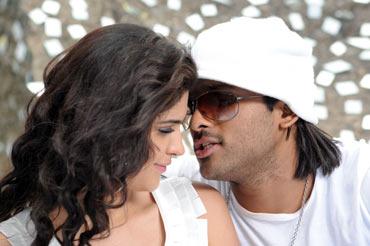 You have Keeravani as the music director. So do we expect songs to be in the regular format or are they part of the narrative?
Songs are there for each situation in the movie. A song is a medium to take the story forward. With fast cuts or montage the story can be taken ahead in a pacy way.
What has been the response to the film's music?
It's been great. Keeravani garu wrote four songs, sang three and played the keyboard and violin. He was able to emote because he was fully into the script. Many people liked Malli Putani. My personal favourite is Ee chikati cherani.
Are you inspired by the Bhagavad Gita and other philosophic texts?
The stories I tell reflect the influence of books I read or the people I meet. It's not just Hindu texts. Of late I read the Quran. All data is stored in the head and you might use this knowledge sometime. It comes out as collective data.
Where is Vedam shot? Did you have large sets?
It's shot in Hyderabad, Vizag, Pochampalli (weaver's village). We had more than a 40-day schedule at Ramoji Film City. It was shot in natural locations and a few sets.
Have you previewed the film to a few people? What's their reaction?
The film was shown to the Censor Board. We got A certificate because of the language used particularly by Saroja (prostitute). The members of the Board suggested a few dialogue cuts which are being done. The members thoroughly enjoyed the film -- they were laughing, had tears in their eyes and were happy and appreciated it manifold. They promised their support too.
The second film of the director is a litmus test. More so expectations are high because of Gamyam. How do you feel?
I am all confident because I feel I have a good product.