Bollywood's Top 15 unforgettable dresses
Last updated on: June 7, 2010 14:50 IST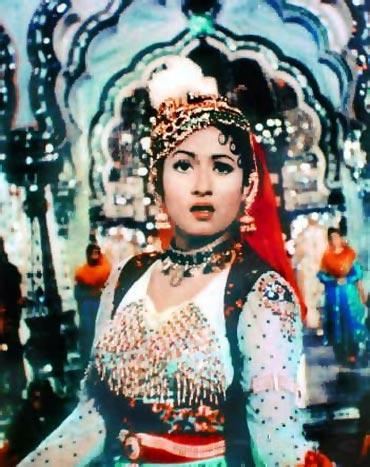 If Audrey Hepburn's classic black sheath dress is the toast of Hollywood attire, there's a giddy lot to choose from the multi-faceted wardrobe of the ever-dressy Hindi film heroine.
From exquisite period costumes to flamboyant show-girl styles and hip fashion statements, here's a low down on Top 15 unforgettable dresses worn by Bollywood beauties over the years.
1 Madubala, Mughal-E-Azam
K Asif's glorious epic depicting a doomed romance between a Prince and a courtesan saw Madhubala bow out of the picture in grand style sporting a resplendent and embellished costume now famously addressed as the Anarkali style.
A sweeping mix of old world glamour and unabashed gorgeousness, the Anarkali has inspired everyone from Madhuri Dixit to Mallika Sherawat.
2 Mumtaz, Brahmachari
Last updated on: June 7, 2010 14:50 IST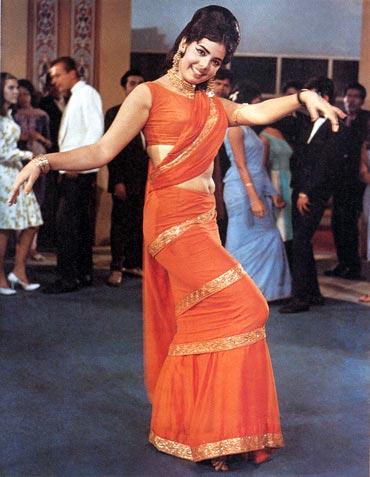 Even though it was Rajashree and not Mumtaz who played the leading lady in the musical entertainer Brahmachari, the button-cute star livened things up by turning on her impish charm in a bright orange sari, draped in an unconventional yet uber cool manner.  
3 Sharmila Tagore, An Evening in Paris
Last updated on: June 7, 2010 14:50 IST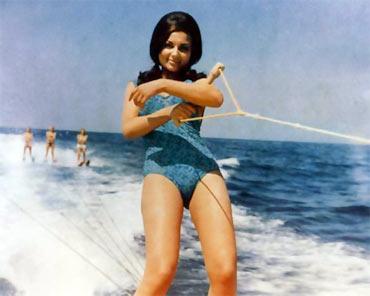 Long before there were enough bikini adorning babes to compile a full-fledged slide show, the rather elfin Ms Tagore stormed into Bollywood flaunting her sexy sophistication in nothing more than a ultra-glam printed blue swimsuit to portray the modern Indian woman in An Evening in Paris.
Tres chic!
4 Helen, Teesri Manzil
Last updated on: June 7, 2010 14:50 IST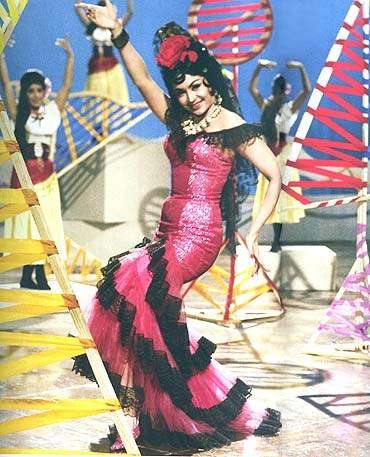 Being the ultimate show girl of Hindi films, Helen's costumes were quite the highlight.
In Vijay Anand's sleek whodunit, however, Helen upped her ante to wow-inducing levels showcasing a series of elaborate costumes for the remarkable on all counts (music, choreography, sets) -- O haseena zulfonwali.
Her appearance in this Spanish flamenco costume is the one that remains etched in our minds though.
5 Sadhana, Waqt
Last updated on: June 7, 2010 14:50 IST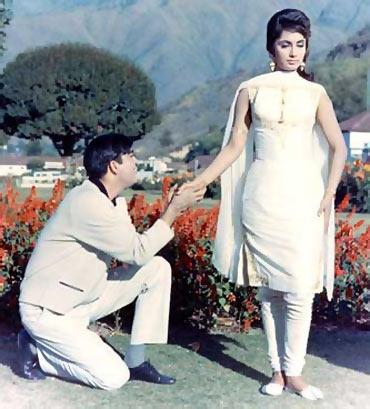 Besides playing a delectable ghost, Sadhana also made fringe and tight-fitting churidar kurtas a rage.  
Not only did her fashionable offerings in Yash Chopra's lost and found multi-starrer found a massive following of besotted copycats, including some colleagues but also set the bar of what to expect from the future Yashraj heroine.
6 Zeenat Aman, Hare Rama Hare Krishna
Last updated on: June 7, 2010 14:50 IST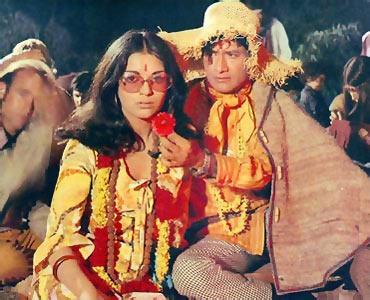 Zeenat Aman pays the ultimate 'Flower child' ode with her fabulously hippie look -- floral prints, bell sleeves, bell bottoms, over-sized glasses, rudraksha beads in Dev Anand's equally compelling brother-sister melodrama, Hare Rama Hare Krishna.
On anybody else this would look like sham but the innately classy Lazy Zee totally works it.
7 Dimple Kapadia, Bobby
Last updated on: June 7, 2010 14:50 IST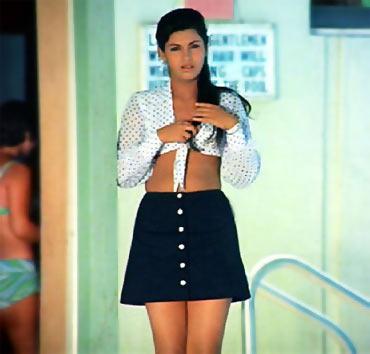 Bobby celebrates the mad rush of adolescence through the child-woman quality of its leading lady, Dimple Kapadia.  
And so trust the actress with the best mane in the business to lend a carefree sensuality while romping about in a knotted polka-dotted shirt and hot black mini musing over the matters of the heart.  
Mujhse dosti karoge, she asks!
8 Rekha, Umrao Jaan
Last updated on: June 7, 2010 14:50 IST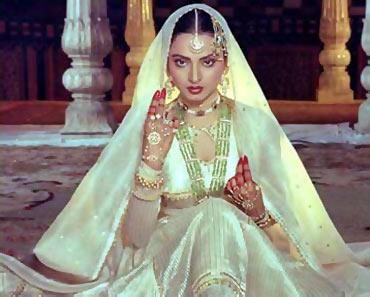 Dripping in jadau and polkis from practically every ornament-friendly corner of her anatomy, Rekha is a vision of opulence, poetry and heartbreaking beautiful. 
While tragedy might mark the fate of her lovelorn character as a courtesan in Muzzafar Ali's refined classic, Rekha sashaying in this pearl-hued brocade is stuff pleasant memories are made of.

9 Sridevi, Mr India
Last updated on: June 7, 2010 14:50 IST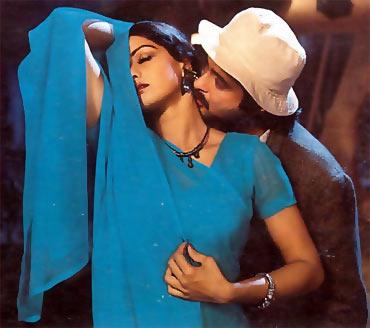 To think it's only a plain chiffon blue sari. Drape it around Sridevi and you have molten lava hotness to deal with.
Her iconic appearance in the same in a bid to lure a certain Mr India had the invisible super hero and the entire male population of India weak in the knees.  
Clearly, this one refuses to fade into black. Or blue.

10 Madhuri Dixit, Hum Aapke Hain Koun!
Last updated on: June 7, 2010 14:50 IST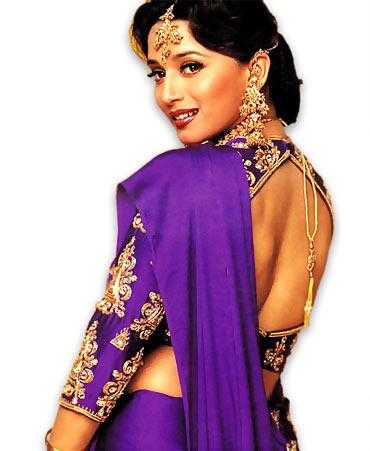 Be it Ek do teen (Tezaab) Dhak dhak (Beta), Choli ke peeche (Khal Nayak) or Humko aaj kal (Sailaab), Madhuri Dixit's flamboyant picks always make an impression.
Nothing beats the popularity of her Didi tera devar outfit though.
La Dixit wore a crystal-encrusted purple satin sari to sizzling effect in Sooraj Barjatya's biggest blockbuster. Like the movie itself, the sari, too, became a huge hit in wedding circles.   

11 Kajol, Dilwale Dulhania Le Jayenge
Last updated on: June 7, 2010 14:50 IST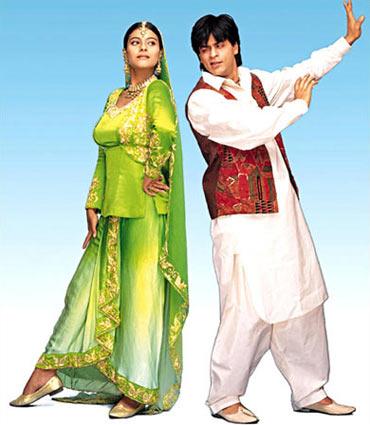 Like Madhuri's purple number, the Dulhania, too, found quite a few takers for her shiny green ensemble in Bollywood's longest-running romance.
Now ordinarily, the shade of Shrek's complexion wouldn't look becoming on most but on Kajol it's almost too fetching to be true. Le jayenge, indeed!
12 Urmila Matondkar, Rangeela
Last updated on: June 7, 2010 14:50 IST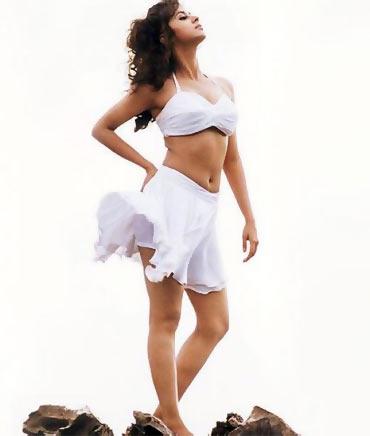 Rangeela is filled with fashion fantastic moments of Urmila Matondkar's breathtaking transformation.  
Besides kick-starting a crazy trend courtesy stylist Manish Malhotra's chic designs of short, frilly dresses it also made Bollywood more 'look' savvy. 
Among a bunch of Urmila's many-a-striking avatars in the rollicking caper, the lissome beauty particularly stood out in her east-meets-west fusion of an Amrapali-inspired bustier paired with a tiny flowing skirt.

13 Sushmita Sen, Main Hoon Na
Last updated on: June 7, 2010 14:50 IST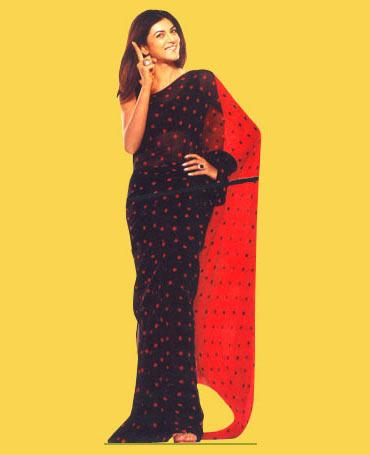 The best thing about Bollywood are its fans. They're almost obsessive in their fascination and range from all walks of life.
And so when Sushmita Sen's black and red polka dotted sari caught a majority's collective fancy, you could see its customers ranging from the grumpy aunty-next-door to the permanently cheery Kanta Bai.  

14 Aishwarya Rai Bachchan, Kajra re
Last updated on: June 7, 2010 14:50 IST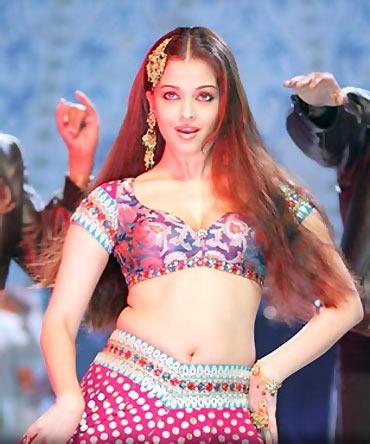 Make way for the new-age Umrao!
Putting her guarded glamour ways aside, Ash reveals her seductive side in a saucy, deep neck choli and glitzy lehenga as part of the extra special appearance in Bunty Aur Babli's spectacular item ditty, Kajra re.  
As much as one loves her looks in the numerous costume dramas, this is Ash at her hottest best.
Too bad Preity Zinta's attempt at the same wasn't 'Happening' enough.

15 Kareena Kapoor, Jab We Met
Last updated on: June 7, 2010 14:50 IST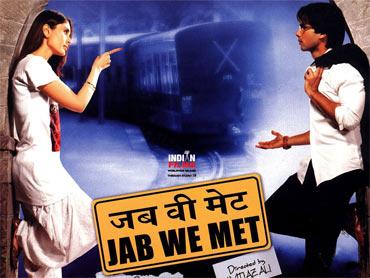 Extra long tee shirts teamed with Patiala salwars? Sounds ugh, right? Wrong.
Judging by the ensemble's popularity among young girls, Kareena Kapoor sure knows how to make a trendy statement with this unlikely combination as the chatty but endearing Geet of Jab We Met.