From makeup man to producer
Last updated on: June 10, 2010 18:33 IST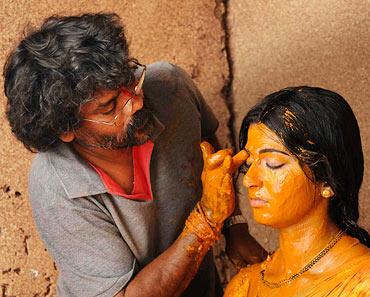 The journey of Bommadevara Ramachandra Rao (Chandra for short) is interesting.
From joining the film industry as a touch-up boy at the age of 16 in 1976, he rose to the post of chief makeup man and then Nagarjuna Akkineni's personal makeup man (from Ninne Pelladutha days).
He also does the makeup for the first photo shoot of actors who work under the Annapoorna Studios banner besides family members like Sumanth, Sushanth, Naga Chaitanya.
He has also done the makeup of Urmila Matondkar (Rangeela), Bhumika (Yuvakadu), Shriya Saran (Santosham), Ileana (Devadasu), Ravi Theja and Kalyan Ram to name a few.
After more that three decades in the industry, Chandra is ready to produce a film titled Panchakshari starring Anushka Shetty in the central role. Panchakshari is being presented by Nagarjuna Akkineni.
Chandra tells us more about his maiden production venture. Excerpts:
Why did you think of producing a film?
I joined the film industry in 1976 when I was about 16 years. At that time I saw big producers like Tamma Reddy Krishnamurthy, PAP Subba Rao and Rajendra Prasad who were very dignified people. Their impression and behaviour created an impact on me and I felt I want to be like them.
'The story of Panchakshari reveals around the heroine'
Last updated on: June 10, 2010 18:33 IST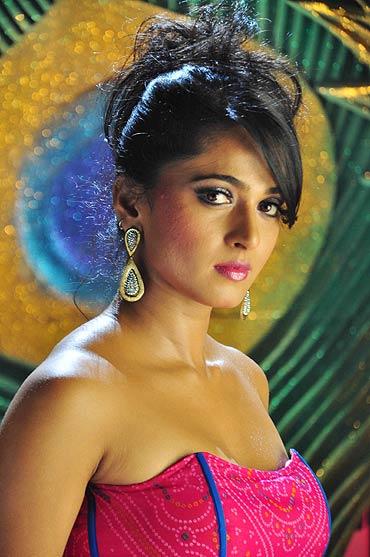 Did you think of the story of Panchakshari for a long time? What was the inspiration?
The Bonalu festival (where the rangam -- a young girl) delivers the 'oracle' inpsired me to do the film. Vipatti Madhu, a writer, told me a line which I liked.
The story revolves around three aspects -- Atma, Jeevatma and Paramatma. I liked this concept and I worked on it along with Madhu. We developed 90 per cent of the story. The screenplay is by Madhu and me, and Thota Prasad has written the dialogues.
Does the film touch on philosophy?
It does touch a bit on philosophy. It's a social fantasy. Beyond that, I can't reveal more.
Is it a heroine-centric film?
Yes, the story revolves around the heroine.
'Panchakshari and Arundhati cannot be compared'
Last updated on: June 10, 2010 18:33 IST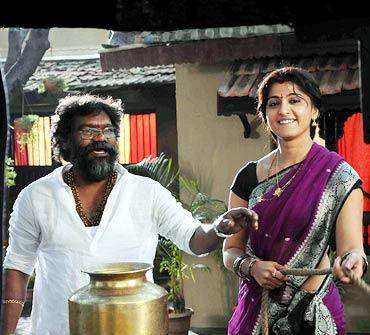 How did you sign Anushka? She told me you had asked for her dates before Arundhati...
Yes, I asked her for dates before Arundhati. I worked on a script in the intervening period. After Arundhati released, I felt that the script I had was not ideal. So I asked her for fresh dates and then Madhu came up with this concept and we developed the script of Panchakshari.
After Arundhati, I had a strong feeling that Anushka is a good actor who will do any role well. She showed the potential to be another Soundarya. So I felt I should have a good story with good characterisation.
Comparisons are bound to rise with Arundhati...
Panchakshari and Arundhati cannot be compared. I have not said anything about the comparison but the audience seem to think so. I wanted to make a good film.
How did Anushka act?
She plays a double role -- a traditional and a modern one. Ninety per cent of her costume design, look and body language was decided by me. Her acting is superb.
'I would have not been able to do justice to the film as a producer as well as a director'
Last updated on: June 10, 2010 18:33 IST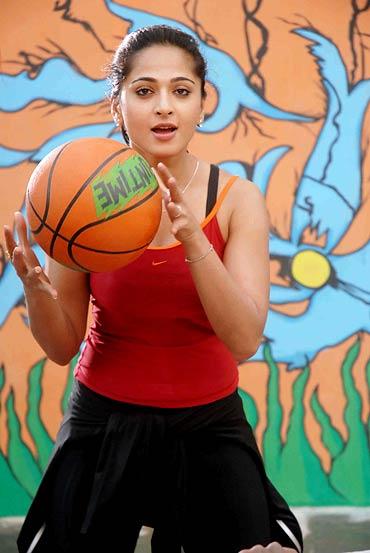 How did you decide on Samudra as the director? When you had worked so much on the script, why didn't you want to direct it as well?
I found my assistant suitable for the job in the given budget. I had seen the films he had directed like Sivaramaraju and Evadaithe Nakenti and was confident of his abilities. Moreover, I could tell Samudra what I required and get it done. After the narration, he agreed to direct the film.
I felt as producer and director, I will not be able to do justice to both as well as the story.
Samrat is the hero...
Yes, Samrat is the hero. I could have asked for a known face, but then importance of the story will get lost. So I took a new face. Samrat worked in small films before. He did a good job in Panchakshari.
There's Pradeep Rawat in the film. What role does he play?
I wanted a villain in the village who is not scared of anyone or God. Pradeep Rawat plays that character. When I was working on the script itself, I thought of Pradeep Rawat as the villain.
What are the highlights of the film?
Anushka's character. I feel there is no story like this showing the Atma, Jeevatma and Paramatma. The camera work by Vasu is good, so also the editing by Marthand Venkatesh. Chinna has composed the music of this film. Panchakshari also has good graphics.
You have songs in the film along with the Panchakshari mantra too...
I am very much into bhakti. I don't like to have skin show. Songs are part of the narrative.
'I am a technician, not a producer'
Last updated on: June 10, 2010 18:33 IST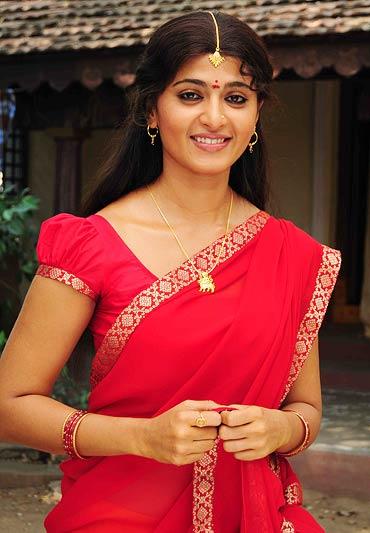 Did you do the makeup for all?
Yes I did. I like to work hard. It was challenging to do two different kinds of makeup for Anushka in the film. I have the zest to do things and don't feel tired.
As a producer, were you involved in the craft of film-making?
Even when I was putting on makeup, I used to help others on the set and thereby learn the other crafts. It was easy because of that. I am a technician, not a producer. I was there like a co-director and makeup man for every shot. 
How do you feel as a producer of Panchakshari?
I'm happy as I fulfilled my ambition of becoming a producer with Panchakshari. I have the satisfaction that I reached this stage form a touch-up boy. If I get good reports and people appreciate the film, I will feel proud of being the producer.
Will you produce more films in the future?
I will but may take a break in between films. I need to have a good story. I shouldn't lose the goodwill of the people and people should think I make good films.
How is it being the personal makeup man of Nagarjuna?
Since I have worked with him for so many years, I know what I can do. I have gotten used to his face. We share ideas. I am very happy working with him because he doesn't behave like a boss and I don't feel he is a boss.
You have been always associated with Akkineni Nageswara Rao garu's family and Annapoorna Studios. Didn't you ever think of moving out?
ANR garu, Nagarjuna and other family members are my backbone. They give me support and help. I have learnt a lot being with Annapoorna Studios. Due to the values imbibed in me, I was able to reach the stage of a producer. I don't know anyone else. Everyone here treats me like family and not as a worker and they are friendly. So the thought of leaving and going elsewhere never arose.
Would you like to produce a film with Nagarjuna?
If I ask him for dates, he may give because it is Chandra's production. But I want to prove myself with a film and then ask him.