'I don't feel like a newcomer'
Last updated on: June 17, 2010 13:42 IST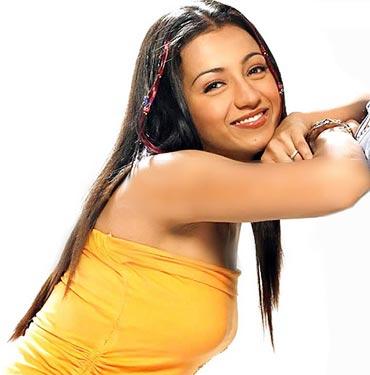 Trisha Krishnan rocked the film industry down south. 
Now she is set to do the same in Bollywood with her upcoming film, Khatta Meetha starring Akshay Kumar and directed by Priyadarshan.
The actress talks to Nithya Ramani about the film, her move to Bollywood, her passions and much more. Excerpts:
What made you take the plunge into Bollywood?
The idea of doing a Hindi film has been cropping up for the past seven-and-a-half years since Priyan sir launched me in films. We have been in talks but nothing materialised. I was busy doing films in two languages down south. But I realized monotony was creeping in and that it was time that I tried my hand at something new.
It was magical; I got a call at the right time. Priyan sir called up and said he was doing a film with Akshay Kumar and wanted me to be a part of it. I took it up because I needed a challenge.
Are you liking Bollywood?
I love it. The journey has been very smooth and pleasant. It hasn't been that much of a contrast; people here are wonderful just like those in the south. People here are very professional. Plus, there were a lot of guys from the south in the crew. I don't feel like a newcomer.
'If I am not comfortable wearing revealing clothes, no one will force me to wear them'
Last updated on: June 17, 2010 13:42 IST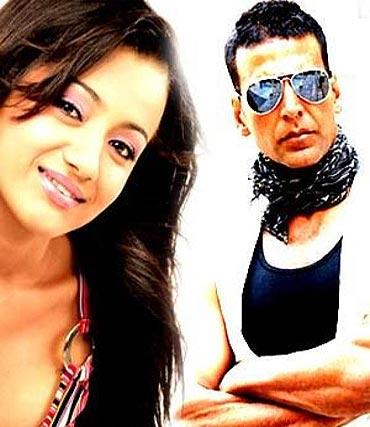 How different is Bollywood from the south?
It is a bit different. I like the way people do things here. If they are shooting a song, a lot of effort is put into it -- be it the song, the location or the make up.
Akshay is so professional and so is Priyan sir. He is someone who will get upset if someone is even 10 to 15 minutes late. He is so organised that if he has a 9 am to 6 pm shift, he makes sure he finishes at 6 pm. We have a lot of time for ourselves.
As far as the transition is concerned, it is a bit premature to comment on that. I may be able to comment on it once I do more projects here.
How was your first day of shoot? Were you nervous?
The first day of shoot was in Pune and was only a half-day shift. I think Priyan sir knew I would be nervous and it was sweet of him to start the shoot with the climax scene, which was very simple; it was a small scene. It was nice because it was the first time I was meeting everyone. Though I had done a lot of tests with my designers, I hadn't met Akshay. I got acquainted with the crew first and only then we started shooting.
Since you found the language difficult, how did you learn it?
It wasn't all that difficult. I had learnt Hindi in school, and I have relatives in Mumbai, whom I visit often. It is only because of lack of practice that my spoken Hindi isn't good. If I have a script, I am very good at mugging it up. In time, I guess, I need to speak more Hindi in order to pick it up better and be comfortable with it.
Compared to the south, Bollywood is more glamorous. Were you uncomfortable or apprehensive about keeping up?
The Tamil industry is conservative, but the Telugu industry has glamorous and loud films. But here, since it is Priyan sir's film, I wouldn't call it exposure. I think exposure can be done aesthetically. It is up to the individual.
If I am not comfortable wearing revealing clothes, no one will force me to wear them. In this film there is a college song that is glamorous; it has been shot beautifully. A bit of glamour is necessary. When I watch a film, I want to see a bit of glamour and colour.
'Akshay thought I was too serious and quiet'
Last updated on: June 17, 2010 13:42 IST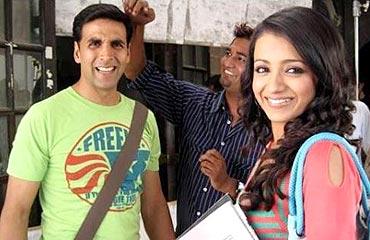 Were you in awe of Akshay?
The thing with Akshay is that even if someone is in awe of him, he makes it go away just like that. Every time I begin a new film, there is bit of nervousness, but it was more this time because this was the first time in this industry and the first time with a superstar from the north. But Akshay is so sweet; he makes you feel very comfortable.
He is very friendly and makes you comfortable with the unit. He is a prankster, so there is a lot of energy on the sets. He is always on the sets and never goes back to his van between shots. He is always busy with his calls or meetings and makes the place lively to work in.
What pranks did Akshay pull on you?
Fortunately nothing. He thought I was too serious and quiet. But Akshay is always teasing people. His eyes say it all; there is mischief in them all the time.
Are you the silent and serious type?
I do take time to open up; I am not chatty. Akshay said this to me within 10 days of the shoot. Since it was a new environment and a new set, I was nervous. He said I was different because people here talk a lot and I am yet to figure that out.
Apparently it was Akshay who recommended your name for this film. Did you hear of that?
Priyan sir did mention that Akshay had seen Abhiyum Naanum (Tamil) and loved my performance. They were looking for a new face when Akshay suggested that I could fit in. It fell in place so well that it felt like magic. Everybody asked me if it was a trying phase for me, but I would say it was so simple that it happened over a 10-minute phone call.
How was it working with Akshay? Do you remember any memorable instance?
Nothing specific. Working with Akshay was a pleasure. I haven't seen a person let alone an actor who can multitask like him. He has four films running under his production and at the same he is acting in four films and he has to keep fit.
I've asked him if he has time to breathe or sleep. I don't know how he juggles so much. He wakes up at five am and does an hour-and-a-half training. He then comes for the shoot whatever the shift. After six pm, he has meetings and shows. It is amazing to see him work like this. Even if I am having a low day and feeling sleepy, after seeing Akshay you want to wake up because there is so much energy.
'I haven't played anything like this before'
Last updated on: June 17, 2010 13:42 IST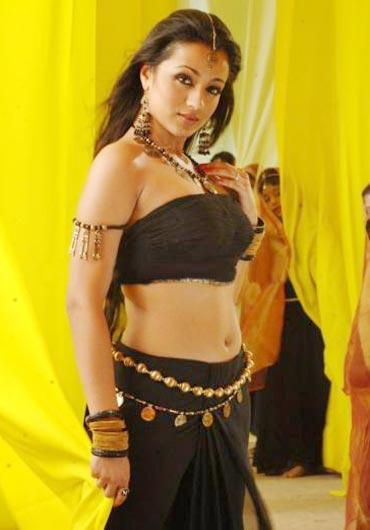 Did you find any difference in the Priyan of south Indian cinema and the Priyan of Bollywood?
No. During my first film, I was tense and that was probably why I couldn't bond well with him then. He was just my director, my mentor. In this film, he didn't have to coach me as much. So, I had the time and opportunity to chat with him.
This is the first time that I had nice, long, normal conversations with him as a friend. I feel more chilled out with Priyan sir now. He is one of the most intelligent directors we have; he can talk about almost anything and knows what cinema is.
In the south, you work only in Tamil and Telugu films. Don't you want to try Malayalam and Kannada films?
I would love to. It is just that doing two languages drove me crazy. There was a point when I thought I should quit because I wasn't able to work 30 days a month. It got too much to handle.
That is why when I got a few Hindi film offers, I couldn't take them up. But I think now it is time that I pick and choose -- do one Tamil film, take a break and then concentrate on a Hindi film. I like the pace at which things are happening now.
Does that mean you won't do any more south films?
No at all. I will definitely continue to do south films.
Are you planning to shift base to Mumbai?
I am shuttling between Chennai and Mumbai, but if things work out, I plan to work out of Mumbai.
What is Khatta Meetha about?
Just as the titles suggests it is a little sweet and a little sour. People are fighting for a cause in the film. Of course, there is slapstick comedy; I am sure people expect that because it is a Priyan-Akshay Kumar combo. The love track is very cute.
I play a collector and Akshay plays a road contractor. My role is slightly serious and I haven't played anything like this before. Akshay's character is funny and bit crass. I think he has done it fabulously. I don't think anyone else would have pulled off the character so well. Our silly tug of wars and the scenes where he has to overact and I need to underplay are shot very well.
There are rumours that the film is inspired from a real-life story of a road engineer who was killed because of municipal politics. Another rumour says it is an adaptation from an old Priyadarshan film. Which is true?
It will be right to call it an adaptation of an old Priyan film. It is a film that came out in the 1980s and I have seen the film starring Mohanlal and Shobana. Priyan sir has changed everything according to the current trend and Akshay's image. He has also portrayed me differently.
About it being inspired by a true story, I am not sure and don't want to comment on it.
'Fortunately or unfortunately I haven't been compared to anyone'
Last updated on: June 17, 2010 13:42 IST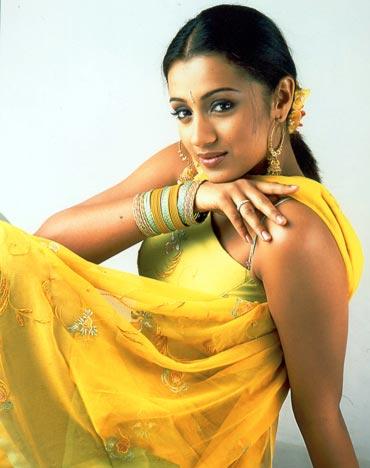 How are you dealing with the attention and fame in Bollywood?
When it comes to a movie release, we (in the south) don't do so many interviews and talk shows. I think it is very nice because tomorrow, irrespective of whether a film is a hit or a flop, people notice you and see you on every channel. This way you connect with people more... It feels very nice. There is a sense of satisfaction when I go back home that I did something for my film.
Since there are a lot of south Indian stars coming to Bollywood, are you apprehensive about how you will be accepted?
Of course, there is nervousness. But there are pros and cons. Since I have the experience of over 30 films, I wasn't nervous while shooting the film. Apart from the language, everything else was pretty much the same.
On the other hand, people start expecting so much from you thinking that if I was so good in those films, why I could not be good here as well. They start judging you more because you are not a new face.
I request viewers to watch a film with an open mind. Even if it your 10th film, you don't necessarily have to be as good as your previous films.
Do you fear being compared to your contemporaries?
Fortunately or unfortunately I haven't been compared to anyone. I think that is because people here haven't really seen my films. I don't like comparisons. I like to hear that I am unique; someone who has suddenly cropped up and doing well. That sounds more flattering.
Have you ever questioned yourself about starting a career in films?
People said I was taking a risk. It was just after college. I thought if it works out, I will be doing what I wanted to. If it doesn't, I can always go back to studies. It doesn't really matter.
I don't get too excited when my film is a super hit and I don't get disappointed when it flops. I am just indifferent to everything and I like being that way. I think it works for this industry though people say I am being insensitive.
As far as this film is concerned, I will never consider this a failure. It is always nice to be a part of a good film, irrespective of its commercial success or failure.
What about future Bollywood projects?
I am looking at more Bollywood films, but nothing is finalized. I would like to do more Hindi films. I like the pace. At the same time patience is important. Just because I am getting a great launch, doesn't mean I should sign the wrong films. I want to be choosy.
'I love the Khans -- Aamir, Salman and Shah Rukh'
Last updated on: June 17, 2010 13:42 IST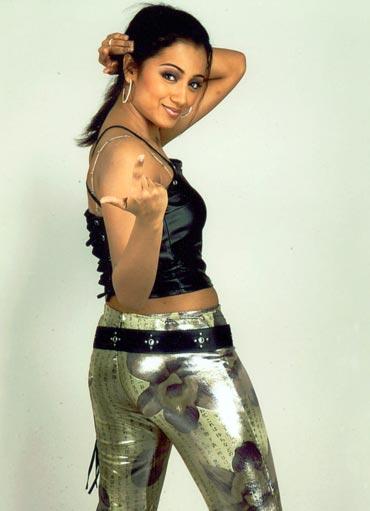 What about your future films in Tamil and Telugu?
I will start shooting a Tamil film with Madhavan and Kamal Haasan. The story and screenplay are by Kamal Haasan.
It is a love triangle between Kamal sir, Madhavan and me. K S Ravikumar is the director. It is as new as Khatta Meetha because this is the first time that I will be working with a legend. It was like going to school all over again. We have done a lot of workshops because Kamal sir doesn't believe in going on the sets and just working.
We have been rehearsing a lot with him and Maddy. Because of that, the nervousness is gone. I won't feel awkward on the first day of the shoot because I know the script like the back of my hand. I have been a great fan of Kamal Haasan, so I am looking forward to working with him.
What are your favourite films?
Dil Se. I have watched it over 30 times. I don't like action, but love, drama and romance. I love Hum Aapke Hai Kaun and Dilwale Dulhaniya Le Jayenge type of films. Of the recent films, I loved Paa, Chak De India, Jab We Met and Fashion. Down south it would have to be Kamal sir. I also love Rajnikanth's films.
Who are your favourite actors?
I love the Khans -- Aamir, Salman and Shah Rukh. I love Kareena Kapoor and Priyanka Chopra. I love the way Akshay does comedy. I love to watch his comedy films after a low and tiring day so that I can forget about everything and laugh.
What, apart from films, are you passions?
I love travelling. I play tennis when I am free. I take off twice annually and travel, sometimes alone to places I've never been to and sometimes with friends. I love adventure sports; I have tried parasailing, bungee jumping, sky diving, everything. It gives me a kick. It is like a drug. It's fun being abroad, because nobody knows you so you can walk around anywhere and do whatever you want.