The prime of Manisha Koirala
Last updated on: June 17, 2010 17:06 IST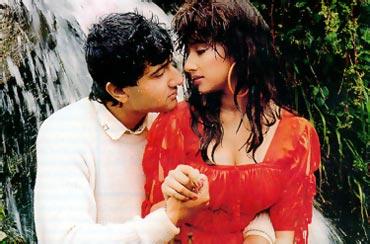 So Manisha Koirala's getting married (on June 19).
As we congratulate the gorgeous Nepali actress, it's interesting to look back on her career and see how few of her films have actually been good. And yet she remains one of Bollywood's most celebrated heroines of the 90s.
Here, then, is a brief look at her life in movies:
Born to a politically prominent Nepalese family in 1970, Manisha Koirala studied in Delhi and Varanasi, and planned to be a doctor. Life and cinema obviously had other plans, and Koirala made her debut at the age of 19 in a Nepali film called Pheri Bhetaula.
This is possibly where then top-rung director Subhash Ghai spotted her, and cast her immediately for his next feature, Saudagar, in 1991.
The film, propelled by Koirala making a song like ILU-ILU look cute, was a massive hit, and Indian audiences had a new darling.
Ek Ladki Ko Dekha...
Last updated on: June 17, 2010 17:06 IST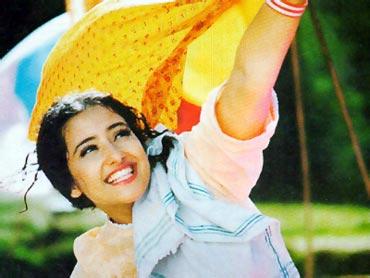 Post-Saudagar there was a flurry of activity for Manisha, culminating in a bunch of forgotten films like First Love Lette, Insaaniyat Ke Devta and Dhanwan.
Things changed for her in 1994, however, when Vidhu Vinod Chopra cast her in his historical romance, 1942: A Love Story. The film got mixed reviews, but Koirala looked luminous, especially in the song Ek Ladki Ko Dekha Toh Aisa Laga.
Following this release, she was looked on as an actress both serious and stunning.
The highs
Last updated on: June 17, 2010 17:06 IST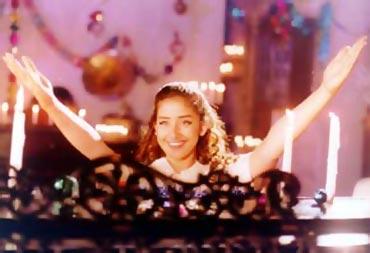 The rollercoaster just picked up steam from there. 1995 was a big year for Manisha, the actress getting rave reviews for her performance in Mani Ratnam's massively successful Bombay.
Then came hits like Criminal opposite Nagarjuna, Guddu opposite Shah Rukh Khan and Akele Hum Akele Tum opposite Aamir Khan.
This was clearly an actress who could hold her own against the biggest names on screen. In 1996, she got incredible reviews again for her workin Sanjay Leela Bhansali's Khamoshi.
90's babe
Last updated on: June 17, 2010 17:06 IST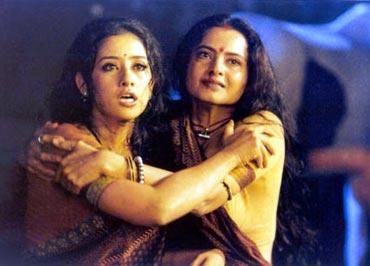 One of the busiest actresses in Bollywood, the end of the 90s saw Manisha do six-seven films every year.
And while most of these are forgettably mainstream disasters, the actress managed to consistently get herself noticed with heavily promoted films like Gupt, Dil Se and Mann.
In 2001 came another landmark Koirala film, Rajkumar Santoshi's Lajja. The actress was hailed for that film and for her great work in Ram Gopal Varma's Company, but since then there's been nothing impressive.
New innings
Last updated on: June 17, 2010 17:06 IST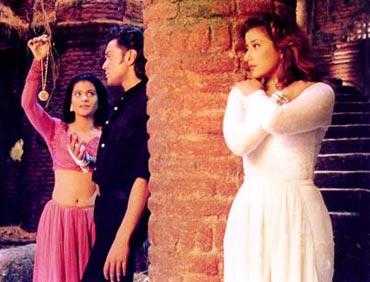 Manisha might not have done much of note over the last decade, supplanted by younger actresses, unwanted controversies and rumours, but there is no doubt that she's one of the strongest leading ladies we've had over the years, and even in her worst, most unwatchable films, she's usually delivered the goods.
Now, with Koirala tying the knot, we hope she continues to churn out memorable cinema we can cherish.