Manisha Koirala is now Mrs Manisha Dahal
Last updated on: June 21, 2010 14:02 IST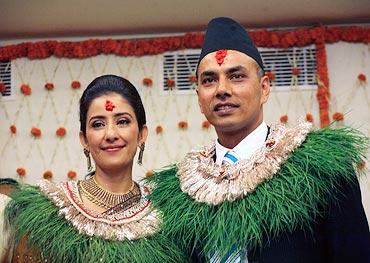 A day after exchanging wedding vows with Nepali businessman Samrat Dahal, Bollywood actress Manisha Koirala was on Saturday given a tearful bidai by her parents.
The 'kanyadan' ceremony was a five-hour-long affair at the Gokarna forest resort, 10 km east of Kathmandu, and attended by family members and Manisha's Bollywood friends Jackie Shroff, Gulshan Grover, Deepti Naval, Vivek Mushran, Suman Ranganathan and Govinda's wife Sunita among others.
Manisha Koirala is now Mrs Manisha Dahal
Last updated on: June 21, 2010 14:02 IST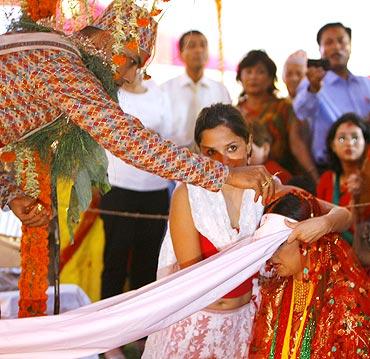 Both Manisha and Samrat dressed in traditional Nepali attire for the occasion in which her father Prakash Koirala gave away the responsibility of his 41-year-old daughter to the 34-year-old businessman amid chants of mantras.
After the kanyadan and a tearful send-off, Samrat took his bride to his home at Maharajgunj in a procession accompanied by a wedding band that played mostly Bollywood tunes.
Manisha's father Prakash said it was love marriage.
"Yes, it is a love marriage. When she asked for consent, I gave the nod as I trust her," Prakash said.
Manisha Koirala is now Mrs Manisha Dahal
Last updated on: June 21, 2010 14:02 IST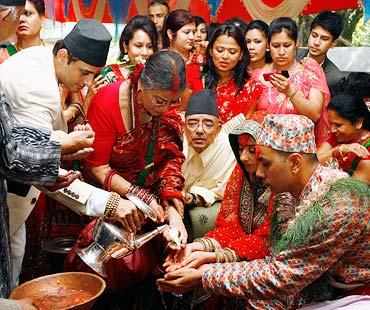 Spread over three days, the elaborate marriage ceremony concluded on Sunday with a grand dinner party at Hotel Soaltee Crowne Plaza here in which about 3,000 guests were invited including President Ram Baran Yadav, prime minister Madhav Kumar Nepal, Maoist chief Prachanda and former King Gyanendra.
On Friday the couple exchanged wedding rings and garlands in a Swayambar as priests recited Vedic mantras in the presence of the actress' father Prakash Koirala and mother Sushma.
The actress will continue with her movie career even after the marriage, her father Prakash Koirala, nephew of late prime minister Girija Prasad Koirala, told PTI.
Manisha will live in Nepal and will mostly devote time to Nepali films, which she has already begun by acting in Dharam opposite famous actor Rajesh Hamal, said Koirala.
Manisha Koirala is now Mrs Manisha Dahal
Last updated on: June 21, 2010 14:02 IST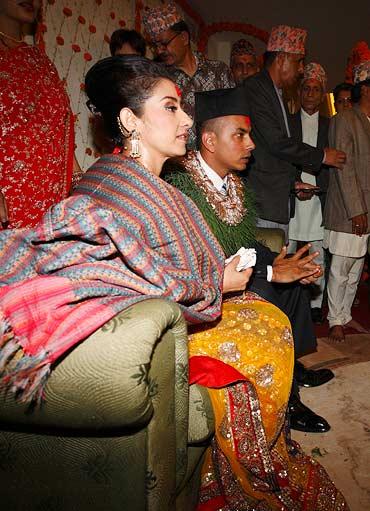 Manisha, who caught the imagination of film lovers with her 1991 Subhash Ghai film Saudagar, later went on to give memorable performances in Vidhu Vinod Chopra's 1942: A Love Story, Mani Ratnam's Bombay, Dil Se and Sanjay Leela
Bhansali's Khamoshi.
The marriage of the grand daughter of Nepal's first elected Prime Minister Bishweshwor Prasad Koirala, comes two months after the demise of Girija Prasad Koirala.
Dahal, who the actress met on Facebook a year back, has completed Master's Degree in Alternative Energy from US and he is currently involved with his family business, shoe manufacturing.
The actress had evaded marriage over the years and broke off two engagements in the past. She was reportedly engaged to ex-Australian ambassador to Nepal Crispin Conroy in 2001, but broke up with him soon.
Last year too, the grapevine was abuzz with reports that Manisha will wed American speaker and author Christopher Dorris, but that relationship too ended.
© Copyright 2023 PTI. All rights reserved. Republication or redistribution of PTI content, including by framing or similar means, is expressly prohibited without the prior written consent.