Looking at Deadly Soma 2!
Last updated on: June 23, 2010 15:57 IST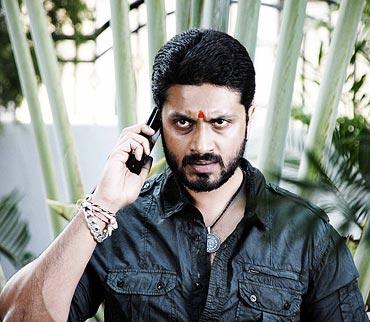 Director Ravi Srivatsa and actor Audithya, who are looking for a strong foothold in the industry after giving us a few forgettable films, are back with Deadly Soma 2.
Both of them are banking heavily on this Kannada sequel to Deadly Soma that had brought them fame.
It was in Deadly Soma that Duniya Vijay was spotted and offered a lead role. Ravi also debuted with Deadly Soma which is about an educated youth who takes to crime following a few incidents in his life.
The lead character was based on the life of Bangalore don Somashekar, who was killed in an encounter. Like in real life, in the film too, Soma is killed and it is this point that has generated interest in the second part.
How will the return of Soma then be justified? 
"Ravi has a very different explanation. This underworld story will surely create waves," says Audithya. Screenplay is the real hero, he adds. 
The actor is believed to have flaunted his toned body in one of the scenes.
Looking at Deadly Soma 2!
Last updated on: June 23, 2010 15:57 IST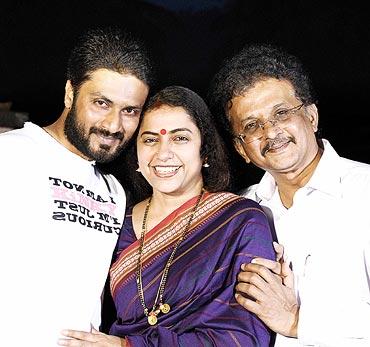 Senior actor Devraj who was also in the first part says, "While the name of my character is same, the characterisation is totally different. I have spoken more in this film compared to the first part." 
He recalls having fruitful conversations with actor Ravi Kale while shooting for the movie. "Since both of us come from a theatre background, we discussed related matters at length," he adds.
In the first part Audithya and Devraj shared screen space only in the climax.
Suhasini is also part of the cast. "We were apprehensive about her accepting the role as there were just a few dialogues in the film. But we were overjoyed when she consented to do the role," say the crew members. 
In fact it was Suhasini, Ravi Kale and Devraj's consent to do the film that boosted the director's confidence in the script.
"I also discuss all my scripts and show my output to actor and music director Sadhu Kokhila. His assessment of my films has always hit the bull's eye. And this time he has predicted success for the film," says the director.
If shortcomings are noticed at the editing table, such scenes will be reshot, he adds. Super 16 camera has been used to shoot the film.
Looking at Deadly Soma 2!
Last updated on: June 23, 2010 15:57 IST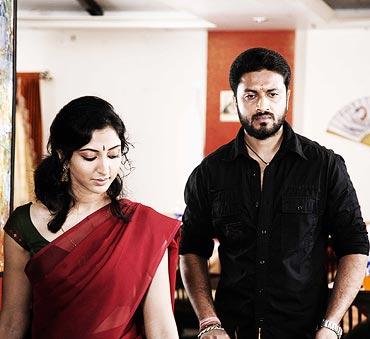 While Deadly Soma had Rakshita as the leading lady, Meghana, who debuted in Venkata in Sankata is the heroine in the sequel.
Asked if her role has enough meat considering this is a hero centric film and she says, "Along with a lot of action, the film is high on sentiments. I shared screen space with Suhasini, Devaraj and Ravi Kale and learnt a lot from them. Also in this film, I play a very traditional girl. Navika is the name of my character and she speaks less. I had to thus convey a lot through my expressions which was a challenge."
Thriller Manju, the action director is all praise for Audithya. "He finished all the sequences in one take. A fight shot amidst the public has come out well," he adds. The actor had during a jump sequence hurt his back, but is now back at work.