Image:
A scene from Once Upon a Time in Mumbaai
Nithya Ramani
in Mumbai
Even as a kid, designer Rushi Sharma (inset, right) was into fashion, and loved to dress up her dolls. That passion for design never diminished, and the NIFT graduate soon found herself working on promotions, videos and commercials with writer and director Pradeep Sarkar.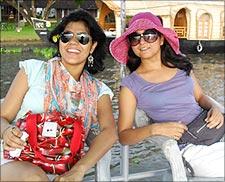 About ten years ago, while working for Sarkar, she met Manoshi Nath (inset, left), and the two have been working together ever since. From freelancing, they decided to join forces and do films together.
Their first film together was Khosla Ka Ghosla in 2007. Within a year they moved to Mumbai and haven't looked back since.
Some of their creations were seen in Oye! Lucky Lucky Oye! and now Milan Luthria's upcoming movie Once Upon a Time in Mumbaai where they were given the task of dressing up Ajay Devgn, Emraan Hashmi, Prachi Desai and Kangna Ranaut.
The duo spoke to Nithya Ramani about how they recreated the 60s and 70s retro look for the movie. Excerpts:
'Kangna can carry off any outfit'

Image:
A scene from Once Upon a Time in Mumbaai
In the film, Kangna plays a glamourous actress, who has a suave and toned-down personality in real life and an absolutely glamourous persona when she is acting. She does the cabaret and other dance sequence wearing high heels.
We gave Milan a presentation of clothes, textures and colours. We outsourced the material from Delhi, which we handpicked in a span of 15 days. We showed him designs of the 70's like collars and bell-bottom pants with the right fabric, right print and colour.
We think this is one of the toughest films we have done. We did extensive research to get the look right. We read a lot of books about the underworld and watched the 70's movies like Don. Whenever we design, we keep in mind what is in vogue in Milan, Paris and even Los Angeles. But here we had to make sure we didn't get influenced by them.
So, showing the transition from mid 60s to late 70s in (Kangna's) hairstyle, costume and makeup was interesting. Each outfit she wears isn't only an outfit; it has everything from finger rings to shoes to bags and accessories.
We have given her many looks both Indian and Western. The magic with her is she can carry off anything you give her. Once inside the outfit, she actually transforms into the character. We took inspiration from Hollywood's top models of the 70s, who were very hippy and bohemian.
'There is nothing that can possibly look cheap, vulgar or bad on Kangna'

Image:
A scene from Once Upon a Time in Mumbaai
We have given Kangna a lot of silhouettes, like chic and tight dresses with black belts and lot of round neck (boat neck) tops. We have given a lot of polka dots.
There is one yellow dress she wears with red gloves, glasses and shoes. We have done this in yellow and white. It wasn't an era where girls went out in a pair of jeans and t-shirt. They were all very well-dressed, and women absolutely dressed like women.
There is another outfit where she is wearing a glamorous one-shouldered blue full-length gown with a huge flower on the shoulder. It's as if it's been stitched on to her body, and gives her a very Greek look.
We used a lot of pure satin. She wears big long diamond necklace and earrings and matching satin gloves to go with it. She wears saris too in party scenes.
There is nothing that can possibly look cheap, vulgar or bad on her. There are a lot actresses who are too fair and you fear trying out brighter colours, and those who are too dark that you are scared of using silver. But Kangna is perfect. Any colour suits her.
Even the hairstyles (of the era) were very different, like the cats and mice hairstyle, high top buns and poker straight hair with a lot of hair bands. The eye makeup is also very typical of the 70s with thick kajal and long lashes and lipstick in bold colours.
Another fabric for Kangna would be a purple wrap dress that we got made in Delhi, which has the whole Marilyn Monroe look going for it. We got it made of knitted silk with lycra. We found a fabric that had Ajanta Ellora paintings in it. We also used fabrics that had pictures of huge lips printed on them.
'Milan wanted Ajay Devgn in all white outfits'

Image:
A scene from Once Upon a Time in Mumbaai
Ajay Devgn plays a 70s underworld don, and so he needed to look dashing.
We watched rallies by ministers to know how they were dressed in public in those times. We had prepared about 40 plus outfits for Ajay, and Milan liked them too. But one day he called up to say that he didn't want any colour for Ajay except white.
Milan explained that his character is such that he stands out among the others. The whole film has colour and glamour, and here is this one man who is in pristine white and still makes a statement.
So we scratched all the 40 designs for Ajay and made two white outfits for him. Mind you we were informed about this just two days before the shoot. But in that one day we sourced over 30 different white fabrics.
The thing with Ajay is that he can carry off anything and everything. He gets into the skin of the character when he wears his costume. He was like a diamond in the crowd.
There is a watch that Ajay wears that is very typical of watches from those days. That was the most difficult part to do.
The movie travels through time and so do his outfits. We could not do much because of the colour constraint. But the basic structure is different. The trousers in the 60s are very tight, and the shirt had rounded collars with a cut above the waist length trousers.
'We went crazy with the colours for Emraan Hashmi'

Image:
A scene from Once Upon a Time in Mumbaai
Emraan Hashmi's character is someone that everyone wanted to become at that time -- someone right and powerful.
He sees Ajay as his mentor, father figure and godfather. He later realises that this is not the path he wants to go down, and he wants to change.
He plays the Mumbai ka lukkha (bad boy) of his time. Any girl, at least once in her life, has fallen for a guy like this.
Though Emraan is playing a lukkha looking guy, in real life he is very shy, sweet and amazingly cute and calm. Which is why his transformation into an extremely rebellious, flamboyant and flashy character is so amazing.
It made our lives easy because his character changes from the film's beginning to the end. He goes from white vests and demin bell-bottoms to completely swanky structured suits. This look was inspired by a very famous African-American gangster of those times. We gave him a lot of leather jackets and tacky printed shits with huge collars.
We went crazy with the colours for him. We also used a lot of polyester fabric.
We also gave him aviator sunglasses and handmade shoes. The most important thing is that we made all those shoes. None of them were bought. 
Even the watches he wore -- heavy gold Rolex -- were of those times. We sourced the watches from collectors and made sure that it was of that period and yet not too old. They were really shiny, swanky, heavy gold watches.
We gave Ajay and Emraan big buckles for their belts. Their haircuts were different too, cut in layers and a little longer which just about cover their ears. Even their moustache weren't the regular ones that you would see.
'There is a glamourous outfit that Prachi wears only for Emraan'

Image:
A scene from Once Upon A Time in Mumbai
Prachi Desai 
plays Emraan's love interest, and is a very shy and sweet girl; the type who loves the quintessential bad boys.
It is a crazy attraction that the two have for each other. She is the one who holds onto him. Her look is very different from the others. She is not glamourous and we had to make her look like this damsel in love.
So we gave her very typical 70s tight churidhars and salwars with short kurtas. Kurtas were actually stitched on her. Also, we used embroidery and pastel coloured and light coloured outfits.
She plays a Muslim, but we couldn't go out and out and make her a burkha-clad Muslim. She is a working Muslim; a progressive Muslim.
The most difficult part of dressing Prachi was finding her the right dupatta. There are certain fabrics available today which were not used then. We went to typical Muslim areas and got fabric from Muslim dealers who knew, and had the kind of fabric that was used in the 70s. All her dupattas were hand-made with beads and embroidery and so were her butwas (small purses) she carries to work. Even those were hand-picked and stitched with beads.
Same with her footwear. She wears a lot of sandals with kitten heels and simple buckles. We also gave her a sharara that she wears in one scene. They are those typical pant-like shararas with long kurtas.
In that era, clothes weren't machine made. They didn't have that finish. So to get that kind of hand-made material was difficult. We had to buy the fabric and go through three stages of dyeing to get the exact colour that we wanted it, and then put beads and laces on them, which took a lot of time.
Her character progresses in the film from the demure girl to a glamourous one.
There is a glamourous outfit she wears only for Emraan which is this high waist short tight black skirt with a polka dotted knotted shirt.