Looking at Chiranjeevi's Gandedhe
Last updated on: March 26, 2010 16:22 IST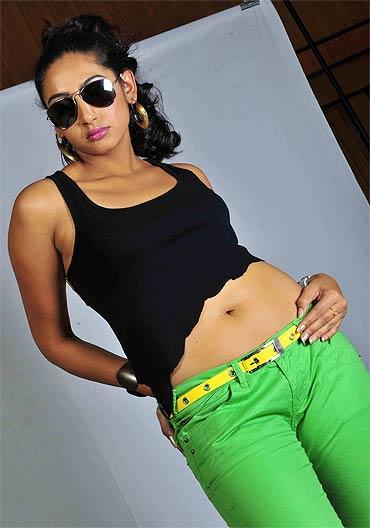 Ragini and Chiranjeevi Sarja were recently spotted at the registrar's office!
Before you start getting any ideas, it's a for a movie, Gandedhe. The Kannada actors play Nandini and Krishna, who go to the registrar's office to get married. 
Chiranjeevi who debuted in Vaayuputra will be seen in an action packed role. To boost his tough guy image, action director Different Danny has been roped in. 
Chiru as Chiranjeevi is fondly called by his co-stars and industrywallahs, is particularly kicked about two action sequences in the film.
"I had to jump off from the third floor of a college building. I chose to do the stunt myself but once I was on the top of the building I freaked out. But it was too late. There was this entire college crowd cheering for me and I had to maintain my hero image!" he jokes.
He continues, "So after checking the safety equipment I just jumped and going by the claps and whistles I got from the crowd, the risk was totally worth it."
Looking at Chiranjeevi's Gandedhe
Last updated on: March 26, 2010 16:22 IST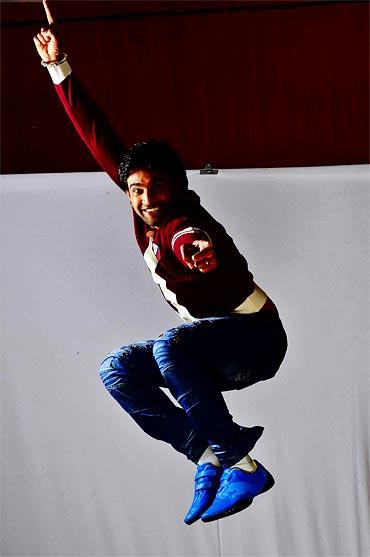 There is another scene where the actor is caught up in roots and creepers and yet manages to bash up the baddies.
"I think this kind of a fight scene is something new. It was super challenging and difficult. We shot in Mysore. It is a scene where I protect my heroine from the villains.
"The photo shoot for this scene itself was an experience. While the stills have come out well, we had a tough time shooting due to the heat and dust," adds Chiru.
A five-six minute chase scene on the Bangalore-Mysore Road is also included in the climax.
Looking at Chiranjeevi in Gandedhe
Last updated on: March 26, 2010 16:22 IST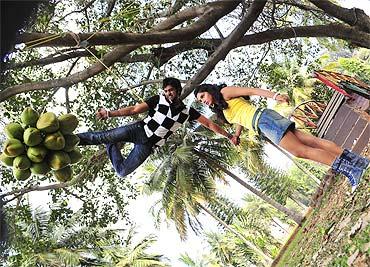 Gandedhe is a masala flick.
Ragini who debuted opposite Sudeep in Veera Madakari and sizzled the screen last in a song in Gokula, is the heroine.
While Ragini and Chiru love each other, a college mate of theirs is out to spoil their relationship as he is interested in her.
The film is on how Chiru takes on the world to win his love. The film also highlights the plight of the parents whose children are in love.
"The chemistry between me and Chiru is great. We are good friends and this helped us perform better," Ragini says adding that she'll be seen mostly in Indian outfits in the film.
Looking at Chiranjeevi's Gandedhe
Last updated on: March 26, 2010 16:22 IST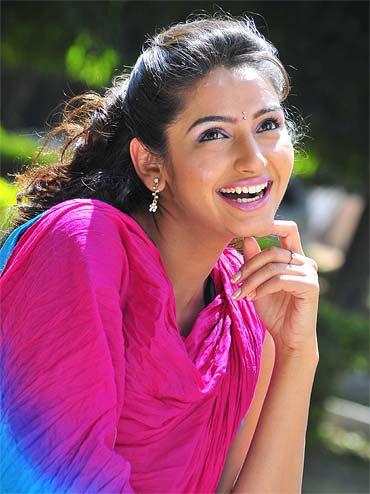 The film is being directed by Sivaakula who has written and directed films for the Telugu industry. He has been associated with films like Murari and Tulasi.
The director insists that Gandedhe is not inspired by any Telugu film. "The subject has a very Kannada feel to it. The screenplay is different and there are a lot of twists and turns throughout the film," he adds.
Shooting is underway in Mysore, Melkote, Gosai Ghatt, Karighatta and Bangalore.
Chakri is the music director while Sharath Lohitashwa, Ramesh Bhatt, Rangayana Raghu and Devaraj make up the supporting cast.
The film is slated for an April release. After Gandedhe, Chiru will be seen in Chiru, a love story with a DDLJ feel.