Tamil actor Arya all set to wow in Telugu
Last updated on: March 30, 2010 16:13 IST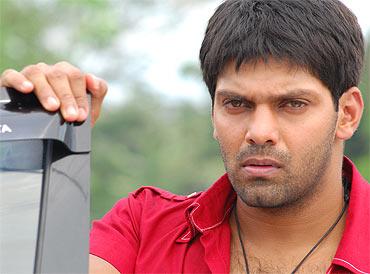 Tamil actor Arya has quite an impressive body of work within the few years he has been in Tamil cinema.
The discovery of the late Jeeva, who has bagged Filmfare Awards too, starred in Bala's critically acclaimed Naan Kadavul.
Arya has proved his versatility in Tamil cinema by acting in varied roles. He is all set to make his debut with a negative role in the Telugu film Varudu releasing on March 31. The movie is directed by Gunasekhar, produced by Danayya and also stars Allu Arjun.
Arya reveals about his Varudu experiences to Radhika Rajamani. Excerpts:
How does it feel to be making your debut in Telugu?
It feels great. Film wise and production wise, Varudu is a big project. It's a blessing in disguise to be with Allu Arjun and Gunasekhar.
You are a hero in Tamil films. In your last Tamil film Naan Kadavul you got critical acclaim for your performance. Why did you choose to play a negative role in Varudu?
If I would have made a hero's entry in Telugu it would have been a different project and a small one at that. This kind of large project like Varudu would not have been there. Varudu just happened. I had seen Gunasekhar's Okkadu and liked the film and Prakash Raj's role in it.
When Gunasekhar came with the script, I asked him if the role was something similar to Prakash Raj's in Okkadu and he said it was five times bigger than that. I heard the narration. Gunasekhar wanted me to speak Telugu but I had doubts if I would be able to do it. I wanted a break in Telugu cinema. It was a big surprise and so I grabbed it.
'I never had star trappings'
Last updated on: March 30, 2010 16:13 IST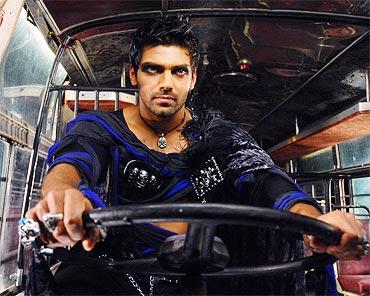 Is your role that of a conventional villain or the suave modern ones?
It was not one of the conventional villains. It had a character by itself. One had scope to perform. When you act as hero, there are limitations. When you are a bad guy there are no limitations. This is such a welcome break. It's a natural, flamboyant role. I tried lots of things. That was one of the best things.
A star whether in Telugu or Tamil cinema doesn't do villainous roles or ones with grey shades. Being a star, how did you decide to don a villain's role in Varudu?
I never had star trappings. I am open to doing such things. When two heroes play good and bad guys it's nice to watch because of the twists and turns. Whereas when there is a hero and a regular villain -- both belong to different age groups -- the hero will be 25 while the villain will be 45.
In Hindi films when three-four heroes act together in the same film it's a nice feeling and scripts can be developed. Otherwise one gets routine films. This is a welcome break. I am not bothered about others.
'Allu Arjun is more like my friend'
Last updated on: March 30, 2010 16:13 IST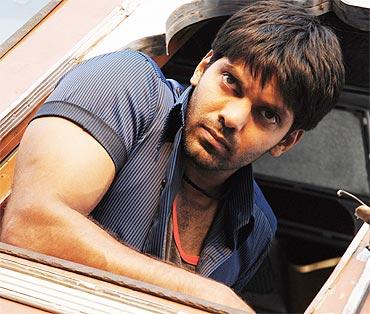 Can you elaborate on your role?
The character has his own principle, his own logic and style. I play a stage artiste who falls in love with his stage character. He is then obsessed with himself. It was a challenge to portray different characters -- even historical ones.
How was Allu Arjun as a co-star? You must be both contemporaries.
Allu Arjun is more like my friend. I have known him from before. He is fun-loving and sporty. We are good friends and used to party together too. He was of huge support to me especially when saying the dialogues. There were no ego issues between us.
How did you manage with the language?
I learnt the lines. It was quite difficult. I do not take prompting. I had a translator who would explain the meanings.
'The USP of the film is the wedding sequence'
Last updated on: March 30, 2010 16:13 IST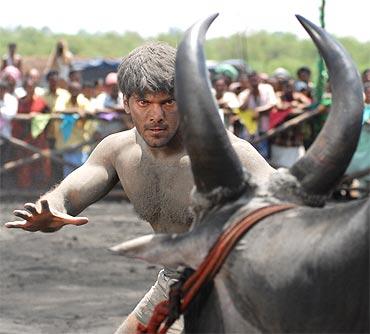 Gunasekhar is normally known to etch his characters well. Were you happy with your characterisation?
I was excited about the character and that's why I signed the film.
What is it that you found in Gunasekhar as a director?
He is particular about the right expression. He is a perfectionist. His knowledge of computer graphics (CG) is really good. The film has good CG work. He has clarity in his mind and does a tremendous amount of preparations. He would act and show it to us. He has also planned the promos of Varudu well.
There's a lot of speculation about Varudu. There is talk of five-day wedding sequence, action etc. Could you throw some light on the film?
The USP of the film is the wedding sequence. One wouldn't have seen anything like the CG in the film -- it's natural and believable. Another highlight is the high-voltage action.
The heroine has been kept a secret...
It goes with the script. If one sees the movie one will understand why the heroine has been kept a secret.
'I want to do more Telugu films'
Last updated on: March 30, 2010 16:13 IST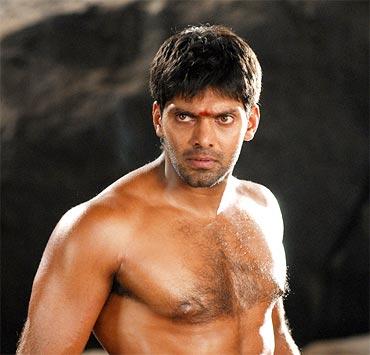 Did you enjoy the experience of acting in your first Telugu film?
Yes. When a movie releases I am normally tense as I am the hero. Now I am excited about the release because the burden is not on me in Varudu. I am wondering what people will say.
Would you do more projects?
Definitely. I want to wait for the release of Varudu to check opinions. Let me see how people receive me.
What are your other projects in Tamil?
Madharaspattinam will be releasing in May. Then I have Bala's film, Chikku Bukku (with Shriya Saran) and Boss Engira Bhaskaran (with Nayanthara).