'I never got any female attention when I was a student'
Last updated on: March 31, 2010 14:57 IST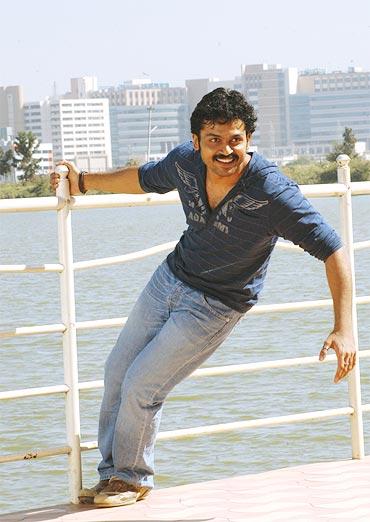 Karthi is one of the brightest young actors in Tamil cinema who dares to experiment with offbeat roles.
In his first film -- Paruthiveeran, and second -- Aayirathil Oruvan, he took on unusual roles. Both were box office hits.
In a departure from his first two films, he dons the roles of an urban youth in his third -- Paiyaa -- releasing on April 2. It is a road film with Tamannah and a Mitsubushi Lancer giving him company.
Karthi shares his experience of shooting for the movie with Shobha Warrier. Excerpts:
Was moving from Aayirathil Oruvan to Paiyaa relaxing for you?
It was extremely relaxing as I got to sing, dance and romance! I could be myself. I was dying to start shooting for Paiyaa. I was wearing the same clothes for months while doing Aayirathil Oruvan and I was dying to wear good clothes. And, for Paiyaa, they gave me eight sets of clothes to change in a day!
After being deprived of any good clothes for so many months, I was happy and told them I would never complain about dress changes. I had no make-up for Paiyaa while it took an hour to put on the make-up for Aayirathil Oruvan, and an hour to remove it.
'What fun will a guy have if there is no girl to travel with him'
Last updated on: March 31, 2010 14:57 IST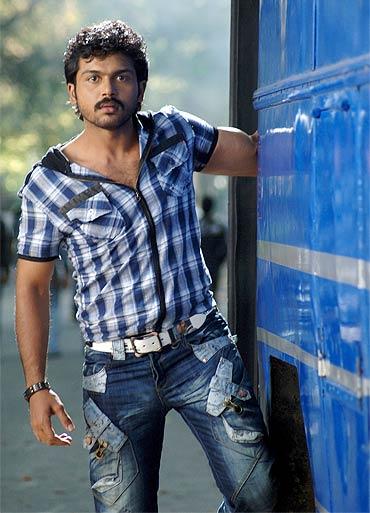 What is Paiyaa about? Is it a love story?
It is a road film, a love story too. But there are elements in it which will mark it apart from the regular films. It will be a new experience in Tamil. It's about two strangers travelling in a car. Though it is not very dramatic, there are a lot of events happening in the journey.
From where does the journey start?
From Bangalore to Mumbai. It will be visually very beautiful. I travel in a Lancer. I get to do a lot of stunts, car chases and songs! We shot on the Bangalore and Hyderabad highways.
What is your role in Paiyaa?
Paiya! [laughs] (paiyaa means a young boy or man). I play Shiva, a guy who is looking for a job.
Do you start your journey alone? Where do you meet Tamannah?
I don't go alone; I pick up Tamannah right at the beginning itself.
So, she is there with you from Bangalore to Mumbai?
Of course. What fun will a guy have if there is no girl to travel with him! [Laughs] But I meet many others on the way.
'In Satara, we shot in the middle of the city and there was absolutely no problem'
Last updated on: March 31, 2010 14:57 IST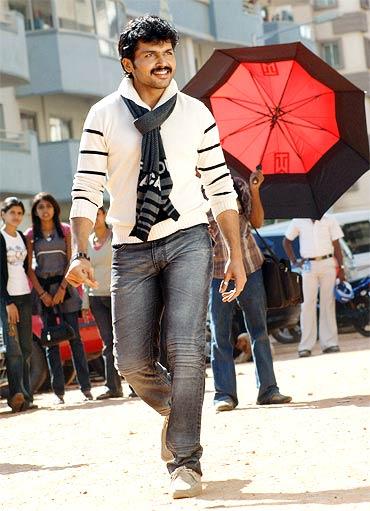 How many days does it take you to reach Mumbai?
A week.
Where does she sit? Next to you in the car?
No, she sits behind! That is why it is very interesting!
So, you romance through the rear view mirror?
Exactly! You can see us sitting in the front and back in the songs.
Did you go abroad to shoot the songs?
No, all the songs are shot in India. The film maker has taken so much pains to find the correct location as he wants each place to look stunning. In Satara, we shot in the middle of the city and there was absolutely no problem. People there were very co-operative.
How do you compare the experience of working in a light hearted film like Paiyaa to your other two films which were quite serious?
I would say I was not working in the real sense in Paiyaa. After doing very heavy scenes in my first two films, in Paiya, I was romancing a girl, talking all sorts of funny things and doing all light things just as if I were not acting! After Paruthiveeran and Aayirathil Oruvan, I felt doubtful whether I was doing the right film.
'Strong films are more interesting'
Last updated on: March 31, 2010 14:57 IST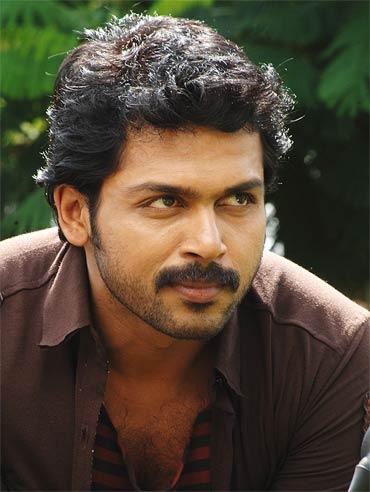 Which is more enjoyable for you as an actor?
An actor has to do everything, all genres of films. Paruthiveeran was a difficult film to work on. It was my first film but a very strong character. Each film is an experience in itself. The effort to look and play someone else in itself will make you interested in a film.
I must admit strong films are more interesting to me as by the end of the day's shooting, you feel good.
So, you would like to be known as a serious actor rather than just a commercial one?
Yes. But the fact is, we need a share of both the films. I like the basic entertainers too. An actor has the advantage of working with different directors on different genres.
Do filmmakers come to you with good scripts because your first two films were serious and different?
Yes, thankfully. They feel that this guy will put in an effort and be serious.
Do you feel blessed as an actor?
Yes. From what I have done so far. Not everyone would get such roles in the beginning of one's career. But then I had to pay a price for it too. Four years of my life have gone! I will never get them back. But not many actors get such roles in their career. I am learning the grammar from very good filmmakers.
'If people like your acting, what more do you want?'
Last updated on: March 31, 2010 14:57 IST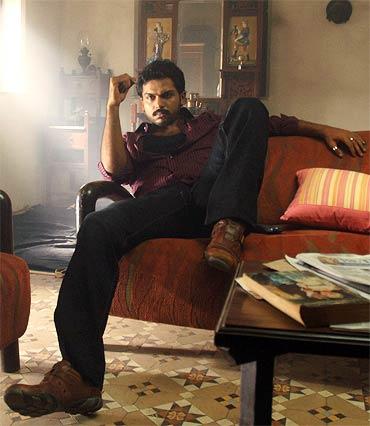 Do you feel because of these two films, people may expect a lot from you all the time?
It is a good thing, I feel. It is very bad if people don't expect anything from an actor. At least, because of the expectations, you can push yourself harder though you may fall short of expectations a few times. It can't be helped. I will be true to myself.
It is not me who will make a film good; there is the director, the technicians, and the others who make the film work. Its not my effort alone; it's team work. I can only choose good scripts. I feel working itself is a pleasure and you need not think of the end result all the time.
Would you like to be a mass hero?
If people like your acting, what more do you want? When I was a student, I never got any female attention and after Paruthiveeran when I was invited for a function in my college, I saw girls screaming.
I wondered whether they were screaming after seeing me! Nobody looked at me when I was a student and there, they were screaming for me. It felt nice. I enjoyed all the admiration.
After the huge success of Aayirtahil Oruvan in Telugu, it was reported that Paiyaa will be dubbed in Telugu too. Is it true?
Yes. It will be dubbed as Aawara. The name suits the character. I picked up enough Telugu to dub for the film.
What is your next project?
It is Naan Mahaan Alla, a very realistic yet fresh film by Susindran of Vennila Kabadi Kuzhu. It is an urban film, and I am slowly coming out of the rural set up! Thankfully, after the long wait, I will have close releases.