From Leader to Rama Rama Krishna Krishna
Last updated on: May 11, 2010 14:59 IST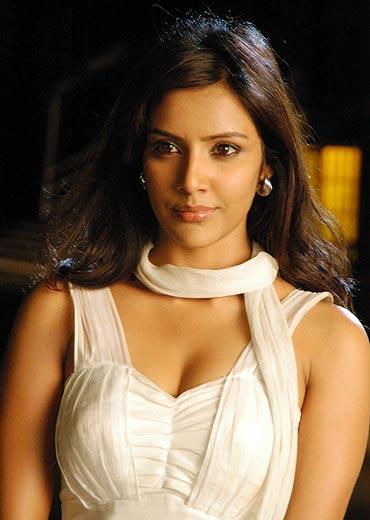 Priya Anand was delightful as Ratna Prabha in Sekhar Kammula's Leader. 
Now she is ready to charm us all again with her second Telugu film Rama Rama Krishna Krishna (RRKK), a commercial venture.
She tells Radhika Rajamani what to expect. Excerpts:
What excited you about Rama Rama Krishna Krishna? Why did you agree to do it?
It was from Dil Raju's banner and I got the offer while shooting for Leader. Dil Raju has a brand value and makes films for the family audience. The film had a nice village story. Ram was acting in it and he has lots of energy. So it was a nice offer.
'I felt like a newcomer on the sets of Rama Rama Krishna Krishna'
Last updated on: May 11, 2010 14:59 IST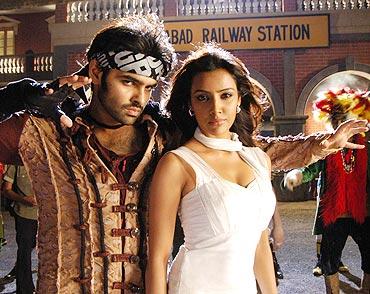 What is your role all about?
Arjun plays my brother. In the film we are from Mumbai but move to Rajahmundry because of certain events. Ram and I dislike each other and are always picking up fights. Then we are forced to go on a journey where we have to tolerate each other. The character has all the boldness of the Mumbai girl initially. She is independent. Then later she becomes soft.
How easy or difficult was doing this film as compared to Leader?
It was quite different from Sekhar's Leader. Here I was again a 'newcomer' going on the set. I don't remember any hiccups while doing Leader. I could breeze through the dialogues. In RRKK I had to be on my toes. 
It took some time to get used to commercial cinema and the acting there but I had wonderful people around me. The acting and environment were different. The reactions were also different.
'Working in Rama Rama Krishna Krishna was hard, Ram helped me through the emotions'
Last updated on: May 11, 2010 14:59 IST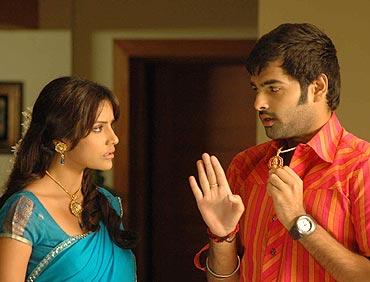 You were not seen at the Leader premiere. Was it because you had started to work in RRKK?
I missed the premiere as I was shooting a song in Amalapuram. It was a Sankranthi song, a family one and the shoot couldn't go on without me.
I saw Leader in Rajahmundry. Having lived in Chennai and Hyderabad and later in the US, it was fun shooting for RRKK in Rajahmundry. I lived there for two months, the first time away from the places I grew up in.
So you play a proper commercial heroine singing and dancing?
Yes. There's a mass song in the film. It's completely commercial and completely contrast to Leader.
How was Ram as a co-star?
I have so much respect for him. He has been raised very well. He is very hardworking and thinks about movies. In fact he had hurt his knee before a song shooting but despite that, he danced. I breezed through Leader. RRKK was hard. Ram helped me through the emotions. Even Arjun helped me.
'I learnt to dance'
Last updated on: May 11, 2010 14:59 IST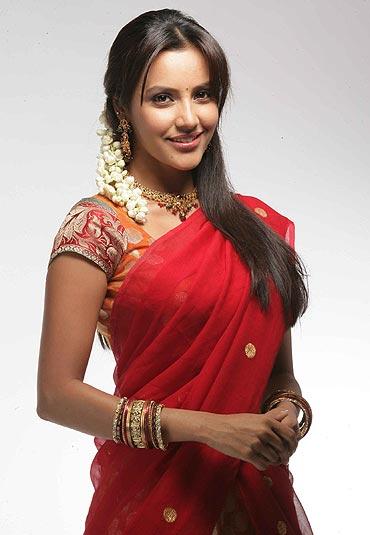 Have you dubbed for the film?
No.
Why not?
It was the director's choice.
How was the experience working with director Srivas?
He's been patient with me as the character took some time to register. He's quite chilled out.
Where is the film shot?
Mostly in Andhra Pradesh (Rajahmundry, Vizag) and Mumbai.
What can the audience look forward to in this film?
When it's a Ram film, people expect comedy and entertainment (especially after Ready -- comedy film by Ram and Brahmanandam). Since it's a Dil Raju film, it's a family film. There's high-voltage action too. In fact, it has got a mix of everything.
What have you learnt from RRKK?
I have learnt so much about the industry -- learnt how to handle things and people, I've seen what I was not exposed to before -- the commercial film. I learnt to dance too.
'Many thought my acting as Ratna was natural'
Last updated on: May 11, 2010 14:59 IST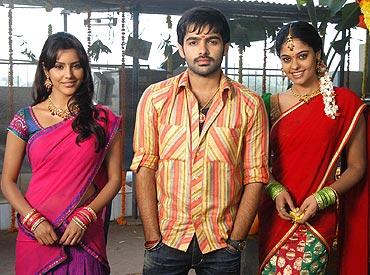 How has the response to Leader been?
It was overwhleming. On Orkut (social networking site) there were several messages. I have been getting messages about Ratna. Several people wanted me to join Twitter and Facebook, and I did. Many thought my acting as Ratna was natural. People loved the character. The response from the industry too was wonderful. In fact Sekhar used to call me Ratna. He said I had played it more than what he had envisioned about Ratna.
Were you lucky to have begun your career in Telugu film industry with Leader?
Definitely. Putting aside the AVM banner, Rana and Sekhar, it was an impactful film. It gives you an image. It's difficult to move away from that. It's a blessing.
What are your future films?
I will be doing a bi-lingual (Tamil and Telugu) with Siddharth to be directed by Jayendra. The shoot will begin in June. Since I speak both Tamil and Telugu, I am looking forward to it. It is called Puttum Pudukkaalai in Tamil, while it's not titled yet in Telugu.