Holidaying with Bollywood stars
Last updated on: May 12, 2010 12:12 IST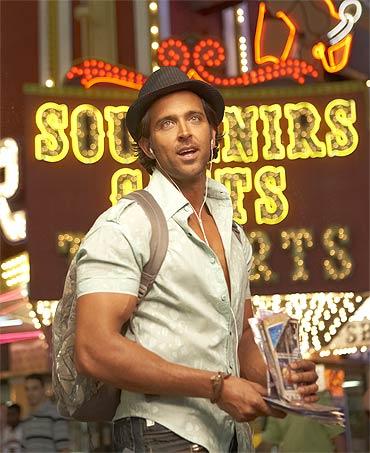 Come summer and most of us itch to pack our bags and head out of town/country to enjoy a much-deserved vacation. 
Regardless of what season, movie stars get to travel a lot more frequently thanks to the relentless outdoor schedules. 
Not everyone, however, is as fortunate.
No worries. Whether you are hard-pressed for time, short on cash or simply too lazy to budge from that cubicle, here's your chance to sit back and holiday with the stars, Bollywood style to some of the hottest destinations outside India at the click of a button. 
So hop on and stay put. Oh yes, bon voyage!
Hrithik Roshan, USA

Bollywood's leading hunk is a portrait of a glamorous tourist, standing out in a crowd of aspiring gamblers at the bustling Fremont Street of Las Vegas with his charismatic aura, glitzy back-pack and sleek iPod. 
Deepika Padukone, Italy
Last updated on: May 12, 2010 12:12 IST
While the pigeons of London's Trafalgar Square and Mumbai's Gateway of India have enjoyed iconic footage in a number of Hindi films, Deepika Padukone lends the ones at St Mark's Square their five seconds of glory as they flutter about her with feverish enthusiasm.
And you thought Venice is all about gondolas?

Shahid Kapoor and Anushka Sharma, Thailand
Last updated on: May 12, 2010 12:12 IST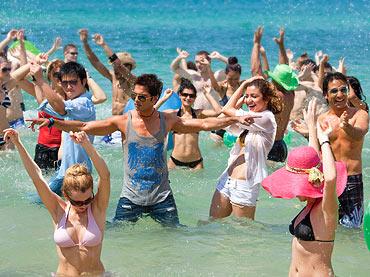 Thailand is best known for its sparkly beaches and pristine water. 
Look like the fit 'n' fetching duo of Shahid Kapoor and Anushka Sharma aren't strangers to this fact as they splash their (rather well-prepared) feet into Bangkok's party scene of hot steppers.
Katrina Kaif, Austria
Last updated on: May 12, 2010 12:12 IST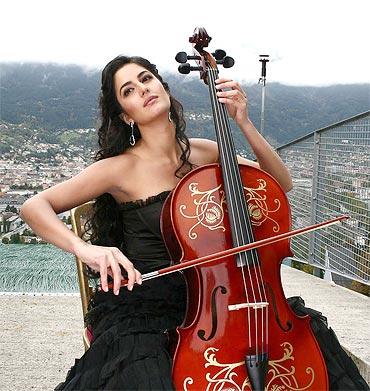 Being in Wolfgang Amadeus Mozart's hometown, Salzburg seems to have made a mellifluous impression on Katrina Kaif. 
The doe-eyed beauty makes a rather photogenic statement against the picturesque city with a cello in tow.
How that's for 'soak in the history and culture'? 
Salman Khan, Greece
Last updated on: May 12, 2010 12:12 IST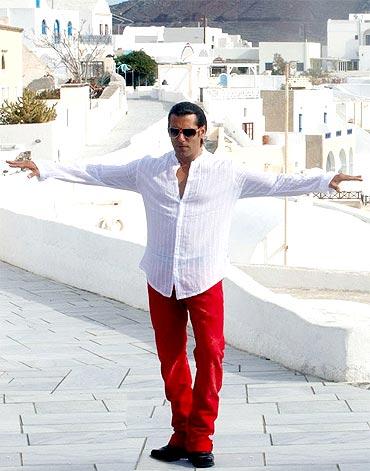 On the scenic island of Santorini, boasting of white-washed architecture and turquoise blue accents, the Wanted star finds a perfect getaway to enjoy some 'me' time and stretch his arms in peace with an air that reads 'Love me. Love my red pants'.
Shah Rukh Khan, Kajol, United Kingdom
Last updated on: May 12, 2010 12:12 IST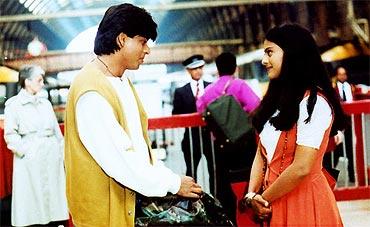 Travelling around London entails a great deal of tube hopping and braving huge crowds.
But when Bollywood's ultimate jodi sets foot, mobs are miraculously taken care of and there's enough time for chit chat. Kajol never misses a train, remember?
Preity Zinta, Australia
Last updated on: May 12, 2010 12:12 IST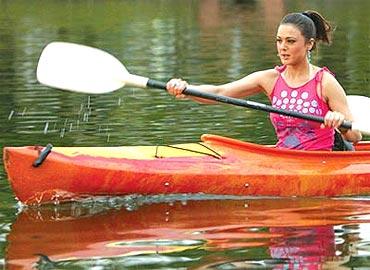 What's a holiday without a little bit of sport or adventure? Ask Preity Zinta!
The actress shows off her dimples and canoeing skills on Melbourne's riverfront with characteristic zing. 
Too bad she cannot paddle her way to King's XI's success.
Lara Dutta, The Bahamas
Last updated on: May 12, 2010 12:12 IST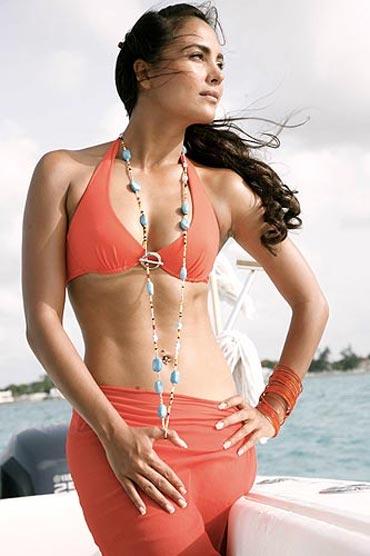 You better shape up and take a crash-course in swimming and scuba diving if you want to indulge in the same thrills as Lara Dutta did during her adventurous stint at the breathtakingly beautiful Bahamas.
Akshay Kumar and Priyanka Chopra, South Africa
Last updated on: May 12, 2010 12:12 IST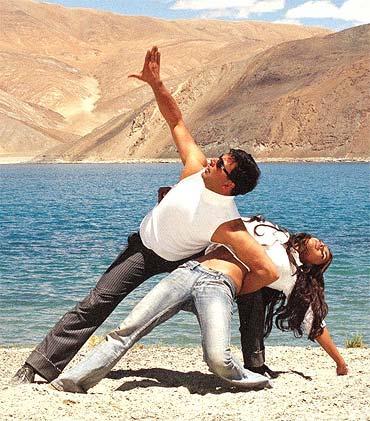 The khiladi meets his match!
There's something instantly captivating about Cape Town's raw landscape and vast open spaces.
No wonder the sporty Akshay Kumar keeps returning with renewed vigour.
Quite some of it is at display as he admires the bright blue sky while casually juggling Priyanka Chopra with his swift backhand.
Abhishek Bachchan and Kareena Kapoor, New Zealand
Last updated on: May 12, 2010 12:12 IST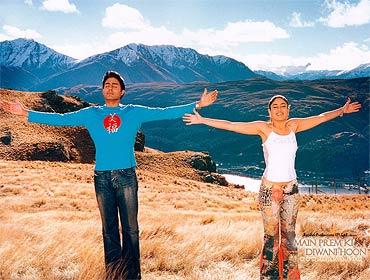 Known for all sorts of outdoor activities from bungee jumping to parasailing, New Zealand brims with nature's wealth and unpolluted energy.
A clearly impressed Bachchan Jr and Bebo soak in the scene's grandeur by striking a classic Titanic pose instead.