Looking at Salman's Top 10 blockbusters
Last updated on: September 15, 2010 11:04 IST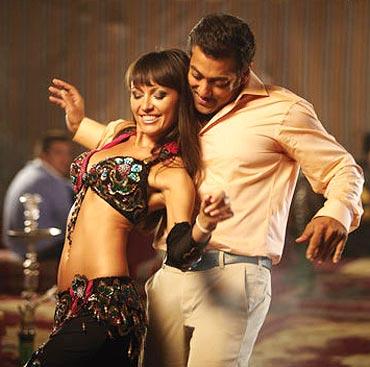 Ever since their advent in Bollywood, the Khans have pretty much dominated the top slot.
While Aamir Khan's credibility and Shah Rukh Khan's clout is undeniable, Salman Khan has emerged as the unpredictable superstar by delivering a whopping, unrivaled box office success at regular intervals.
Even he gets more talked about for his off-screen misadventures; the 44-year-old actor's stock of super-hits has far more aces than he's led us to believe.
At the moment, his recently released Dabangg, a self-styled cop caper is breaking opening-day BO records set by Rajkumar Hirani's all-time blockbuster 3 Idiots on the strength of the muscular star's distinctive charisma alone.
With the Dabangg fever showing no signs of stopping, rediff.com makes a note of the Top 10 blockbusters of Salman Khan's career.
Download cool Salman Khan wallpapers
Maine Pyar Kiya, 1989
Last updated on: September 15, 2010 11:04 IST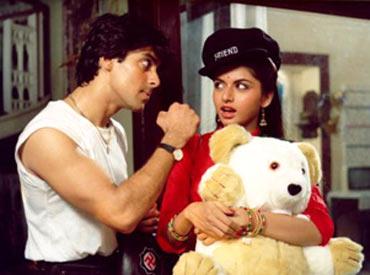 Salman made his acting debut as a supporting character in J K Bihari's Biwi Ho To Aisi.
But before he could drown in a sea of promising non-starters, he was signed on by young filmmaker Sooraj Barjatya to play the uber cool Prem in his rich vs poor romance.
The rest as the cliche goes is history. The movie not just raked in the big bucks and made an overnight heartthrob of him but heavily influenced impressionable future directors like Karan Johar and ilk.

Saajan, 1991
Last updated on: September 15, 2010 11:04 IST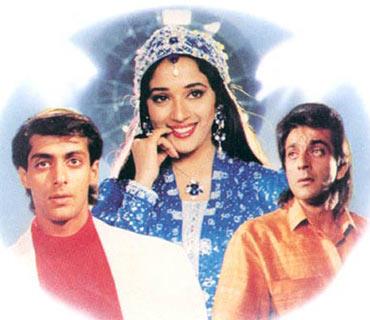 In this gorgeous albeit implausible triangle co-starring Sanjay Dutt and Madhuri Dixit, Salman channeled his inner playboy to fruitful results.
Sudhakar Bokade's musical romance, with due credit to Nadeem-Shravan's super-catchy score, turned out to be a powerful hit and provided a much-needed boost to everyone's career.
Suddenly there was a barrage of 'Saajan' led titles and 'love triangles' in Bollywood market.

Hum Aapke Hain Koun...!, 1994
Last updated on: September 15, 2010 11:04 IST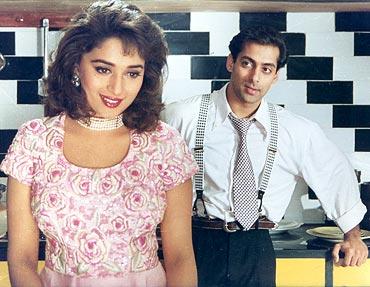 At a time when audiences felt content watching movies on cable television, Barjatya's Hum Aapke Hain Kaun forced them to visit movie theatres by refusing to become a part of the video circuit, setting a trend in that direction.
Despite minimal promotion and limited screen release, HAHK -- a celebration of Indian weddings and Salman-Madhuri Dixit's combined star power, as we all know, went on to make box office history.
Karan Arjun, 1995
Last updated on: September 15, 2010 11:04 IST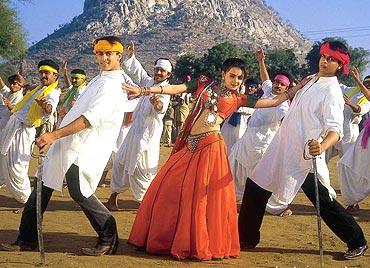 Close on the heels of Barjatya's legendary blockbuster followed another. This time in the garb of Rakesh Roshan's gripping reincarnation drama, Karan Arjun.
While Shah Rukh Khan and Kajol tom-tommed their explosive chemistry, Salman gave up his usual lover-boy ways to play a strong, silent type flexing his newly beefed-up physique.
His physicality and SRK's intensity rendered Karan Arjun the vibe of a crisp, action drama, which was whole-heartedly lapped up by the audience.

Hum Dil De Chuke Sanam, 1999
Last updated on: September 15, 2010 11:04 IST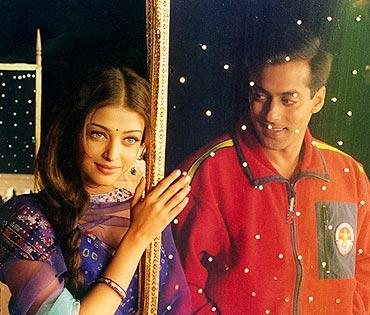 Salman's playful antics along with his roaring on-screen magic with co-star Aishwarya Rai proved to be one of the biggest USPs of Sanjay Leela Bhansali's grand musical, Hum Dil De Chuke Sanam.
Apart from bringing the crowds in locally, HDDCS did fabulous business outside India as well establishing the overseas popularity and foothold of its actors.
Biwi No 1, 1999
Last updated on: September 15, 2010 11:04 IST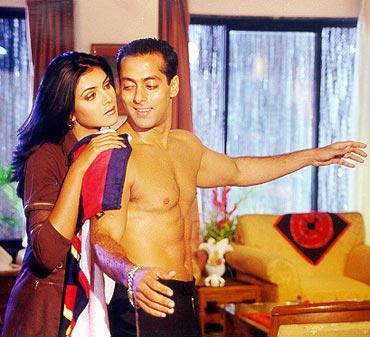 He cries. He lies. He cheats. And still somehow manages to be the hero of the film.
In this obvious David Dhawan offering revolving around Karisma Kapur, Salman plays the lovable bad boy with such tickling energy, it's hard to stay unimpressed.
These two, along with its assorted cast of Anil Kapoor, Sushmita Sen, Tabu and Saif Ali Khan (in a guest appearance), effortlessly drew in the crowds of Salman fans who were only too happy to declare this a 'Movie no 1.'
Tere Naam, 2003
Last updated on: September 15, 2010 11:04 IST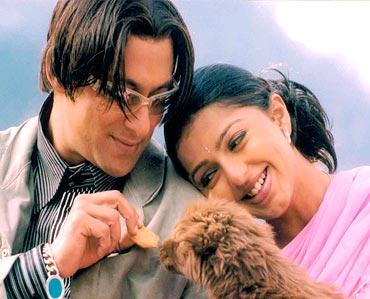 The actor's entry into the new millennium wasn't all too memorable.
Shrouded in controversies, this difficult and dry spell finally came to an end with his dramatic portrayal of Radhe Mohan in Satish Kaushik's Tere Naam, a remake of Tamil hit, Sethu.
Promoted as a 'true love story', the over-the-top sentimentality of Tera Naam and its ensuing tragedy struck a chord with Salman loyalists resulting in a tremendous run at the BO.
Mujhse Shaadi Karogi, 2004
Last updated on: September 15, 2010 11:04 IST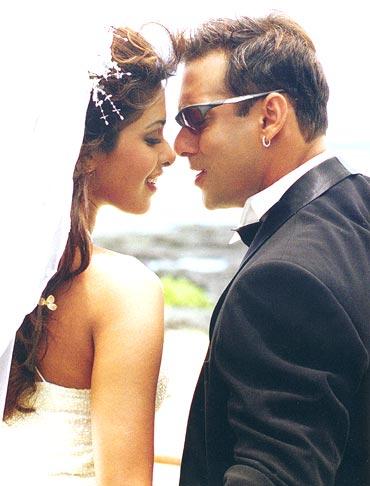 His engaging banter with Akshay Kumar in David Dhawan's Mujhse Shaadi Karogi turned out to a major attraction as viewers flocked theatres to see the twain in action.
A sizzling Priyanka Chopra and chartbusting soundtrack didn't hurt either.
Too bad their colourful camaraderie fell short of selling enough tickets of Shirish Kunder's Jaan-E-Mann.

Partner, 2007
Last updated on: September 15, 2010 11:04 IST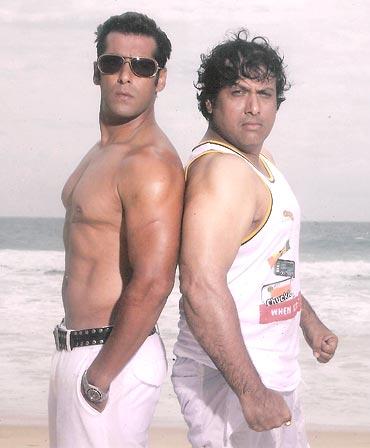 What is the upshot of David Dhawan's favourite boys coming together? A money-minting proposition called Partner.
A unabashed rip-off of Hollywood's Hitch, Partner -- regardless of its tacky writing and trite twists -- had Salman and Govinda collaborate to side-splitting results doing what they do best -- play to the gallery.
Wanted, 2009
Last updated on: September 15, 2010 11:04 IST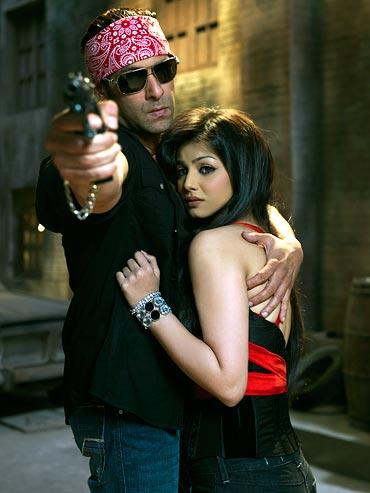 Another remake. Another blockbuster.
In Prabhudeva's Hindi reworking of Telugu hit Pokiri, Salman plays a dynamic undercover cop with extraordinary physical strength and brain power.
Like a true blue Bollywood cowboy, he walks the walk, talks the talk and saves the day in his keenly developed, unique style. Akin to the enthusiastic response of Ghajini's raw, graphic action, the Boney Kapoor production, too, went on to make pots of money.
Extra special!
Last updated on: September 15, 2010 11:04 IST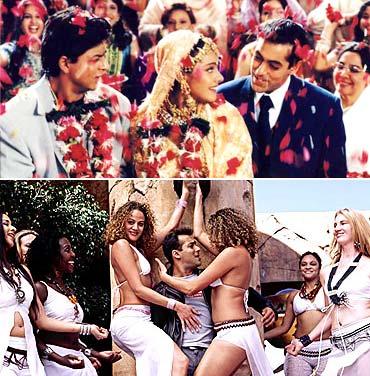 It would be unfair to end this article without a mention of Salman's extended special appearances in films like Karan Johar's Kuch Kuch Hota Hai and Anees Bazmee's No Entry that turned out to be box office gold in overwhelming numbers.
In fact, his likeable turn as Kajol's considerate fianc in KKHH earned him a Filmfare trophy for Best Supporting Actor whereas his Casanova-inspired gyaan in No Entry rang in wolf-whistles from front-benchers.