Do these women look better in their 20s or 40s?
Last updated on: September 16, 2010 13:40 IST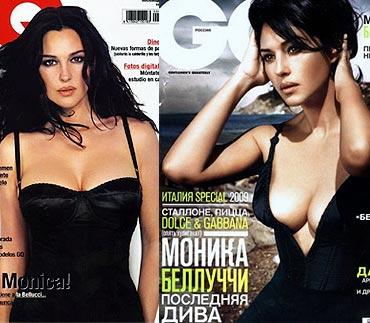 In Hollywood, women are like wine -- they age beautifully. In many cases, they look better in their 40s than in their 20s. We decided to compare some gorgeous women in their youth and when they were older.
Click through these pictures, and vote for the version you like better!
Monica Bellucci
Age: 45 (September 30, 1964)
She's a huge star in Europe thanks to roles in movies such as Asterix and Obelix: Mission Cleopatre and Passion of the Christ.
The sultry Italian actress and model, who still has a figure to die for after giving birth to two daughters -- Deva (born in 2004) and Leonie (born last May).
In fact, she looks younger in the 2009 GQ magazine cover than the 1993 one.
Download sizzling pictures of Monica
Jennifer Lopez
Last updated on: September 16, 2010 13:40 IST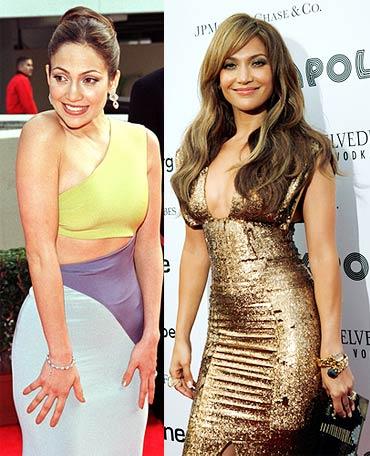 Age: 41 (July 24, 1969)
The owner of one of the sexiest butts in the glamour business can still strut her stuff after becoming mom to twins Emme and Max.
While most struggle to shed their baby weight, Jlo has done it effortlessly, all thanks to a new French diet, which claims you can eat whatever you want and yet not put on the pounds. Lopez regained her foxy figure two years after becoming a mother.
We must say, we prefer her post pregnancy look (2010) to the one taken at the 55th Annual Golden Globe Awards in 1998.
Halle Berry
Last updated on: September 16, 2010 13:40 IST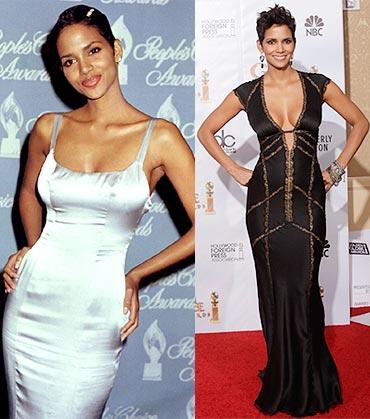 Age: 44 (August 16, 1966)
She was recently voted the hottest mum in Hollywood. And it's easy to see why.
The Monster's Ball star, who has a two-year-old daughter, Nahla with former partner Gabriel Aubry, looks astonishingly sexy at 44.
Not that she doesn't look good in her 20s, as evident in this picture taken in 1995.
A tough one, this.
Salma Hayek
Last updated on: September 16, 2010 13:40 IST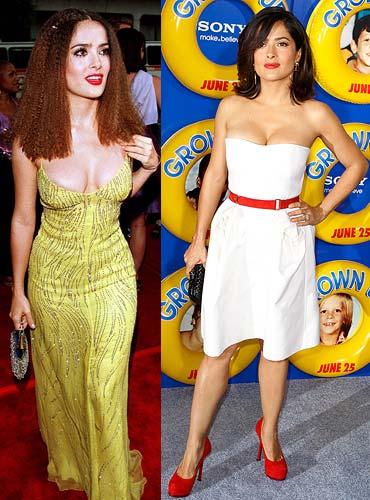 Age: 44 (September 2, 1966)
Want to know the secret behind the Mexican beauty's good looks and sexy figure? Well, this is what she says: 'I've been doing juice cleanses for 15 years,' UsMagazine.com quoted her as saying.
'If I've been indulging in rich foods, a cleanse is a wonderful way to hit the reset button,' said the Grown Ups star.
The curvy actress has even collaborated with pal and professional juicer Eric Helms to create Cooler Cleanse, a three or five-day juice detox delivery program.
'My skin glows when I finish day three. And it inspires me to think about what I put in my body,' Hayek added.
No wonder the voluptuous hottie who is married to tycoon Francois-Henri Pinault, with whom she has a daughter, Valentina, looks good enough to eat now and back in 1998.
Demi Moore
Last updated on: September 16, 2010 13:40 IST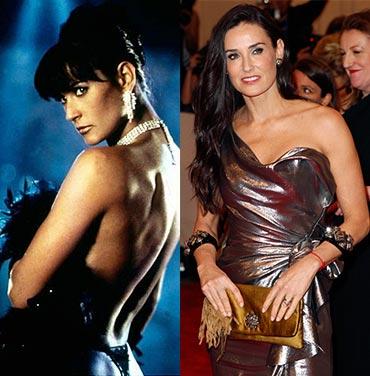 Age: 47 (November 11, 1962)
Another actress who keeps looking better with age is the Striptease actress Demi Moore, who recently posted her bikini pictures on Twitter. The pictures saw her in better shape than she was in her younger days.
The 47-year-old mother-of-three has been working hard on her health in recent months, undertaking a strict detox plan with 32-year-old husband Ashton Kutcher.
They have spoken about their Master Cleanse diet, which involves consuming only a concoction of water, lemon, maple syrup and cayenne pepper for 10 days.
Aside from her diet plans, Moore is alleged to have had 200,000 pounds worth of plastic surgery to keep her looking trim. She disputes the sum but has in the past admitted an 'extreme obsession' with her body shape.
'The irony is that when I abandoned that desire to dominate my body, it became the body that I'd always wanted,' the Daily Mail quoted her as saying.
Elizabeth Hurley
Last updated on: September 16, 2010 13:40 IST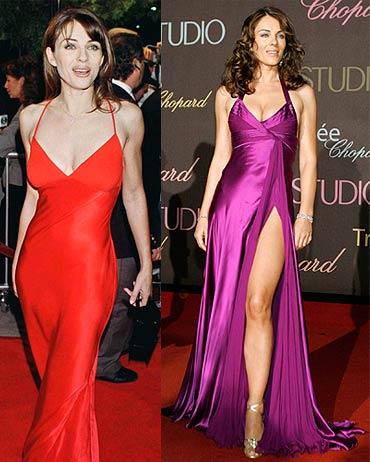 Age: 45 (June 10, 1965)
Elizabeth Hurley is living proof that some things do improve with age.
The English actress and model, who is married to businessman Arun Nayar, looks more toned and busty in the picture taken in 2006 than the one taken 10 years ago.
But before you chalk the change to cosmetic surgery, here's what the actress has to say, 'I read that I've just had breast implants -- happy to report [I'm] still au natural,' People magazine quoted her as tweeting.
Julia Roberts
Last updated on: September 16, 2010 13:40 IST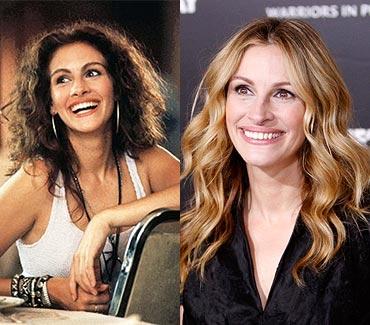 Age: 42 (October 28, 1967)
Julia Roberts recently proved that she still has the looks, as she frolicked in bikini on a Hawaiian beach with her family.
Roberts showed off a stunning figure that has remained unchanged since she made her name in Pretty Woman 20 years ago.
The actress, who is now a mother of three, had earlier spoken out against the fashion for cosmetic surgery and insisted on growing older naturally.
'The secret ingredient of beauty is being happy. And maybe a little eye cream,' the Daily Mail quoted her as saying.
Julia is married to Danny Moder, 41. They have their children, five-year-old twins Hazel and Finn, and son Henry, three.
Download beautiful Julia Roberts images
Nicole Kidman
Last updated on: September 16, 2010 13:40 IST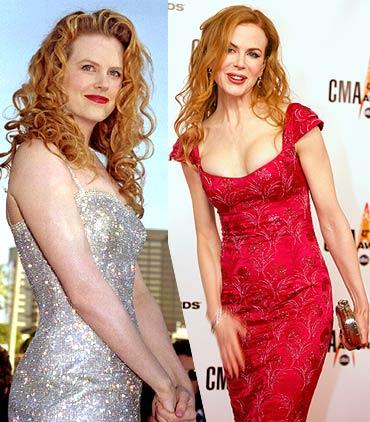 Age: 43 (June 20, 1967)
The Aussie actress has always been super slim even after giving birth to her first child, Sunday Rose, in 2008.
At 43, however, we have noticed a slight change. The actress looks fuller in the scarlet dress compared to the one on the left taken in 1995 during the world premiere of Batman Forever.
But age may have nothing to do with the boost as the Daily Mail in London suggested the beauty honed the appearance with 'extra help' from the lingerie department.
Be that as it may, Nicole at 40 something looks scorching! What do you say?
Jennifer Aniston
Last updated on: September 16, 2010 13:40 IST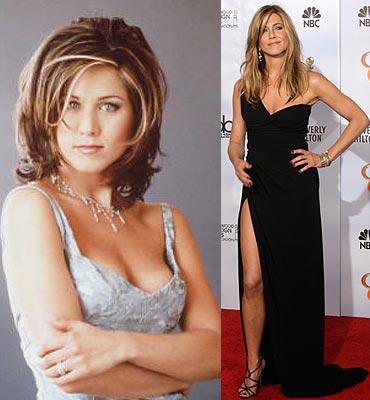 Age: 41 (February 11, 1969)
Her Rachel haircut in the 1990's hit TV show Friends became an instant hit. Two decades later, the actress still has a loyal fan following.
What is amazing is that she looks better now than ever. In fact, she recently revealed the secret to her age-defying skin -- a 1.99 pound soap.
Aniston revealed that she owes her fresh-faced look to Neutrogena soap bars, which are available in supermarkets and on high streets across the UK.
'I've used it since high school,' the Daily Express quoted her as saying.
Aniston, who uses the soap Peaches and Cream, also insisted that a good diet and exercise are the key to maintaining her incredible physique.
Sandra Bullock
Last updated on: September 16, 2010 13:40 IST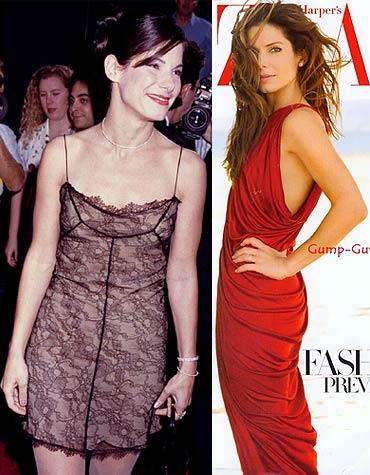 Age: 46 (July 26, 1964)
Getting older has its perks, at least when it comes to the Blind Side actress who bagged her first Oscar for the same.
In fact, she looks smarter, edgier and more gorgeous at 46 than in the first picture taken at the 22nd Annual People's Choice Awards in 1996. However, she recently joked that she would like to get breast implants in order to look like a bimbo.
'I need surgery. I'm getting some boobs. I think that's my problem. All my brains are in my butt, they're not in my chest,' she said jokingly.
'I want to be the bimbo, I want to be looked at as the bimbo, purely as a sexual object. I've been working for that for a very long time.'
Bimbo or not, she gets our vote.