'Will villagers need visas to enter our cities?'
Last updated on: September 27, 2010 10:17 IST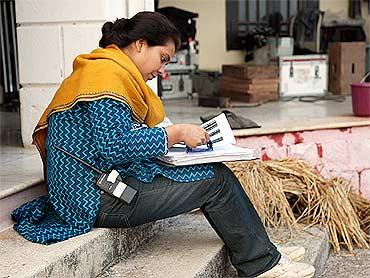 Peepli [Live]! is India's entry for the Oscars. Its director Anusha Rizvi, as Rediff.com's Archana Masih discovered, is not the typical Bollywood director.
Soon after she spoke to Rizvi's husband and Peepli [Live]! co-director Mahmood Faooqui, Masih spoke to Rizvi about her first film and the prime minister's reactions to it among other issues.
Anusha Rizvi walks towards the front door with a bagful of garbage.
"I'll just put the garbage out and come," she says softly as she prods across the living room comfortably dressed in a cotton salwar-kurta and chappals.
A week before we met in her Delhi home, Anusha had sat beside Prime Minister Manmohan Singh as he watched a special screening of her first film Peepli [Live]!, cringing in her seat each time an abuse was let out on screen.
"I couldn't laugh, I couldn't breathe, I was just thinking 'Oh god! let this moment pass'," she says, now laughing, but still feeling squeamish about it.
"From what I gathered he got all the layers, the sarcasm, everything. At the end of it, he gave a small speech saying that clearly there were two Indias and we need to bridge them."
'The policymakers liked the film. They shouldn't!'
Last updated on: September 27, 2010 10:17 IST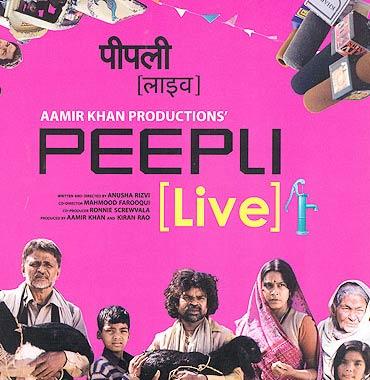 Watching the film along with the prime minister were members of his Cabinet, top officials at the Prime Minister's Office and Dr Singh's eldest daughter Professor Upinder Singh and son-in-law Professor Vijay Tankha -- both of whom had taught Anusha and her husband Mahmood Farooqui at New Delhi's St Stephen's College.
"Everyone was getting the film, but it was strange because you are talking about government policies and the people who were seeing the film are the policymakers -- and they liked the film. Why should they like it? They shouldn't!" says Anusha.
Peepli [Live]! is a caustic, sarcasm-laden story of the desperation of a farmer who decides to commit suicide in the hope of receiving government compensation so that his family can repay the bank loan on his farmland.
It's a chilling commentary on the government's skewed policies and a stark portrayal of the hysteria of 24x7 news channels -- all effectively told through a stellar ensemble cast that Mahmood and Anusha spent nine months assembling from Delhi, Uttar Pradesh, Madhya Pradesh and Chhattisgarh.
'There are no gags in the film'
Last updated on: September 27, 2010 10:17 IST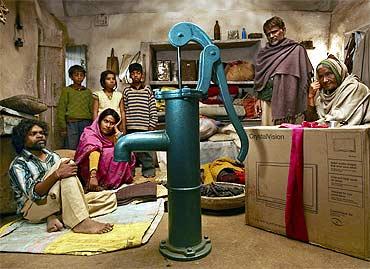 Natha, the lead role played by Omkar Das Manikpuri, fetched him rave reviews and some film/television roles that finally helped the theatre actor from Chhattisgarh complete the roof of his unfinished home.
His portrayal of despair is heartbreakingly poignant as he faces his hardship surrounded by a gaggle of government and media self seekers who push their agenda so incredulously that you don't know whether to laugh or cry in disbelief.
"People say the film had funny gags, but there were no gags in the film. It's the truth," says Anusha passionately. "It seems funny because it is absurd! Like why should Natha who has no access to water -- maybe because the water table has gone down -- be given a hand pump? It is not comic at all!"
Flashback: A pock-marked government official comes to Natha's house in a jeep to deliver Lal Bahadur -- the government's rural hand pump scheme. Without providing him the means to set it up, the official takes Natha's thumb impression and drives off in a cloud of dust. The green hand pump -- of no use to man or beast in the household -- sits in the centre of Natha's small hut.
'People shouldn't laugh looking at Natha's face, but be shamed by it'
Last updated on: September 27, 2010 10:17 IST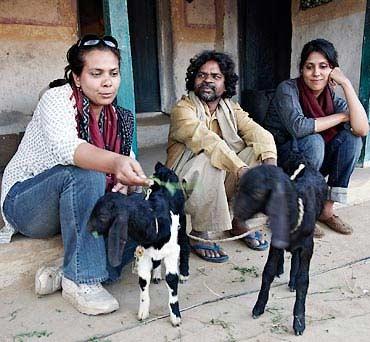 A former producer at the NDTV television channel, Anusha is disappointed that her film has not reached the smaller towns where its main audience lies and is hoping it will do so soon enough.
She also feels that because Peepli [Live]! has been promoted as a comedy, people begin by laughing when Natha first appears on screen.
"People shouldn't laugh looking at Natha's face, but be shamed by it. It's not a comedy, but a very serious film. If it seems funny, then something is wrong -- that is what we are trying to point out," explains Anusha, who took a year to write the film and e-mailed the story idea to Aamir Khan around the time the Bollywood star's Mangal Pandey was released.
Aamir liked the idea, but the film got pushed back and was finally released at Independence Day this year.
"I vacillate between wondering whether it would have happened at all, on the other hand -- for the strangest possible reason -- I had the sense that it will get made. It would have to be made."
'We were these alien people wanting a Premchand kind of gaon'
Last updated on: September 27, 2010 10:17 IST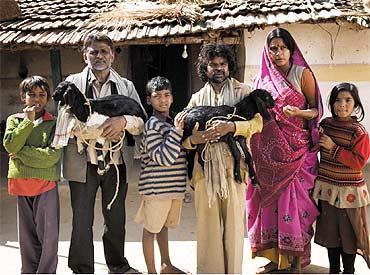 Bollywood wasn't easy for rank outsiders Anusha and husband Mahmood Farooqui. The couple moved to Mumbai for two years and had to adjust to the demands of the Hindi film industry.
"We were like these alien kind of people wanting a (legendary Hindi novelist ) Premchand kind of gaon, not a designer Bollywood village. The production designer would stare at our faces and think what shit we were talking about!" she laughs,
"But at the end we managed to get a good team. It wasn't an easy film to make since we are not professional filmmakers."
The couple finally shot the film in a village in Madhya Pradesh, with Mahmood, a wellknown theatre actor, in a blink-and-miss role as a bearded Communist leader.
As co-director and the casting director, he was totally involved but emphasises that it is Anusha's film.
"It is her script, her vision and she had a very important, purposeful film," says Mahmood, a Rhodes Scholar with degrees from Oxford and Cambridge, who has just published Besieged (Penguin), a fascinating account of Delhi during the 1857 uprising.
'The film belongs to both of us'
Last updated on: September 27, 2010 10:17 IST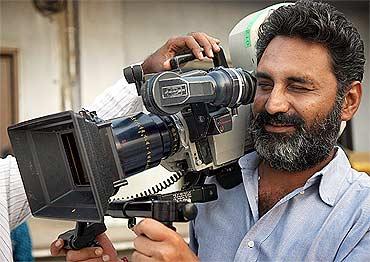 Anusha says the film belongs to both of them -- 50:50 -- as the couple get back to trying to get some order to their home and life after shifting back to New Delhi.
Meanwhile, they have some film and Dastangoi (the art of Urdu story-telling)ideas that they hope to develop.
Since Peepli [Live]! was not a career decision, they don't know if they'll get money for other projects. "If not, we'll make a video film," smiles Anusha.
Though the film has brought a lot of recognition for Anusha Rizvi, she doesn't look at it as a break-out-career-defining film.
Driven by her conviction, she says the prime minister spoke (after watching her film) about the need to bridge the two Indias, but there was no point of comparison between the two.
'There'll be four little Indias -- in the metros -- the rest will be anarchy'
Last updated on: September 27, 2010 10:17 IST
"Industrialisation is not a bad thing, but which are the agrarian countries that have shifted so rapidly into industrialisation without any violence?" she asks.
"We are seeing violence happening repeatedly but we keep quiet because of some dream of industrialisation 50 years from now?"
"I keep thinking about this very scary situation -- are we in 10, 20 years going to have passports and visas for our villagers to come to the city while we live in our guarded fort like structures? Then we'll have only four little Indias -- in the metros -- the rest will be anarchy."
Peepli [Live]! ends with Natha working as a construction worker, covered in white-powdered dust amidst gleaming structures -- the story of a defeated farmer, one that resonates through the villages of India.
It is a story of the other India that needed to be told and Anusha Rizvi should be lauded for having the passion to bring it to the world.