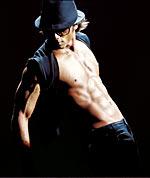 The thing about definition is that it's never too constant. It revises with changing time, society and views. Like the perception of the male physique in our cinema.
While wrestler turned actor Dara Singh remains synonymous with his colossal build till today, Dharmendra earned the title of He-Man owing to his beefy body type. Today, of course, it's the era of personal trainers, state-of-the-art gyms, customised dietary charts, six-packs, perfect abs, picture-perfect biceps, et al.
Fair enough, you want to look like Michelangelo's masterpiece, work towards it. But don't try and convince me that's the reason I paid for my movie ticket.
It all started with Shah Rukh Khan's manically-publicised six-pack strategy for his home-production, Om Shanti Om. Remember how one fine morning, each and every publication on print/electronic/cyber media splashed pictures of the star flaunting his brand new muscular perfection.
All of a sudden, six-pack became a household name. It became impossible to not mention the actor and body-building in the same breath. Having said that, did it make any difference to the movie? And I mean, the movie itself, not the product it eventually quantifies into. Nuh-uh.  
SRK didn't have any packs when he worked on blockbusters like Baazigar, Dilwale Dulhania Le Jayenge or Karan Arjun. Who cares? Viewers loved what he turned these various roles into anyway.
Then it was Aamir Khan's turn to showcase some terrifyingly perfect abs to essay an amnesia-ridden killing machine in Ghajini. As much as I enjoyed the film, his imposing form made me largely uncomfortable. Now, Aamir Khan is one actor I truly regulary watching on screen. Even then I can't help observing how he didn't feel the need to flex (or fix) his muscles to look intimidating or assertive in Sarfarosh or Rangeela, two of his best-rated performances.
And now Shahid Kapoor is making news for his 8-pack frame in Ken Ghosh's upcoming Chance Pe Dance. The musical features Kapoor as a struggling actor with exceptional dancing skills. What's being talked about? His anatomy.
In Kaminey too, wherein he exposed his fabulous torso to good effect, Kapoor portrayed two well-defined characters with noticeable speech impediments. Luckily for him the 'fuh ko fuh bolta hoon' catchphrase took precedence over running bare-chested with a bunch of white horses. The latter's visual poetry remains unquestioned though.   
It's not like he didn't have a decent body already. However, now even Salman Khan can't resist being a part of the sculpted look bandwagon. After all he plays a Conan-The Barbarian-style warrior in his soon-to-release Veer. And so you have PR agents frantically releasing glossy copies of a promotional shoot of him in his newly chiseled skin to all and sundry.
There are actors like Akshay Kumar and Hrithik Roshan with consistently superior physique. And while they have, without a doubt, highlighted its worth on celluloid, it's never been a source of in-your-face promotion to lure us into theatres. Well, at least, not so far.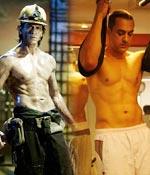 Following Om Shanti Om and Ghajini, one thing has become clear. Aggressive movie marketing is here to stay. And if that means treating your creativity like a commodity, attending various reality/talent/talk shows to plug the same or highlight its various gimmicks -- presence of multiple movie stars, body-building, bikini presence, one hot lip lock, so be it.
To think, previously, just the presence of two stalwarts coming face to face was enough to charge the audience. It may be recalled how the mere idea of watching Dilip Kumar and Raaj Kumar share screen space in Saudagar would prompt goose bumps.
But that's the business side of it, with the stakes being so high; one can't entirely blame them for going all out.
My point, however, is since when did six-packs become a criteria for good performance? Amitabh Bachchan made a career out being the angriest young man Bollywood has ever known without any rippling muscles to boast of.
Anil Kapoor's volatile outbursts in Tezaab didn't involve any muscular exhibition. Who was concerned with Sunny Deol's carbohydrate intake as long as he was screaming expletives with conviction in Ghayal?
Sanjeev Kumar's paunch didn't come in the path of his seriousness when he held a gun against the offender's head like he meant it in Sholay.
Girls didn't stop screaming for more when Mithun Chakraborty danced like a dream in Disco Dancer, oblivious to the existence of six, seven, eight packs.
Frankly, if there's any physical change that I'd rather appreciate is when Abhishek Bachchan puts on weight to look like an ageing industrialist in Guru or Ajay Devgan loses dramatic quantity of pounds to essay a fasting patriot behind bars in The Legend Of Bhagat Singh. There's something soulful and not gimmicky about these transformations.
Agreed, showbiz is a whole lot about glamour and actors are expected to be in great shape and look good all the while. It's only when long hours in the gym undermines their real job-to act, it irks me no end.
My advice: don't overdo it. And even if you do, trust your audience enough to take notice on their own and laud if it they will. Don't do it on their behalf already.