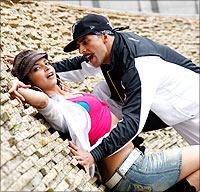 What a god-awful year it's been!
Fine, there's still a month to go but I can safely say 2009 has been an exceptionally unremarkable year for Hindi film buffs. Yes, even if Kurbaan, Paa, 3 Idiots and Rocket Singh: Salesman of the Year turn out to be combined awesome, it's still not good enough.
The thing about being a movie geek (correction, freak) is that movies are pretty much your only consistent source of happiness. You shamelessly depend on them for entertainment, a most-welcome need to escape from reality or to quietly contemplate or dwell into the psyche of creative brilliance and statement.
So when bleak years like 2009 happen, they leave you feeling twitchy, cranky, perhaps even, with a dash of exaggeration, betrayed. Unless you are the kind to forgo your frustration in a never-ending game of Farmville or a back-biting session of Bigg Boss 3, this scarcity isn't easily substituted.
The year began with enough promise though. Quite a few (seemingly) infallible biggies were lined up for release. Remember all those optimistic photo features about movies to watch out for in the year to follow? That all of them, barring a couple, smashed like a squishy pumpkin on the box office window is almost laughable.
Let's see. It all began with the severely panned Chandni Chowk To China. Riding high on the super success of last year, Akshay Kumar's invincible clout got its first major blow after Nikhil Advani's extreme mish-mash of various genres, criticized for its absurd temperament failed to rake the requisite moolah.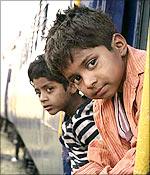 And then there was the extended Slumdog Millionaire season for a while. Nothing to complain there for this slick, engaging Hollywood caper, directed by Danny Boyle earned A R Rahman two sparkling Oscars. Except it's not a Bollywood film, the subject of this discussion.
Coming back to Akshay, the poor guy experienced multiple such biggie-gets-the-boos this year. Be it Kambakkht Ishq, Blue or 8X10 Tasveer. Hopefully, Katrina Kaif's good luck charm will rub off on his forthcoming De Dana Dan. Considering how audiences thumbed down potential blockbusters to favour crowd-pleasers or underdogs like 13B, Raaz 2, Wanted, All The Best and Ajab Prem Ki Ghazab Kahani, DDD has a good chance of clicking.
No-brainers aside, 'offbeat with attitude' marks the pulse of 2009. Be it Kaminey, Luck By Chance or Dev D, wherein the filmmakers treated the subject a palpable defiance for formula and undying reverence for imagination.
Of the three, I like Kaminey the most. It is an unstoppably gripping, shrewdly narrated drama with clever writing and heart-stopping photography taking predominance over a cast of so and so star of so and so film. Luck By Chance, too, emerges a winner, courtesy a crisp script and its impressive ensemble cast, exploring the bittersweet workings of Bollywood and its oddball inhabitants. Dev D is ostensibly wild but after a while I thought it was working too hard towards nonconformity. That sort of killed it for me. Nevertheless, one hell of a movie.
Now, make way for the disappointments. As always promos and soundtrack do their best to deceive. And so Delhi 6, despite its attractive, rustic premise and breathtaking music struck as too confused to be taken seriously. It is as if Rakesh Omprakash Mehra decided to compile an archive of Roshan's random tweets and blogs and turn it into a full-fledged impressionistic movie. Quite an expensive experiment, no? Also, his conflict with the climax (an alternate ending where Abhishek Bachchan's character dies) only confirms the uncertainty of his story.
Then there's Love Aaj Kal. If moments alone make an engrossing film, Imtiaz Ali's latest is a sure-shot winner. There are bits and pieces that make sense and touched the heart but otherwise the sketchy characterizations of Saif Ali Khan and Deepika Padukone and the forced parallel drawn to their relationship with a period love story lugs about needlessly to the point of 'who cares?'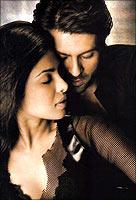 What else? Wake Up Sid is flawed but endearing only because Ranbir Kapoor plays saviour. The young actor was at his heroic best again in the mildly amusing, Ajab Prem Ki Ghazab Kahani. Dil Bole Hadippa is choc blocked with too many Yashrajisms. New York failed to work for me, could not feel any empathy for its protagonists despite its terrifying subject. London Dreams is plain boring. Kambakkht Ishq is too corny. What's Your Raashee is so long, it hurts your constellations, mind, bum, everything. Clearly, 2009 is an underperformer.
As a result of this constant influx of ghastly to mediocre cinema, viewers are psyched into heralding even moderately good films as works of art. Also, in keeping with the latest trend of aggressive marketing, even if a movie gets an average opening, publicists plug it as a major hit. Running successfully all over, anyone? That's old hat. These days you have instant post-success celebration parties and their pictures plastered all over print.
Bollywood makes an overwhelming number of films every year. Roughly 100 or so odd films hit the marquee in 2009. And yet the upshot is just three or four memorable ones. That's an embarrassing statistic.
For all my cribbing and grievances, I can only hope 2010 will prove to be much more productive. Sure, there'll be slide shows featuring the obligatory anticipated films of the year. My Name is Khan, Raavan, Kites, Ishkiya, Karthik Calling Karthik, Guzaarish, Khelein Hum Jee Jaan Se and Rajneeti, to rattle off a few. Maybe for once, Bollywood will actually live up to the excitement it generates and satiate this brilliance-starved viewer's appetite.