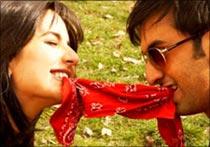 Affection alone can't make a movie click. Even if Raj Kumar Santoshi dips into the holy fountain of Hindi comedy, nicking character names from favourite films, crafting starry in-jokes and creating absurd villains with absolutely hammy glee, all that joyous tomfoolery really doesn't cut it.

Affection and a superstar, on the other hand, make for quite the package.

A throwback right from its very title -- doesn't the beautiful, breathy word Ghazab belongs to a whole different generation? -- Santoshi's latest is a warmly made film not everyone will like. A broad comedy in the caricatured tradition of his own glorious Andaz Apna Apna, this one oscillates between silent movie slapstick and moronic farce, between memorable witticisms and melodrama so extreme it can only be for laughs.

Ajab Prem Ki Ghazab Kahani might be laden with faults in the conventional sense of the word, but if you give yourself over to the madness, you emerge having a pretty good time. Watch it through 80s-tinted glasses and you'll have an absolute ball.

A conveniently conventional romantic track at its core, this gag-fest is also a movie about classic comedies. The girl in the film is called Jenny -- like Parveen Babi in Amar Akbar Anthony -- and that's excuse enough for the hero to take Amitabh Bachchan's leaf out of that hit and start proclaiming his love in pidgin Hindi-English hotchpotch.
One character is named Tony Braganza, out of Basu Chatterji's Baaton Baaton Mein, and there are a whole lot of nudges and winks -- rejoice, Robert-fans -- towards Andaz Apna Apna. There's a whole lot of randomness set in a very Kabhi Haan Kabhi Naa milieu, and despite all the influences surrounding it, the film's gags are all its own.

And then there's the boy. Ranbir Kapoor, it appears, can do anything. Right from casually slipping on a cleavagey top to indulging in cake-and-egg slapstick, this boy has more panache than any of his generation, and more. Sure, it's just more niceguy schtick, but Kapoor sparkles with an energy that draws the audience inexorably toward him. And while he tries hard to channel his grandfather Raj, he seems more to possess, in bits and pieces at least, the spontaneity and comedic bendiness of another screen genius, the late great Kishore Kumar.
There's insanity afoot in this film, and this boy makes most of it an absolute treat, glossing over script inconsistency and weaker comedic moments via sheer screen charm alone. Wow.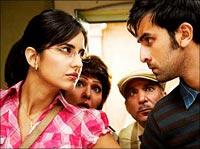 The dazzling Katrina Kaif looks good enough to eat, and plays a girl whose mental age is clearly closer to 14 than 24. It's clever casting, because she gets to go all starry-eyed and excited and childishly emotional, and thanks to her breathtaking shimmer, makes all of it look rather pleasurable indeed.
Darshan Jariwala's a bit of alright as Ranbir's dad, and it's great to see Vijoo Khote as Robert, but the rest of the cast is just plain okay. With the glaring exception, that is, of the atrocious Upen Patel, whose hideous acting abilities are clearly being milked by Santoshi for laughs.

The film is let down by running time, frustrating excursions into melodrama and a very weak soundtrack. The songs here just stop the gags from flowing, and while the melodrama is intentionally over the top and stagey, it frequently jars and there's a bit too much of it.
Yet, when all else fails, there's Ranbir with some delightfully dated one-liners or some refreshing politically-incorrectness and all truly does seem better with that world again. And the world the film populates is a comfortable one, nuanced yet not obvious, simple yet specific.

Honestly, it's just good to watch a film with memorable comedy again. Heaven knows its been a while. And one that takes us back to a different, more wholesome kind of cinema. Even as the climax drags into predictability, Santoshi ensures that even divine intervention -- to pull it all back on track again -- comes with laughs. Gotta love that.

Rediff Rating: