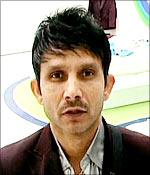 Kamal R Khan's second stint in the Bigg Boss house saw him as a funnier and quieter person. But he provided enough drama to keep the viewers hooked on to the reality show.
The Bhojpuri actor was invited as guest for two weeks, and now, he is out of the show.
He talks to Rajul Hegde about the changes he saw in the house on his second visit.
 
You were treated well after you went inside the house again. Why did you come out?
I fell ill after 15 days. I lost six kilos. It will take me 20 days to recover.
Bigg Boss told me to extend my stay for another week but yesterday I felt I should leave. So I requested Bigg Boss to send me out.
Were you sent inside the house to up the TRPs?
No brief was given to me. I knew I would be entering the house twice as per my agreement. The first time was tough because I went in like any other housemate and did everything to entertain the audience. I had done a lot of planning and that's what you saw.
The second time was easier because I went as a guest. So I didn't have to act. I behaved normally and was not pretentious. I didn't have to bother about the tasks or do anything for the camera.
If you are part of a reality show, you should understand the show's requirements. If you are unable to entertain the viewers, then you are not doing any justice to the show. I am happy that people have liked me. This time I was friendly with all the contestants and I hope they don't hate me now.
Who do you think will Bigg Boss?
Pravesh Rana or Vindoo. Pravesh is very mature for his age. His only weakness is his anger so he must control his temper. Everyone in the house has stopped playing games now because they have realised that audience votes are important and playing games will not help them win the title.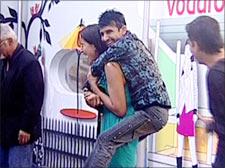 Do you think Vindoo was the mastermind behind the plotting?
Vindoo is a brainless person and he thinks from the heart. From day one he knew he would be nominated every week so he must have been doing it to save himself from eviction. He cries at least five times in a day. I don't think such a person can play games.
What about Claudia and Poonam Dhillion?
Claudia is a very intelligent girl and wants to buy a house in Germany if she wins Bigg Boss. I wish her all the best but I doubt she will win.
Poonam was very defensive in the beginning but now she has opened up.
Do you think Bigg Boss gives tasks to make housemates fight and increase TRPs?
Bigg Boss has not paid the housemates to sit, eat and enjoy their stay in the house. If Bigg Boss feels you are lazy, he gives the tasks.
Rohit Verma told us that Pravesh and you tried to get physical with him.
(Laughs) This is a joke! I hardly spoke to him after I went back. Last week, just before he left the house, he asked everyone to forgive him for his mistakes. I hardly spoke to him but he kissed me before he left the house, like he did to everyone. I really don't know what he is taking about.
So which housemate will be part of your Deshdroshi sequel?
You will see all of them in the film. I have offered a role to Amitabh Bachchan too but he has not replied yet. If he agrees to be part of the film, I will be the happiest person.