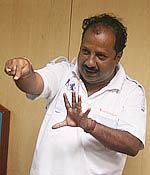 When Tamil television was caught in a quagmire of dreary sorrow and women who were subject to endless travails, requiring miracles to save them, one man decided that enough was enough.
He decided to portray women who were strong, women who made their own decisions and showed them as capable, intelligent beings who did not suffer society's indignities any longer.
Meet C J Baskar, the man who set every household in Tamil Nadu singing paeans of one of the most famous serials in Tamil, Chithi, and changed the trend of Tamil TV forever.
In an exclusive chat to rediff.com, he shares his experiences about his entry, serials and future plans.
What are you working on right now?
Savithri is taking up all my attention. It's crossed 175 episodes, and it's the story of a young girl who becomes an actress through a strange set of circumstances. There's a small misunderstanding between the girl and her father. She's married off at a very young age to an older man. She dislikes the marriage and leaves him.
A few years later, she's a very famous actress. But her past marriage cames to haunts her. The problems she faces and the innumerable details and nuances that arise from such a situation form the crux of the story. The cast comprises of Sanghavi, Ravikkumar, Ajay Ratnam and others. So far, its received positive feedback from the audience.
How did you start your career? Was it always your aim to be a part of TV?
On the contrary. I started my career under the aegis of K Balachandar sir and R C Shakthi sir. In a way, I was already acquainted with cinema -- my father, director Jambu, was the director of the MGR hit Nam Naadu. It was remade in Hindi as Apna Desh. I joined K Balachandar sir as associate director in his serial, Kaiyalavu Manasu.
I later did Sorna Regai, a serial that was part of the Marma Desam franchise. I worked with director Naga, and that is how it all started. So far, I've directed close to 2300 episodes. And I've no intention of slowing down.
Did you ever anticipate the kind of success Chithi achieved?
Never. Do you know, Suhasini was the first choice to play the lead role? She liked it, but it never happened. I was the writer at that time, the serial was supposed to be directed by someone else. Later, we took the serial to actress Bhanupriya, and she liked it too but she insisted that I direct it! But that didn't work out either. By the time we approached actress Radhika, it was decided that I would write and direct it.
Right from the third day's shooting of the second episode, I sort of sensed that this was going to be explosive. Everyone -- Radhika ma'am herself, Sivakumar sir and others -- on set did too. I have to mention here that actor Sivakumar was a wealth of encouragement. He always predicted that I would go places.
What are your future plans?
I am working on a serial right now but I don't want to reveal any details. Savithri is going on in full swing, and I will be back with a brand-new project soon.
Catch Savithri on Jaya TV on Mondays, 8.30 pm.