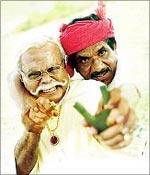 Director Shankar's production house, S Pictures has been making a name for itself by introducing talented directors, novel scripts and engaging movies in Tamil.
The latest from his production house is Rettaichuzhi, directed by new-comer Thamira, which raised enormous expectations with its cast, comprising, for the first time, veteran directors K Balachandar and Bharathiraja, getting together under the tag "Imayamum, Sigaramum."
Karthik Raja has come up with a melodious set of tunes, while Chezhian's camera-work captures Cheramaadevi and its surroundings in glorious colour and sepia tones.
Balachandar and Bharathiraja themselves impress you with their screen presence, performances and sly digs at each other as Ramasami and Singaravelan, respectively. One is a land-owner; the other is a dyed-in-the-wool communist. Neither can stand the sight of each other; each takes every opportunity to put down the other, courtesy an ancient feud that dates 40 years back. Enter a boatload of children and grown-ups in love and the stage is set.
Unfortunately, things keep fizzling out ten minutes into the movie. It's almost as though the crew brought up the script of Pasanga, threw out the parents and a good deal of logic, added a ton more kids and came up with the script. Children run all over the place, trying to be funny and Nallan Thamizh's dialogues do hit the right note at times, like the references to Khushboo, the political situations or the run-ins with the old men. But those moments are rather few and far in between.
And, like Pasanga, you have a love-lorn couple as well: a school-teacher Susi (Anjali) and army-man Murthy (debutant Aari), who've seemingly been in love ever since they were children. There's a flashback ala Paruthiveeran, and Murthy, who's actually Singaravelan's brother's son, draws the ire of his uncle.
Thrown out of the house, he's raised by Ramasamy – how or why makes no sense, as the two are already enemies. Since the capitalist and communist are permanently at each other's throats, it's up to the kids to get the couple together. Which is difficult, as there are two warring factions in between them.
The Imayam and Sigaram have obviously enjoyed their outing and you only wish they'd been given more space, instead of the few minutes here and there. One consolation is the young Ramasamy, who makes overtures of friendship with Singaravelan and ends up with applause.
Aari passes muster, while Anjali has little scope to perform, here. The kids themselves are numerous, and don't make much of an impression, individually. Karunaas, as a police officer, provides very brief comic relief.
Rettaichuzhi is full of patchy scenes; a few are good, many are ordinary, and some are tedious. Kasi Viswanathan's editing is jerky at places.
It looks like the director couldn't quite decide which genre to adopt: comedy, romance or angst, and the confusion shows. Even more important, some originality would have helped. As it is, the movie doesn't live up to the hype.
Rediff Rating: