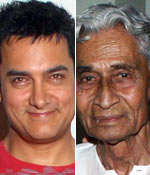 Dada Saheb Phalke winner cinematographer V K Murthy, famous for his camera work in Guru Dutt's classics like Pyaasa and Sahib, Bibi Aur Ghulam, believes that only Aamir Khan can play Guru Dutt onscreen.
Murthy, a close friend of the legendary actor-director believes that only a perfectionist like Aamir can do justice to the role.
"I don't get impressed by actors easily but Aamir is in a different league. Lagaan and Taare Zameen Par are classics of Indian cinema. Aamir does not follow the Bollywood formula and is very passionate about his work. He reminds me of Guru Dutt," Murthy told PTI in an interview.
The 87-year-old Murthy is the first technician to be honoured with Dada Saheb Phalke trophy, Indian cinema's highest award, since its inception in 1969. "I was very close to Guru Dutt and he was a man of depth. Only a perfectionist like Aamir can do justice to him," said Murthy.
Dev D director Anurag Kashyap has written a script based on the life of Guru Dutt, one of the most influential figures in Indian cinema, known for ushering in the golden era of Hindi cinema with his classics like Pyaasa (1957), Kaagaz Ke Phool (1959), Sahib Bibi Aur Ghulam (1962) and Chaudhvin Ka Chand (1960).
According to Arun Dutt, Guru Dutt's son, Aamir has been approached for the project and he has asked for the script.
Murthy and Guru Dutt were close friends. So much so that the cinematographer, who is credited for filming India's first cinemascope movie Kaagaz Ke Phool, refused to work with any other director during Guru Dutt's lifetime.
Murthy is best remembered for his stunning camera work in songs like Chaudhvin Ka Chand and Jaane Woh Kaise Log The. The veteran cinematographer believes that it is difficult for today's filmmakers to achieve the status of Guru Dutt.
"Guru Dutt had an amazing understanding of cinema. I worked for 35 years after his death but people still remember me for the work I did in his movies. Today Indian cinema is known internationally but I don't think we will ever have another Guru Dutt," said the cinematographer.
Apart from Guru Dutt's movies, Murthy is also known for his camera work in films like Pakeezah (1972) and Razia Sultan (1983). He has also worked with Shyam Benegal and Govind Nihlani for television serials like Discovery of India (1988) and Tamas (1986) respectively.
The veteran hopes that the Phalke award will help people recognise the work done by technicians.
"Who remembers technicians? But I am happy that my work has been appreciated. After the director, it is cameraman's work which is most important in a film. Technicians play an important role in a film. Hopefully, people will understand this," he said.