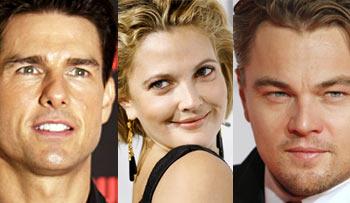 Will Ferrell has ranked first in the Forbes magazine's most overpaid actors list.
The Elf star apparently earns a dollar for every $3.29 his films make.
Seemingly, Ferrell's film Land of the Lost, which grossed $65 million worldwide after a $100 million price tag, helped him move to the top spot.
Meanwhile, Tom Cruise was positioned sixth in the list. He apparently earns a dollar for every $7.18 his movies collect, reports Us magazine.
Only stars, who have done at least three movies in the last five years, were considered to be included in the list. The return-on-investment dollar amount was calculated based on dividing the films' operating costs by the actors' total compensation.
The other stars in the top 10 list were: Ice Cube, Ewan McGregor, Billy Bob Thornton, Eddie Murphy, Drew Barrymore, Leonardo DiCaprio, Samuel L Jackson and Jim Carrey.
Image: Tom Cruise, Drew Barrymore and Leonardo DiCaprio.