Media baron Ramoji Rao's new Kannada film Savaari is the remake of the Telugu film, Gamyam.
There are sequences in Savaari which do not relate to Karnataka and is technically not as superior as the original yet the film may well be a winner because of its refined presentation, fine performances and an effective climax.
The highlight of Savaari is its second half though the first half has some dull moments. Savaari appeals to you mainly because of the way many complex issues like humanity, naxalism and rich-poor divide in our society are jelled well with the narrative. It will surely make the viewers think and introspect about many issues that confront their day to day life.
Despite being a remake, Savaari comes out with little changes in the dialogues and choice of locations. It is to the credit of director Jacob Varghese that he selects the right locations of Sringeri-Moodigere belt to bring in the Naxalite angle to the film.
The fact that Gaali Seenu uses a slang that has been perfected by the low class dwellers in the old Mysore segment in the state is appreciable. The film's narration is extremely logical and authentic. Even while the dialogues get philosophical at times, they do not get preachy but remain real.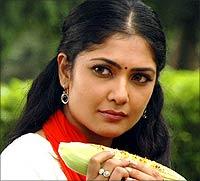 The film starts off with a journey undertaken by Abhiram, a dejected lover in search of his beloved Janaki who left him because of some misunderstandings. He is joined by Gaali Seena, a petty thief who steals motor bicycles for a living. As they proceed with their journey, they encounter many incidents which bring them closer to each other. Finally, when Abhiram meets Janaki, he is a reformed man who realizes that humanity is more important than opulence.
Raghu Mukherjee is the pick of the lot among artists. Kamalini Mukherjee shows her competence in Kannada also. Sreenagara Kitty is bound to get a lot of whistles for his dialogue delivery and liveliness in his performance. All the other characters have complimented well with the three main characters.
Three songs are lifted from the original and two are originally composed. The musical work in the film has just complemented the narration, but certainly not top class. Compared to the level of technical supremacy seen in Kannada films recently, neither Welraj's photography nor Srikar's editing can be called exceptional.  
Savaari could have been a better film yet it is a good entertainer for those who have not seen the original.
Rediff Rating: