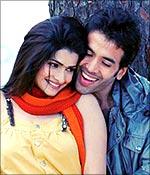 It's important to know why you want to marry more than who you want to marry. A certain ideology -- largely a combination of dreams and expectations, influences an independently-thinking individual's reasons to tie the knot. And when they are shared with the wrong person for the wrong reasons, it spells the A to Z of disaster.
But, hey, Rumi Jaffrey is no Basu Bhattacharya approaching relationships like science. To him, marriage is more like a badly-baked donut -- chocolaty on the surface but hard on the inside. And so adhering to the bad donut philosophy, his new comedy, Life Partner, produced by Abbas-Mustan, creates three NRI characters harbouring conflicting opinions on matters of matrimony.
The metrosexual man -- Karan (Fardeen Khan) is all for 'marry your girlfriend.'
The family guy -- Bhavesh (Tusshar Kapoor) believes in letting his parents find him a suitable bride.
The commitment-phobe casanova -- Jeet (Govinda) takes his profession, divorce lawyer, a tad too seriously. His motto: Say no to marriage.
Although they live in glossy Cape Town, South Africa (captured effectively in Sameer Arya's swanky frames), gawky Bhavesh has been raised in a strictly traditional Gujarati household and gets all nervous when it comes to the opposite sex. At the same time, eager to bite the dust, he's tired of jotting down formulas on 'how to treat a girl' while hanging out with Karan and his feisty girlfriend Sanjana (Genelia D'Souza).
The troika along with Bhavesh's folks (a perpetually glowering Darshan Jariwala and an indifferent Shoma Anand) flies to India in search of a bride, leading to Prachi's (Prachi Desai) entry, a rich heiress from small-town Gujarat. Amazingly enough, for a director belonging to the David Dhawan school of thought, Jaffrey keeps the tone surprisingly down sparing the viewers of the oft-witnessed dhokla-undhiyo brand of frenzy. Instead, the focus shifts to Bhavesh and Prachi's marriage inspiring Sanjana and Karan to follow suit.
Predictably, the honeymoon is short-lived and incompatibility issues pop-up from all directions.
Accustomed to a luxurious lifestyle at her daddy's (Anupam Kher in ham-mode) home, Sanjana frowns at Karan's new found sense of responsibility. A far cry from his reckless ways and carefree days, Karan finds it hard to keep pace with his high maintenance other half. Meanwhile, Bhavesh's autocratic father and his regressive mentality create problems in an otherwise hunky-dory equation with Prachi.
Under normal circumstances, this would seem like a no-nonsense film about genuine issues. But in Jaffrey's human zoo, it's impossible to grasp anything without a pinch of salt.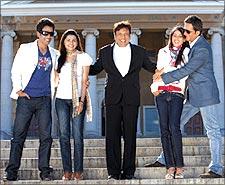 For one, characters don't react. They scream. Correction, shriek. And all that ear-splitting humour gets jarring after a while. Secondly, Life Partner successfully establishes the crisis of the newly-weds but ends up sorting things between them in a hopelessly shoddy and unconvincing fashion, resorting to hare-brained twists and ridiculous logic.
Still, some of Niranjan Iyenger's jokes work thanks to Govinda's tried and tested efficiency and Genelia's high-strung vivacity. Ironically, they are also the film's biggest problem at times.
In a role, tailor-made for Salman Khan, Govinda doesn't quite fit the shoes of a lady-killer. As long as he's chiding Genelia, making light of their mutual hatred society or helping a certain 'Tum chup raho' couple attain divorce, he works but the moment he turns smooth operator around a fair maiden of Cape Town, it's a cacophony of uh-ohs.
As much as one adores the super-likeable Genelia, her dilated pupils and exaggerated fury get unnerving after a while. It's like watching Aditi in King Kong's body on a bad hair day. And that's one mean sight.
On the other hand, Fardeen Khan's chubbiness attracts more attention than his grimace-filled displays of frustration. He's quite credible in the sleep-deprived sequence though. Also, the moment between a dangling Jagdeep and him deserves a half-chuckle. Tusshar fares better but only by a margin. As the goofy Gujju boy caught between his autocratic Bapuji and impish wife, he alternates between incoherent and wimpy. Finally, there's a sprightly Prachi Desai, who preaches with a smile, showing sparks of better things to come.
While there's no doubt that director Rumi Jaffrey shows marked improvement after a dud called God Tussi Great Ho, the aspect of hilarity, character output and a catchy soundtrack (Pritam) is either scarce or inconsistent.
Bottom-line: Life Partner is passable fare but not fluffy or cheeky enough to warrantee a repeated viewing.
Rediff Rating: