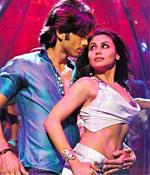 Dil Bole Hadippa is a story set in Punjab with all things Punjabi and cricket, as we know, with even the petite Bengali actress Rani Mukerji donning a turban and sporting facial fuzz like a sardar. To score music for such a film, one would have to fall back on someone who is a true son of the Punjab soil. Pritam da seems to fit the bill here after earning his stripes with his proven track record.  
Pritam has been consistent in his surprising felicity with Punjabi music. Best known for his rock-infused, glitzy sound, he has been quoted as saying that 'people couldn't believe that a Bengali and an ex-rocker could actually come up with tunes that captured the essence of the Punjabi way of life and the language so well'. He was referring to the chartbusting Mauja hi Mauja song in this case, though Singh is Kinng, Love Aaj Kal among others, have established him as a master of the domain.
But while dishing out a hit Punjabi folk/fusion track in an album may seem easy, to compose an entire soundtrack in the genre is a difficult task. Pritam tries real hard to rise to the challenge and bring variety and some amount of depth to his music in DBH. But overall, the effect is far from memorable.
The title track Hadippa, sung by Mika, fails to impress even on second or third listening. It is a very, very average song with a melody that sounds somewhat jaded (to be fair most folk-inspired tunes will sound familiar) and hold your attention beyond thirty seconds. Simply crying out 'Hadippa' and jacking up the dhols cannot salvage this one.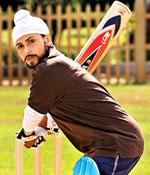 The tepid opening number makes way for a livelier fusion track Discowale Khisko by Sunidhi Chauhan, KK and Rana Mazumdar. This song is about the lovable desi bully taking over the angrez dance floor to the tune of  'desi beat' and an aggressive spirit. It is a fun listen no doubt.
Ishq Hi Hai Rab by Shreya Ghoshal and Sonu Niigam is the only romantic, slow song in the album, which becomes quite a tedious listen thanks to the way the vocals have been treated here. The melody too does not stick.
Bhangra Bistar has three ladies Sunidhi Chauhan, Hard Kaur and Alisha Chinai at their androgynous best. Complete with the dhols and whistles, this song sounds extremely contextual, something you are better off watching on screen than listening to for pleasure.
Indi-pop act Joshilay is credited for the last track Gym Shim which has Hindi-Punjabi-English lyrics. This song is a celebration of the farcical, with comic elements thrown in for good measure.
Two 'mandatory' remixes -- Disco Khisko and Hadippa, complete the set, and make their way to the DJ console.
The biggest flaw in the DBH soundtrack is the lack of a strong title track and the near absence of a catchy hook that could carry a song forward. The sameness of the melodies and the treatment too make this a rather monotonous listen. The album could definitely do with a breezy Aahun Aahun or even the rambunctious Mauja Hi Mauja.
Dil Bole Hadippa does not offer much to warrant a second listen.   
Rediff Rating: