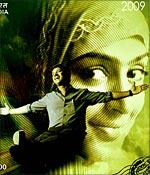 With his passion for unique perspectives, director Cheran has made a movie that's utterly, completely and irrevocably romantic; there's nothing but love, love and more love in Hitesh Jhabak's Pokkisham (Treasure), Cheran's much anticipated romantic flick.
Everything about the movie, from the posters, designed like old stamps to a certain old-world charm managed to raise expectations for this venture, and you can really see Cheran's stamp in every scene. Starting from the beginning scenes where a bereaved son begins to look over his father's belongings after his death, its drama and packed emotions all the way.
Almost the whole movie is in flashback format, and the director's really outdone himself this time. You see a young marine engineer D Lenin (Cheran), working in the harbour of Calcutta in 1970, has a mellow, heart-tugging romance with a gentle, romantic and immensely intellectual Nadheera (Padmapriya, who looks truly beautiful as a Muslim girl). The two trade letters; long, touching missives discussing their favourite authors, books, nature, everything in the world, and once you get past the rather slow pace, you can identify with them and follow them on their journey, watching as friendship morphs into love. But true love rarely flows freely as Lenin soon finds out.
The effort gone into re-creating 1970 is apparent; rupee notes, buses, stationery, calendars and magazines work to bring an authentic feel to the movie, while Cheran and Padmapriya, clearly the stars of the show, have come together to deliver a realistic, touching performance. Vijaykumar and Ilavarasu, together with a whole batch of Bengali-speakers form a perfect backdrop.
If anything, its Sabesh-Murali's music and re-recording that plays spoil-sport, not to mention the dialogues themselves, which tend to be a tad too long-winded. The last half hour could have been trimmed. On the other hand, the camera-work deserves special mention; it brings the past to life. Kudos to the director for making a movie sans item numbers, unnecessary fights and other factors deemed necessary for mainstream Tamil cinema.
Pure romance might be a bit difficult to swallow for commercial movie-buffs but if you let yourself adjust to the pace, Pokkisham is certainly worth a watch.
Rediff Rating: