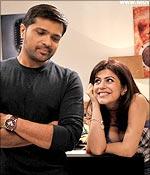 Dear Himesh,
When I first heard the song Aashiq Banaya Aapne (from the film of the same name), I was bowled over. It made me want to know more about the singer -- the man in the cap with the nasal twang.
I learnt that you had composed music for films like Tere Naam, Kuch Meetha Ho Jaye and Bandhan earlier. I became a die-hard fan.
You moved on to acting, and I loved the idea of seeing you on the big screen. Aap Kaa Surroor became an instant hit when it released in 2007. It had great songs and kept the film alive despite its poor story. You proved yourself with that film.
But after that, you seem to have forgotten the basics of filmmaking. You betrayed your fans in Karzzzz. And you're doing the same with Radio.
Fans want to hear your chartbusters on screen. What they get is actor Himesh without the stuff that make him such a star --the trademark cap, the beard, nasal twang and the sad look is all missing.
Superstar Rajnikanth tried to be different in Baba, where the Rajni style was replaced by a spiritual character. But fans rejected it outright. How then can you expect to be a hit among your fans?
In your attempt to act, you have disconnected from your fan base. If you don't revive your magic, your next film Kajra Re will completely delete your fan base.
Coming to Radio, it does not work because of its subject. It talks about relationships, which are complicated, according to the tag line. But the film itself is so complicated.
Your character Vivan is not sure whether he is in love with his radio jockey colleague (Shemaz Treasurywala) or his ex-wife (newcomer Sonal Sehgal). He's seen roaming around with both women despite a bitter split from the wife.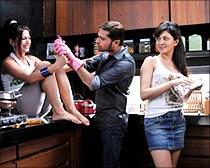 And what is the logic behind breaking plates in the film? Was that funny or were you trying to make a fool of yourself?
What in the world is a 'Karvachauth ka lamp'? Writer-director Ishaan Trivedisaab, what does that mean?
Paresh Rawal, in a bit appearance, tries to be funny. But he fails as well. As does the rest of the cast Zakir Hussain (overdoing his Punjabi accent) and Rajesh Khattar (sitting on a wheelchair for no reason for most of the film).
Shenaz is passable but newcomer Sonal really needs to improve her acting skills if she wants to retain her career.
 
The music would have been the film's saving grace. But they sound incomplete without your nasal twang. Only Teri Meri Dosti Ka Aasman has retained that, in a single line.
From a dear Himesh fan,
Dipen Shah
Rediff Rating: