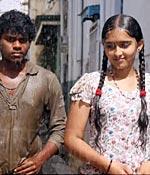 "A few days -- and love," proudly proclaims the tagline of Film Fabricator's Tamil venture Renigunta, directed by R Panneerselvam. So far, the mild hype generated by the movie and its promotional posters have shown a dusty, motley gang of youngsters who seem to be permanently on the run, presumably in the Andhra Pradesh town of Renigunta. And that, in a nutshell, is the whole story, really.
But to elaborate beyond a nutshell, this is what Renigunta is all about:
The screen's set in Devakkottai, and you're introduced to Sakthi (Producer S S Chakravarthy's son, debutant Johnny), an unruly-haired, rather chunky looking, non-descript youngster who has a fondness for sports and hates studies as evidenced by his horrible mark-sheets. His parents are kind, equally non-descript, yet loving people who want the usual -- that their son get somewhere in the world.
Fate plays a devastating hand, however: Sakthi's parents are killed in cold blood by local bigwig Kathir for having committed the cardinal sin of being witnesses to his murders. Within seconds, Sakthi is left an orphan, and revenge takes root as he hunts Kathir in an amateurish fashion with a knife. He's swiftly caught and thrown into prison where he promptly meets four youngsters Dappa aka Premkumar, Pandi and Co (Nishanth, Sandeep, Theepetti Ganeshan and Tamil), all scruffy looking and guilty of at least half a dozen murders and charges.
Fate drags them again to Renigunta, when the five decide to make a daring escape. Sakthi finds a breeze of happiness awaiting him, along with more challenges: he has to succeed in getting the pretty girl, yet keep up with the demands of his cohorts and the area's goonda, Sardar.
So far, so good. So what are the pros and cons, you may ask? Well, here's the pros first.
D P Singampuli's dialogues are quite good -- they succeed in drawing you into the proceedings. Equally effective is Sanjay Karan's excellent art direction, bringing you the dusty, tired streets of Renigunta to perfection. You can actually smell the dirt and sweat.
The secondary character Dappa aka Premkumar is practically the life and soul of the film: he laughs, hams, fights, drags and literally shoulders a good deal of the movie, and is sometimes the only reason to remain in your seat.
The other notable reason is Sanusha, she who is nameless in the film, but who lightens up the screen like sunlight with her bright smile. She can't speak, but her eyes more than make up for the lack of dialogues. Equally interesting is her friend, the darker-skinned Manimegalai who's supposed to be the laughing-stock -- but you end up liking her anyway. Her sister, forced into prostitution, and her uncle, a spineless auto-driver are equally good.
The stunt director has to be applauded too. The fights are quick, vicious while the sound engineer has taken the effort to convert them from random booms to genuine whacks.
But there are cons as well like how many more movies are going to "explore" the tough underbelly of petty crimes involving random stabbings, murder and outright massacre, with tight close-ups, freeze frames and a good deal of special effects? Editor Antony has tried his best to introduce slickness, but his and Sakthi's camera-work -- which is laudable -- try in vain. Also, Renigunta follows the new formula here: a mandatory character from Madurai who performs the slang perfectly while the rest of the cast – including the hero – simply stand around, gawking.
There seems to be no rhyme or reason for why the original gang of four befriends Sakthi in the first place. And their behaviour, instead of tough, crime-hardened youths, resembles first-time offenders who don't know which way to turn. The police, like in many commercial movies, appear few and far in between, and are seemingly foiled all too easily by random youths, yelling and screaming invectives all the time.
Johnny seems to start off well at first, but afterwards, his face is as expressionless as the boulders dotting the dry Andhra Pradesh landscape. Perhaps he's been taught to emote this way -- if so, it's hardly effective. His sudden change from silent, unsure youth to slam-bang fighting machine are, to put it simply, unbelievable.
The so-called love scenes, while interesting at first, quickly bore you: for long minutes, the heroine, pretty as she is, does nothing but walk in the rain, while the hero simply follows her.
Ganesh Ragavendra's score is loud when it ought to be subtle and while the songs are marginally better, they've been underused in the film.
Aside from the flashy effects, the dialogues and true scruffiness of the characters -- there's nothing else. The screenplay loses steam after the first hour, and you're left yawning for the predictable end to arrive. Which is a pity, because the setting could have been used far more effectively.
It's clear that Panneerselvam has been heavily influenced by new-age gangster flicks and rural movies: Paruthiveeran, Subramaniyapuram, Vennila Kabadi Kuzhu, Nadodigal, you name it, and there's a scene that reminds you of it. Supposedly, he spliced together several news reports that showed the real plight of young offenders. If only he'd actually made way for a cast iron plot, this one would have fared better.
Rediff Rating: