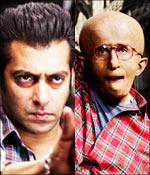 In order to give a boost to its almost stagnant ratings, STAR Plus, the number two Hindi entertainment channel, is betting big on Bollywood films.
Within past few weeks, STAR India has picked up exclusive satellite rights for blockbusters, including Paa, Wanted, De Dana Dan, Aladin and Drona for Rs 50 crore, the highest among the leading broadcasters this year for exclusive content.
STAR Plus, the longest running leader in the Hindi general entertainment genre (for almost nine years) was pushed to the second spot by Colors earlier this year. Airing of exclusive movies on the entertainment channels tends to push weekly ratings by 15-20 per cent. Therefore, broadcasters like STAR India have gone in for exclusive telecast rights of latest blockbuster films.
Rivals like Colors, Zee TV, Sony TV, NDTV Imagine, among others, have also gone after satellite rights of Bollywood films, but for a non-exclusive arrangement. This means Bollywood hits like Kurbaan, Kaminey or Wake Up Sid will be aired on multiple TV channels in 2010 to 2014 and not on just one channel.
As opposed to this, STAR India has gone in for exclusive rights for the Amitabh Bachchan starrer Paa, which is currently doing a brisk business at the box-office. According to industry sources, STAR may have paid Rs 10-12 crore each for the satellite rights for Paa, Wanted (Salman Khan) and De Dana Dan (Akshay Kumar, Katrina Kaif).
Confirming to Business Standard, Anupam Vasudev, EVP (marketing), STAR India, said: "We have acquired several titles, both new and library (re-buys) through 2009."