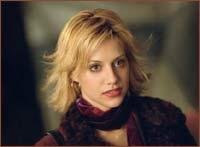 US Actress Brittany Murphy, best known for her roles in Clueless, Girl, Interrupted, Just Married and 8 Mile, died on Sunday at her home in Los Angeles. She was 32.
Murphy was reportedly found unconscious in an upstairs bathroom by her mother. She was pronounced dead at 10 am PST (11:30 pm IST), two hours later, at Cedars-Sinai Medical Center.
Celebrity gossip site TMZ.com first broke the news, and reported that Murphy had been taking medication for 'flu-like symptoms' and had told relatives that she felt very ill. TMZ also reported that police said no illegal drugs were found in the house. An autopsy would be conducted in the next few days, the County Coroner's office said in a statement.
After 1995's Clueless launched her to fame, Murphy put together a string of Hollywood hits, starring opposite the likes of Michael Douglas, Alicia Silverstone, Kirsten Dunst, Eminem, Angelina Jolie and Ashton Kutcher.
But in recent years, claims of erratic performances and concerns over her increasingly skinny look caused Murphy to fall off the map in Hollywood.
 
Kutcher, who dated Murphy in 2002, posted on microblogging site Twitter, '2day the world lost a little piece of sunshine. My deepest condolences go out to Brittany's family, her husband, and her amazing mother Sharon. See you on the other side kid.'
Murphy made headlines earlier this month when she was fired from and asked to leave the Puerto Rico sets of The Caller, a low-budget thriller. It's been reported the last film she finished work for was Sylvester Stallone's action movie The Expendables.
Born in 1977, Murphy was only 14 when she moved to Los Angeles to pursue a career in television and film.