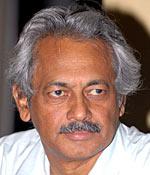 Today, Karnataka has lost one of its greatest actors. The death of the Sahasasimha Dr Vishnuvardhan has left a vaccum in the film industry and many say that this space can never be filled up.
Renowned director Girish Kasarvalli pays a fitting tribute to the superstar and takes us through his thoughts of Dr Vishnuvardhan, originally known as Sampath Kumar.
The Kannada industry has seen many stars. What made Dr Vishnuvardhan unique was his style of acting.
He was effortless when it came to acting. I would say that he is one of the most sensitive actors the industry has ever produced. The manner in which he approached every role was simply amazing. There was a sensitivity that was involved in the manner in which he handled roles given to him and this was one of the primary reasons why he stood above the rest.
Vishnuvardhan had the courage to attempt a lot of roles. He handled the roles with such ease. Look at the manner in which he played an angry young man in Naagarahavu.
Although he was largely accepted at that time as an angry young man, he did not stagnate. Instead, he attempted various other roles and played them with such ease that they were also successful.
I would like to mention two films here, Muthina Haara and Bandhana. The characters played by him in these movies gave his career a new dimension. His role as an army officer in Muthina Haara is worth a mention since it has several shades.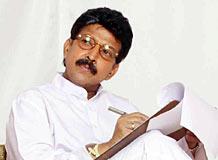 His performance in Bandhana was path-breaking too. He plays a romantic hero and has handled it with such ease. I feel that these are two very important movies in his career, which propelled him to superstardom.
Younger film actors can learn a lot from Dr Vishnuvardhan. Besides his acting skills, I would tell youngsters to follow the way he delivers his dialogues. I feel he had the best dialogue delivery in the industry. The power and ease with which he delivered his dialogues is something that every young and aspiring actor can learn from.
As a human being, Vishnuvardhan was an extremely decent man, who never turned down anyone who needed help. He had many friends in the industry and all of them swear by him till date. That is quite a rare trait for a big star.
The loss is unbearable and terrible. It is impossible for us to reconcile this loss. All I would like to say that he is one of the most popular actors and a noble human being who will be missed by all of us.