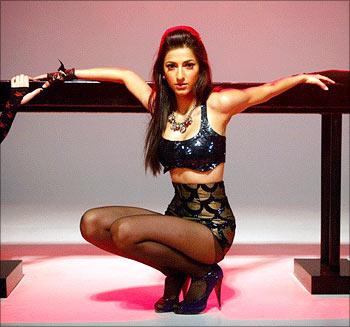 Though her debut movie Luck wasn't so lucky for her, Shruti Haasan didn't go unnoticed. The actress who also sang in Soham Shah's movie looked striking though she could have opted for a better launch vehicle.
She spoke to Nithya Ramani about her rock band, her take on love and relationships, and who she thinks is the most dishiest actor in Bollywood. Excerpts:
How has life changed since Luck?
It hasn't changed. I am as excited and happy as I was the first day I decided to be an artist. I get to meet new people and do fun stuff.
This is your debut. How was the experience from first day to last of shooting Luck?
Awesome and nerve-wrecking at times. I was debuting and wondered what I was doing here, if I could pull this off, shooting with creatures that were at any point ready to bite off a limb. It was all in all very exciting to have had that opportunity.
You are a rock star. How did acting come your way?
I am not a rock star. I am averse to that word. I am a musician, I play the piano and have learnt all kinds of music. Right now the band is in a transitionary phase and I am looking out for new musicians. I am very excited about the new music that is going to come out.
Being an entertainer, any form of entertainment has always my calling. I was studying music in Los Angeles. I also acted in a few shows and enjoyed it. I realised it was something I could do. I then started thinking about it seriously, started looking at scripts and meeting people.
What are you favourite songs?
There have been so many songs in the history of Indian cinema that it will be unfair to choose just a few.
What is your take on love and relationships?
Love is important and it does make the world go round. And why it is so great is because there are so many different kinds of love. It is a very unique and powerful emotion.
Who are your favourite actors?
There are so many. People think I am being diplomatic but I truly cannot pick one.
Who do you think are the dishiest actors in Bollywood?
I think Shah Rukh Khan. He is magnificent.
It is Sanjay Dutt's birthday today. Do you have anything to say? How was your experience of working with him?
I am not the kind who can wish someone on camera. As far as working with him is concerned, it was amazing. He has been working in this industry for so long and has such a powerful persona that I learnt a lot just from watching him. He is very polite and quiet on the sets. He is very easy to work with. He doesn't look like he is 50.
The monsoon is finally here. What is your favourite memory of the rains?
I like the rains. I like to sit indoors and read a book. You can also watch The Godfather because it is just a fabulous film ever made.