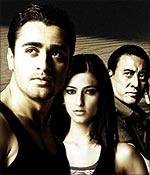 Early on in Soham Shah's latest film, we see a sign on the walls of a peculiar little gambling den saying that the only thing certain about luck is that it will change.
This is a sign that gives us hope, for it tantalisingly promises that no matter how bad this film named Luck seems, perhaps it will miraculously transform into something watchable, nay, something entertaining. This is, of course, a fallacy -- and we continue watching this tackily made bore unfolding like a poorly written comicbook, one that was never cleaned up after an adolescent first draft inception. And it never, ever gets better. Just our luck.
The film is about Musa (Sanjay Dutt), a dude with the luck of the devil who has made his fortune in human hunting. He sets up big, realityshowesque deathtraps for people, and his lackey Tenzang (Danny Dengzonga) scours the world hunting for the most freakishly lucky people -- all of whom incidentally happen to be unlucky enough to really, really need this self-guillotining gig.
This odd bunch of misfits are mostly culled from India -- a slew of Mumbai's foreign extras are around but hardly get to speak a word, of course -- and include Imran Khan, Ravi Kissen, Mithun Chakraborty, Shruti Hassan and, as a token Pakistani character, Chitrashi Rawat. They are then all pitted in surefire deathtraps with people from all over the world betting on their luck.
It's not a bad premise -- even though it does sound suspiciously like The Condemned, a horrible film starring Stone Cold Steve Austin, and I'm not even going to go into any conversation about the now cult French film 13 Tzameti -- and it could have made for a fun actioner. It could have been 'decent timepass,' as us indulgent towards Bollywood are likely to label tripe, but this ridiculous script devoid of both logic and drama leads to a really boring piece of trash.
It's like watching a really slow episode of the Indian Fear Factor, one where Akshay Kumar -- or the girls -- forgot to show up. The shots are tacky, the thrills leave you cold, and this film could have been half its length but a sadistic use of slow-motion and flashback doubles your misery.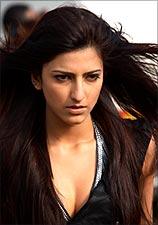 Several of you are curious about debutant Shruti Haasan, and all I can say is that Kamal's daughter deserved a better launch vehicle. This dud doesn't require anyone to act -- and none of the cast even make a token attempt, led by a bored Sanju looking like a drugged bear, Bhai-walking around in super slow motion with suits, Pathani and otherwise, flapping superkinetically in the wind --  but for now it seems like Shruti may needs to work on her dialogue skills. And her script-reading ones.
Imran Khan, when removed from campus, seems excessively out of place and clearly needs a director to push him into naturalism. Gone is the easy Jaane Tu charm, replaced by stock expressions and what seems like a case of the nerves, goading him to forsake all subtlety. Ravi Kissen, best known in the non-Bhojpuri world as a reality show pest, is the only one trying hard -- which basically means hijacking Manoj Bajpai's laugh from Aks. He plays a character, by the way, who is freed from jail because an attempt to hang him results in a slipped rope, which is why India feels a serial killer should be let loose. Yeah, it's that kinda movie.
The problem isn't with the lack of logic -- Dus and Dhoom 2 aren't examples of intelligent films -- but if you are to make a silly cheesy film, make it spectacular, make it dramatic. This film not just makes them look clever, but ends up with no drama whatsoever, a procession of set-ups and coincidences with not a single character worth caring about. Save perhaps Danny, who is immensely hard to take seriously because of an inconsistently orange tan. Tsk. And the dialogue is hilarious, the characters speaking only in extreme exposition or overwritten punchlines, ones that almost rhyme.
It's the kind of film that can only be salvaged while playing a drinking game at home, downing a shot of Smirnoff every time anyone mentions a synonym of the word 'Luck.' That might lead to a pretty specacular evening but... what am I saying? Clearly that's what the film's screenwriters were playing as they wrote. My mistake.
A word to the director: Mr Shah, despite much hype you gave us Kaal. And now there's Luck, with too many loopholes to even point at. A suggestion, then, for your new industry nickname: Ho-hum Shah. Thanks for the yawns -- and for the single funniest climax in ages. No, really.
Rediff Rating: