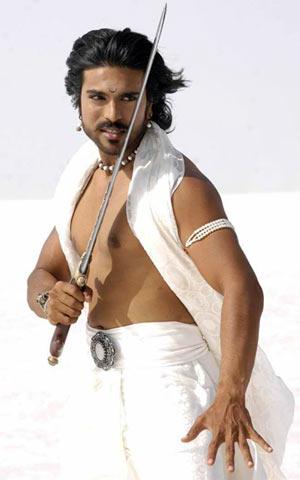 Magadheera, is setting new records in Telugu. Producer Allu Aravind is planning to release the film on July 31in 14 countries.
The film starring Chriranjeevi's son Ram Charan Teja will hit 1200 screens across the globe, the biggest ever release for a Telugu film.
This film will be released with 21 prints in 21 centers (including Toronto, New Jersey, Chicago, Bay Area, Dallas, Atlanta, Detroit, Minneapolis, Los Angeles and Boston) in North America – a first for a Telugu film.
In UK it will be released in Southall and Eastham. It is also getting released with huge publicity in Australia and Canada.
Supreme Raju who bought the overseas rights says that Magadheera is the first Telugu film that will have such a huge worldwide release.
Even in the neighbouring state of Karnataka, the film is getting released in centres like Hubli, Gadag, Bidar, Gulbarga along with Bangalore and Mysore. Sources in the film trade say that Magadheera has been sold for a whopping price of around Rs 1.50 crore, the highest for any Telugu film. The distributor has already made a table profit of around Rs 50 lakh even before the film's release.
It was Chiranjeevi's Stalin that showed regional cinema has a huge market. The film collected about Rs 30 crore in three weeks. After that, NTRJr's Yamadonga also collected Rs 30 crore from the southern part of south India in just three weeks. 
Whatever may be the fate of the film, this hugely awaited flick looks like it will break all the previous records in the opening collections itself.
Text: R G Vijayasarathy