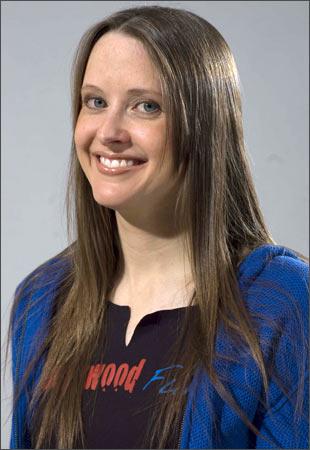 There is a growing number of Americans, who are quite taken in by Bollywood, especially its music.
Vicky Aubin, an executive at a recruiting firm in New York, tells Arthur J Pais why this is so, in this special series.
Vicky Aubin has been under the spell of Bollywood music and dance long before the art form swept America.
"I have an Indian boyfriend, and many people think that I am into Bollywood because of him," Aubin, an executive at a recruiting firm in New York, laughs.
"The fact is, he doesn't have much interest in the Bollywood song and dance genre. In fact, I've been getting him to get more into Bollywood and its dances in the last few years."
Given how authoritatively she can speak on the subject, many assume she is of Indian origin, and has anglicised her name. "Main gori hoon," laughs Aubin, who has appeared in dance sequences in Hindi films including Kabhi Alvida Naa Kehna, shot in the New York area. She once surprised Amitabh Bachchan by telling him, 'Main Hindi bolti hoon'.  

She got hooked onto the magic of Bollywood nearly a decade ago, when she saw her first Hindi film with a group of her Indian friends. "I don't remember the title of the film, though I remember it starred Salman Khan and Preity Zinta," she says. "I also remember that I was crying at the end of the film. I was overwhelmed by the emotions, and I was mesmerised.
"It was so colourful and so emotional that it shocked me there was a film industry out there that I did not know anything about at all," Aubin, who now doubles as a Bollywood dance instructor, says. "And later, when I watched Lagaan, I asked myself again, how do they do it? How do they use these beautiful songs and dances to tell a story? Why don't they make films like these in Hollywood? My passion for Bollywood snowballed from then on. It was like, I must learn this kind of dancing."
Aubin, now 30, trained under Pooja Narang and Ayesha, two well-known Bollywood choreographers based in New York and now teaches dance on weekends at the latter's school. "I still call myself a dance student," she says. "Whenever I see a fabulous song and dance sequence in a new Bollywood film, I want to learn it. And I take that learning process seriously."
She tells her students that there is nothing frivolous about Bollywood dancing. "It is a legitimate popular art form," she says. "It has been around for a very, very long time, well before Slumdog Millionaire came out.
"I tell my students that anyone can learn a few steps. But you cannot have fulfillment and fun unless you pour your heart into it, unless you also find out the history and the legends of this kind of music and dance. I tell my students, put your attitude into what you are doing. Pour your soul into it."