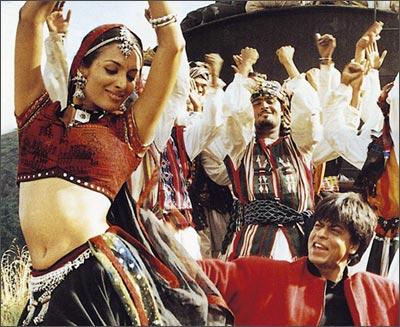 There is a growing number of Americans, who are quite taken in by Bollywood, especially its music. Adding to this list is the name of Daphne Beal.
Beal, who set her well-reviewed 1998 novel In the Land of No Right Angles in America, Nepal and Mumbai's Falkland Road, wrote in The New York Times recently about her discovery of Bollywood music, and helpfully provides a list of dance-worthy Bollywood hits with links to the songs/videos.
Beal talks of how she had always been hooked onto Tibetan chants. It was while researching her 1998 novel, especially while meeting with Nepali prostitutes, that she was introduced to Bollywood songs and dances, and came to realise their 'transformative power.'
'When the girls got ready at dusk, they always blasted the film songs, reminding me of the way my friends and I played Madonna or Cyndi Lauper during our freshman year of college,' she writes. 'All the songs in this list are happy, hyper, get-up-and-dance numbers spanning the last half century, and I'm including the links to videos, because there's never been a music genre more tied to the filmic form.'

Beal's top 10 list includes two songs from the Shah Rukh Khan-starrer Dil Se -- Chaiyya Chaiyya and the title song. Chaiyya Chaiyya, it will be recalled, was a crowd-pulling feature of the Broadway show Bombay Dreams, and received an additional fillip when Spike Lee used it in his hit film Inside Man, during the opening credits and through a Punjabi MC remix as the end credits rolled.
Beal's list, meanwhile, is eclectic, and a testament to her deep immersion in the form. She goes all the way back to the 1950s to include the Mera Naam Chin Chin Choo number; her list also includes such favourites as the Aap Jaisa Koi hit from Qurbani; Dum Maro Dum from Hare Rama Hare Krishna; Rang Rang from Deepa Mehta's little noticed Hollywood, Bollywood; and Aaja Nachle from Mira Nair's Monsoon Wedding.
A surprising entry -- and welcome nod to the fact that songs and dances are a characteristic of not just Bollywood, but of all Indian films -- is the listing of the hit Tamil song Kokku Para Para, performed by Tippu, Manicka Vinayagam and Rajalakshmi.
'This upbeat and highly hummable song is in fact from a 2005 Kollywood hit called Chandramukhi,' she notes, while explaining the Tamil movie industry. Beal includes the song in her playlist, she says, because the film was dubbed into Hindi (and German!).
The list also has a few songs by non-Bollywood talent, but tied firmly to the Bollywood tradition: for instance, Aloo Chaat, she notes is written and performed by RDB (Rhythm, Dhol, Bass), a group of three Anglo-Indian Sikh brothers. 'This 2008 song is where rap, Bhangra and intentional camp meet, and it is impossible not to grin and move to.'
Text: Arthur J Pais  | Image: A scene from Dil Se