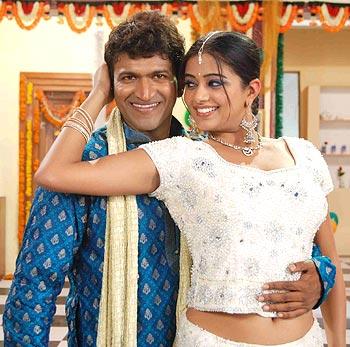 National-award winning actress Priyamani is teaming up with Puneet Raj Kumar in Raam. 
The film is directed by Maadesh who earlier directed Darshan's blockbuster Gaja, and produced by noted Kannada and Telugu film producer Adithya Babu.
Raam is the remake of Sreenu Vaitla's Telugu hit Ready which starred Raam and Genelia.
Hari Krishna is the music director of Raam
Though Priyamani hails from Bangalore and had even screen tested for many Kannada films, she was not part of any Kannada film so far though she had always expressed her desire to act in one.
While her one wish is now granted, Priyamani is disappointed that she will not be able to dub for the film despite being fluent in the language.
 "The character she portrays is that of a girl-next-door," Maadesh says. "I had a discussion with Priyamani and convinced her that her voice may not suit the character. She is fairly convinced. But I am sure Priyamani, who has given such a lively performance in our film, will have an opportunity to lend her voice in another Kannada film," he adds.
Priyamani is happy that she is working with Puneet in her first film. "Many years ago I had visited the office of Puneet's Home production Vajreshwari Productions. That was before the heroine of Akash was finalised. I could not make it, but I am happy that I am teaming up with this great actor now. He is an exceptional human being. I found him to be a very simple man," Priyamani says.
As for Puneet he says that that Raam is a fun film with pure entertainment for two hours. "I had an opportunity to work with many talented artists like Priyamani, Rangayana Raghu, Sreenivasa Murthy, Doddanna and many others," he says.