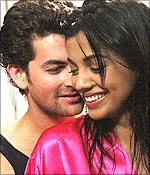 In Madhur Bhandarkar's Jail, there is a scene where two inmates are chatting, before they turn in for the night.
One of them, a grizzled old veteran with a Tagorey beard called Ghosh Babu, is asked by his companion why on earth he's languishing in prison despite getting so many international awards. Ghosh sighs and explains that he was accused of siding with the Naxals and thrown into prison, and that 'when the Government gives rewards like this, it doesn't look at awards.'

As that little vignette on Dr Binayak Sen illustrates, it's this harebrained topicality-as-gimmick approach that mars most of the director's efforts, trying to cash in on everything he reads in the papers. Sorry, everything everyone's read in the papers.
So a wealthy upstart inside for a hit-and-run casually mentioning he mowed down six people (not four, not seven) on the road isn't a coincidence. Honestly, by now, Madhur should really dispense with the obligatory 'all characters and events are fictional' disclaimer at the front of his films.

And for our part we really should stop treating them like films. Bhandarkar's modus operandi is simple, to pick out a subject, decided on its stereotyped negatives, ones that are already more than well-entrenched in the public consciousness, and then vilify it. Yet even by his usual standards, this latest project suffers from a cinematic sin even worse than self-righteousness: Jail is a bloody bore.

Neil Nitin Mukesh, still sticking to looking frightened and perplexed, plays Parag Dixit, imprisoned on a drugs charge based on circumstantial evidence. That's pretty much the synopsis of the entire film, one that drags on and on without either narrative reprieve or anything compelling.

The detailing is shoddy, the characters cardboard and the dialogue plain laughable. Jail is a formulaic, below average Bollywood headache, slowed down to lugubrious dullness. So much so that even ever-disastrous background score man Amar Mohile ditches his overloud hoo-ha for some insipid piano tinkling. Groan.

Leave it be, this prison of cardboard and cliche. We all deserve better.

Rediff Rating: