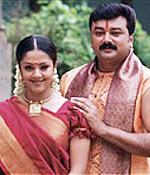 You can easily guess the state of the film industry when a film of a leading actor like Jayaram remains in the cans for nearly half a decade, which is a cause for disappointment indeed.
Then we have Jyothika, the heroine of the film who quit the film industry years ago, and is the mother of a two-year-old.
Our disappointment is compounded when the quality of such a long pending film is not up to the mark. The Malayalam film in question is Seetha Kalyanam directed by T K Rajeev Kumar and starring Jayaram, Jyothika and Geethu Mohandas.
It would suffice to say that this film is a wedding video of a Tamil Bhramin community with its elaborate rituals and ceremonies extending to seven days. But, rest assured that this is not the plain 'feel good' Hindi film of the nineties. Here the director has put in enough complications in the plot.
Sreeni (Jayaram), a simpleton has a high paying job in Bangalore. His mother, who is traditional to the core, is looking for the perfect match for him. Sreeni is a butt of the joke among his female colleagues and they tease him by pretending to flirt with him. The leader among them is Nimisha (Jyothika); she dotes on him and does not even mind spending a night with him in his bachelor abode when he is down with viral fever (but her parents are very conservative for her taste). Their relationship is purely platonic. Meanwhile, his mother succeeds in finding a traditional girl in Abhirami (Geethu Mohandas); brought up in an Aghraharam.  Film is half over by now.
By the second half, Nimisha realises that she is actually in love with Sreeni, and cannot help but reveal it to him, who in turn is confused about his feelings for her. On the other hand, Abhirami is sacrificing her love for Ambi (Indrajith), a disciple of her father by agreeing to marry Sreeni.
As the elaborate seven-day ritual go on, characters pop in and vanish; some fall in love, some fight tooth and nail, and some are happy and some sad incidents also happen. Few skeletons tumble out of the cupboard as well.
There is even a comic plot with Janardhanan, Jagadeesh, Bheeman Raghu, Kalapana, Bindu Panicker and co as musicians landing there to perform at the wedding.
Jayaram is his usual self, but looks a little younger! The same goes for Geethu Mohandas and Indrajith also.
Jyothika as Nimisha does have a few scenes where the viewer would feel excited by her performance (though her presence does make us constantly aware that this film is dated) and her transformation from the 'happy-go-lucky' chirpy girl in the beginning to a mentally imbalanced person does give us a jolt.
The only advantage of watching such an antiquated film on big screen is the fact that you get to see an actor like Oduvil Unnikrishnan (though his voice is dubbed) who left the world a few years ago.
On the whole, director T K Rajeev Kumar does not succeed in indulging us in the festivities of Seetha Kalyanam.
Rediff Rating: