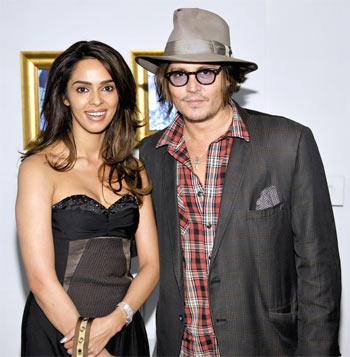 When Mallika Sherawat let slip that she met Hollywood heartthrob Johnny Depp on Twitter, we were a little skeptical.
But wonders of wonders, it turned out to be true as evident from this photograph taken during legendary crooner Tom Waits' daughter Kellisimone's art opening in Santa Monica on Sunday night.
A week after being invited to attend a private affair in Beverly Hills with the likes of Sean Penn, Ben Stiller, Owen Wilson, Charlize Theron, Woody Harrelson and John C Reilly, the Bollywood bombshell (and new Hollywood 'It Girl') was a special guest at the event before being honoured at a private dinner in the Pacific Palisades by industry heavyweights.
It seems Depp told the bold beauty that he's 'looking forward to seeing her upcoming movie Hisss,' which thrilled the actress no end.
'It was a great pleasure meeting one of America's greatest actors. He's even better looking in person and to top it all he told me that he is really looking forward to watching the Hisss trailer. I'm sure it'll give him sleepless nights!"
News of Mallika's new American film project was recently announced, a romantic comedy set in the world of American politics, entitled Love, Barack.