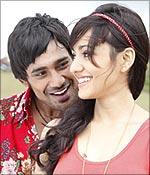 Actor Dhanush scored a big hit with his Tamil film Polladavan. Its Telugu remake Kurradu, however, directed by Sandeep Gunnam comes a wee bit late as far as the theme of a bike film is concerned.
Ride, which released earlier this year, was in the genre of the 'action' – (read bike) film.  So, watching Kurradu gave us a sense deja vu.
That said, Sandeep does a decent job particularly in the way he shot his debut film.
Polladavan was set in Chennai. By shifting the location to Hyderabad, Sandeep ensures the city, particularly the Golconda fort, the lanes and by-lanes to a large extent, comes alive on the big screen. The cinematography by Sarvesh Murari is another plus point.
The tale is a simple one. Varun (Varun Sandesh) hails from a lower middle class family and dreams of buying a bike. He is jobless and is often chided by his father for leading a carefree life. He is already in love with Hema (Neha Sharma). One night in a drunken stupor, he blames his father (Tanikella Bharani) for not giving him money. In fact, he indulges in a severe blame game. The father gives him the money (Rs70,000) he had saved for his daughter's wedding. Immediately Varun goes and buys a bike.
When the bike is stolen, Varun locks horns with three goondas. Therein the problems start. Will he protect himself from being falsely accused of smuggling ganja? Will he rescue his family?
The story moves at a slow pace though there are moments which hold your attention. Some of the emotional moments are realistic. The camera work keeps the viewer engrossed. But there's a lot of violence and bloodshed which perhaps could have been toned down.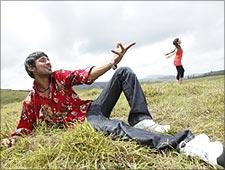 As usual, the film has its share of songs (a few of them good and shot well) but the item number was unnecessary. The humour element is added for the Telugu audience in the form of Ali and MS Narayana. It does not contribute to any value addition to the film, though.
The basic plot of the film -- the theft of the bike -- resembles that of De Sica's classic Bicycle Thief but that's about it.
Varun has an image makeover -- from the cute lover boy to a toughie fighting all the way. He does well as the youngster who is in love with his bike and goes all out to retrieve it. He's upgrading his skills in every movie and in this he's learned to fight and wield the sword. His diction too has improved. But he still looks young and lanky to take on such roles. Neha Sharma looks pretty but doesn't have much to do. Tanikella Bharani and Pragati are good as parents.
Achu's music and Sarvesh Murari's cinematography are the other highlights.
Sandeep has earnestly tried to present something different within the remake but it is not too exciting.
Rediff Rating: