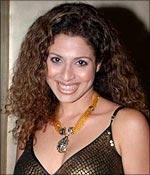 As Tanaaz Irani stepped out of Bigg Boss after her eviction, she claimed that all her actions in the house were a message for her 17-year-old daughter Ziah (from Tanaaz's first marriage with Farid Currim).
She also preferred her eviction to husband Bhakhtiyar Irani, who was nominated along with her last week.
She tells Rajul Hegde about her time in the house, and that her marriage is still strong.
Did you expect your elimination?
Yes. I wanted to get out for Bhakhtiyar's sake because he wanted to play games. He couldn't do what he wanted to because of me. He is free now. I hope he gives them good.
There were rumours that Bhakhtiyar and you are heading for a separation after the show?
Don't all couples fight? I can say with pride that no other couple would have survived in this house without breaking up because the other housemates were playing dirty games.

I had told Bhakhtiyar that our marriage is too strong to be affected by the strangers.
He is a simple guy and his problem was why I did not react the way he did. I had an inkling of what was going on but did not want to complicate matters by telling him. Only after a couple of weeks it was clear that the others were playing games and backbiting about us.
 
Do the two of you fight like that in front of your children?
Yes. We fight like that minus all the bad words. People, who have watched us fight on national television, will understand that they were small fights like any other husband and wife would have.
Did you play games in the show too?
I was what I am. You cannot play games 24x7; your mask has to fall off -- like it did in the case of Rohit Verma and Poonam Dhillon. I want to go back as a wild card entry and give them back. I will go prepared and play games. I want to show that good triumphs and bad behaviour is unacceptable.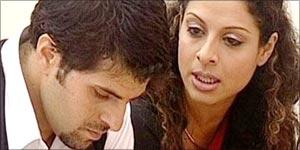 But Bhakhtiyar and you really got along with Rohit initially. What went wrong?

I was amazed to know what he said behind our backs. He says he is a well-known fashion designer but he should see what he was wearing! I would like to know which other person wears Rohit Verma creations other than Rohit himself. There is nothing to like about him. He has enraged me so much with his attitude and backbiting that I want to go back and slap him for ruining my name.
When Aditi Gowitrikar and you yanked off Raju Shrivastav's pyjamas, it created quite a controversy.
Really! Did they show that? When you come to a pool party, you should have common sense to wear something underneath. We were so embarrassed after we pulled off his pyjamas but he took it sportingly.
How was your experience in the house?
I have a 17-year-old daughter. Whatever I did inside was a message to her. I had to be good because she needed to be taught that come what may, you always have to go by the book. I am glad I succeeded in my mission. I might have said some rough things but all that happened in the heat of the moment. I never indulged in negative games. I wonder how the other housemates will face their children and wives, after all the backbiting and manipulation.
What do you have to say about Vindoo Dara Singh?
Vindoo is brainless person. His behaviour with Sherlyn Chopra was just not acceptable. He should understand that his father (Dara Singh) has a big reputation in the (film) industry and he can't put him to shame. He should worry about how he will face his near and dear ones when he comes out of the house. The first thing he should do after coming out of the house is go to his father and apologise for his behaviour.
After he came out, Ismail Darbar said that he wasn't happy that you left your one and a half year old son behind for a reality show?
I want to ask him since when does his opinion matter at my house? Who is he to comment that I have left my son?
 
Did you make any friends in the house?
Yes, with Shamita Shetty and Aditi. It seems last year none of the housemates got close to anybody. I have made not one but two friends on this show (smiles).
Who do you think will win?
I don't care who wins. Their next target will be Bhakhtiyar and Aditi. All the good people are being evicted. These people are only in for the money, which can be earned by other dignified ways too.