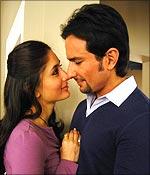 To the new breed of slick, sharp Hindi-film directors, please welcome debutant Rensil D'Silva, who till the other day was best known as the guy who wrote Rang De Basanti.
For once here's a film that does not feel long despite the two hours and 40 minutes.
And if that's not enough to get you interested, here's the clincher. Kurbaan is bloody smart. In its taut screenplay, stylish photography and good performances by the cast, it keeps you engaged, does not insult your intelligence and avoids getting preachy.
And that's saying a lot for a film by a debutant director.
Ehsaan Khan (Saif Ali Khan) is a smooth-talking, handsome professor who walks into fellow professor Avantika Ahuja's (Kareena Kapoor) life and takes over her world. He seems to be in a tearing hurry to bed her and father her children, but she is too much in love to notice or analyse, and they are soon busy building their love nest in an Asian neighbourhood in New York. Avantika's world comes crashing down when she accidentally runs into her neighbour's dead body and eavesdrops into a terror conspiracy. What happens after that is what the film is all about.        
Kurbaan deals with a very loaded subject -- terror, Islam, America and the rest of the world. Something that a bunch of filmmakers have attempted in recent times, and there's more to come. But this one is executed like a classy Hollywood thriller, with some great moments of suspense, high drama, blood, gore and skin. And not to mention a delicious background score (Salim-Saulaiman) --  the icing on the cake.
The film is not without its faults. There are times you wish some dialogues (Anurag Kashyap and Niranjan Iyengar who have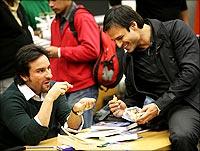 otherwise done a good job) were better, some scenes shorter. There are plot holes too -- like why doesn't Kareena call 911 (the US emergency number) to tell them about the bomb? Saif's character remains surprisingly ambiguous, and despite a superb build-up, his track loses steam towards the end. The twist in his tail remains quite unconvincing. And if it is intentional, it does not come across as so. Even then, he manages to impress, and the comfort level with his girlfriend Kareena is evident. 
Kareena Kapoor shines in some of her scenes, especially when she takes on Saif and at the end. The climax and the final frames (we are not giving out the details!) are finely etched and will remain with you for a long time.
Maybe that's why D'Silva cuts it right there. 
Vivek Oberoi plays the face of the moderate, liberal Muslim, who seeks vengeance for his girlfriend's death. Though he gets a few sloppy scenes, he manages to impress with an earnest, convincing performance.        
It is refreshing to see Kirron Kher play such an interesting character, while Om Puri is largely predictable.
Producer Karan Johar has obviously pulled out all the stops. This seems to have been an uncompromised film -- right from the convincing extras in the outdoor scenes, the policemen, reporters and FBI agents, to the choice of locations, sets, props and the blast sequences. The detailing is evident.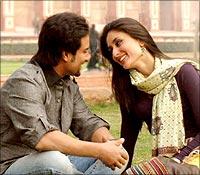 Going on and on about Kurbaan will kill the charm for you. But here's a sample of how the movie is. Vivek Oberoi retorts to an American student who dares Muslims to get out of the US – "I will get out of your country as soon as you get out of ours."
This does not mean the film is a treatise on terrorism, it does not really say anything you did not know (and you cannot miss the similarities with New York and Fanaa).
But even if it is a known story, it is a story well told.
Go watch Kurbaan, explore it, find your own points to agree, disagree, endorse, enjoy, debate and be angry about.  
Either way, you definitely cannot walk out without the film leaving an impression on you. And a strong one at that.  
Rediff Rating: