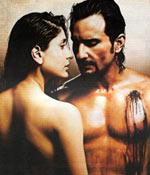 Aditya Chopra's Fanaa and New York combined the conflicting themes of romance and terrorism to box office uplifting results. Taking a break from candy floss capers, filmmaker Karan Johar, too, strives to achieve the same with his serious albeit sleek production, Kurbaan.
Directed by Rensil D'Silva, best known for his scriptwriting skills in Rang De Basanti, the tense drama features Bollywood's 'It' couple-Saif Ali Khan and Kareena Kapoor. 
While the posters and trailer of Kurbaan drew expected attention, the soundtrack by the affable duo of Salim-Sulaiman along with the inventive penmanship of Prasoon Joshi is keenly melodious and instantly appealing. 
Kurbaan makes a promising and lilting beginning with the silvery Shukran allah. Fresh and breezy, Shukran allah celebrates the novelty of a young romance and bursting emotions with generous help from Sonu Nigam and Shreya Ghosal's delicate delivery. This one's a keeper. 
The rustic vocal brilliance of Sukhwinder Singh and Kailash Kher join forces fervently praying for divine intervention in Dua hai, a characteristically Salim-Sulaiman creation. Even as the arrangement and chorus pattern is often reminiscent of Kaal's Tauba Tauba, the collective enthusiasm of the afore-mentioned singers keeps the momentum going.
After Chak De! India's Maula mere lele meri jaan, Salim Merchant returns to passionately croon Ali maula, yet another intense track involving spiritual invoking and philosophical musings. In keeping with the film's somber subject, Ali Maula effectively alternates between hard-hitting and despondent. The remix, for a change, works even better than the original with its neatly-paced thumps and edgy sound mixing.
The ethnic lounge feel is resonant in Shruthi Pathak's pitch perfect rendition of Rasiya, a tasteful, poetic reading on the art and aesthetics of love-making. The composers keep it minimalistic yet stylish allowing Pathak's husky sexiness to flow unobstructed, resulting in one sensual number.
As witnessed in Jame Raho (Taare Zameen Par) and Tashan ve (Tashan) high-octane solos are a Vishal Dadlani speciality. The dynamic musician hits another electrifying peak with Kurbaan hua. While the song is bound to work better as a theatrical enhancement in the film, Dadlani gets brownie points for not going over the top and swinging this semi-rock ditty with his measured energy and well-timed highlighting.
A compact soundtrack with a mix of sweet-sounding and soul-stirring melodies to offer, Kurbaan is worth sacrificing a few bucks at a music shop counter.
Rediff Rating: