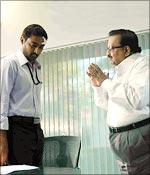 After quality movies like Chennai 28 and Kunguma Poovum Konjum Puravum, Capital Film Works has come up with yet another Tamil production, Naanayam (Coin or Honesty).
Supposedly based around a daring bank heist, the music's been scored by James Vasanthan. Here's a look at what the album has to offer.
It starts off like the beginning of Adiye Kolluthe; you're thrown off for a moment at the blast of synthesized music, and then you wait for Ranjith and chorus to kick in with Naanayam, written by Dr Krudhaya. Predictably, it's the theme song, with an instrumental medley like a blasting rock concert. Not spectacular though.
A flute's soft notes begin Naan Pogiren, and when Chitra's melodious voice flits through the lines, you realise just how much you've missed it; forget the fact that the tune is one you've heard many times. Accompanying her is S P Balasubramaniam; the magic duo is back for this number.
Reminding you of some of A R Rahman's early numbers, says Pudhiya Mugham, the momentum flags in the charanam, alleviated a bit by Thamarai's light, peppy lyrics. The interlude before the second segment is a frothy mix of violins and flutes, which is mildly appealing but the real appeal here is the lead vocalists' renditions, especially the pallavi, and the joyful humming right at the end. A pleasant number.
Kannan, Megha, Ramya, Sheba and Chorus kick off Aasa Aasa, which sounds so deep it sounds like the words, penned by James Vasanthan incidentally, are coming from the bottom of a well, shot through with heavy synthesized music, jazzy beats and cackling voices. Sounding like one of Yuvan's more snazzy songs, this one's all about the desires and expectations that rock man's heart: from cars and bikes to love, money and power, some of it managing to move away from cliches. Add to that we have today's trend of mixing random rap with the song, and you've got a bonafide peppy number. Except that you've heard it all before.
Enthusiastic keyboard arrangements, a la Scottish bagpipes flows into your ears, to signal the beginning of Ka Ka Ka which, you note with some surprise, has been rendered by Devi Sri Prasad and Simbhu to Kavivarman's words. The instrumental medley is much more zealous in the interlude and it looks like the composer's had some fun just playing around with sounds. The lyrics describe the sheer narcotic power of money, not unlike Kaasu Mela Kaasu Vanthu. The instruments keep you going through most of the song, but that's as far as it sustains your interest. Mildly appealing, this.
Just when you were wondering what had happened to the mandatory sensual number comes Kooda Kooda, which, in Sunitha Sarathy's voice sounds like something you might hear on a lazy Sunday afternoon brunch at some country club, complete with sax interludes and casual pace. The refrain picks up some speed, thankfully, showing some animation; even so, the effect is like you've stepped into a disco bar from the eighties.Yugabharathi's lyrics are strictly functional, all about the search for that elusive quality of life and love that most fail.
The re-worked Naanayam is an expanded version of the first number, rendered by Ranjith and a Chorus, and pretty much follows the same pattern.
James Vasanthan's score for this movie are nowhere in the league of Subramaniapuram. We'll have to wait for the picturisation to see how well the songs work. For now, except for one or two moments, they just manage to scrape through.
Rediff Rating: